CLEVELAND — The Cleveland Browns learned very early on that there was something different about running back Nick Chubb after taking him with the second of their second-round picks in the 2018 NFL Draft after his standout career at the University of Georgia.
In Chubb, the Browns have a running back who is going to practice at game speed and do everything on the field to work on and perfect his craft, and despite being at the top of the depth chart, he works like someone trying to hold onto a spot at the bottom of the roster.
Chubb has gained 1,394 yards and scored 12 touchdowns on 270 career carries, and the Browns expect that number to increase exponentially because of his work ethic.
"Nick, first and foremost, is an excellent individual," Browns coach Freddie Kitchens said. "He works his tail off every day he walks on the football field, walks into the weight room or walks into the classroom. You know exactly what you are getting from Nick every time he walks out there.
"Every time the clock starts turning, you know what you are going to get from him. After all of that, you throw in his ability, his skillset, his desire inside within to be successful and his resilient nature and chasing being good. I do not know what else you want in a football player."

To Kitchens, seeing Chubb run hard through drills is nothing new, as he was the running backs coach during the offseason program and first half of the 2018 season.
"Nick came in during rookie minicamp, and he was ready to go," Kitchens said. "He has been that way. I have a lot of friends who coached him at the University of Georgia. He has been that way ever since he left high school.
"Nick Chubb is not changing. He is always going to have that pursuit of being great. You saw it. You saw it initially. You saw it how he worked. You saw it how he finished runs during a practice, and we are only talking about a rookie minicamp. He has always been that way."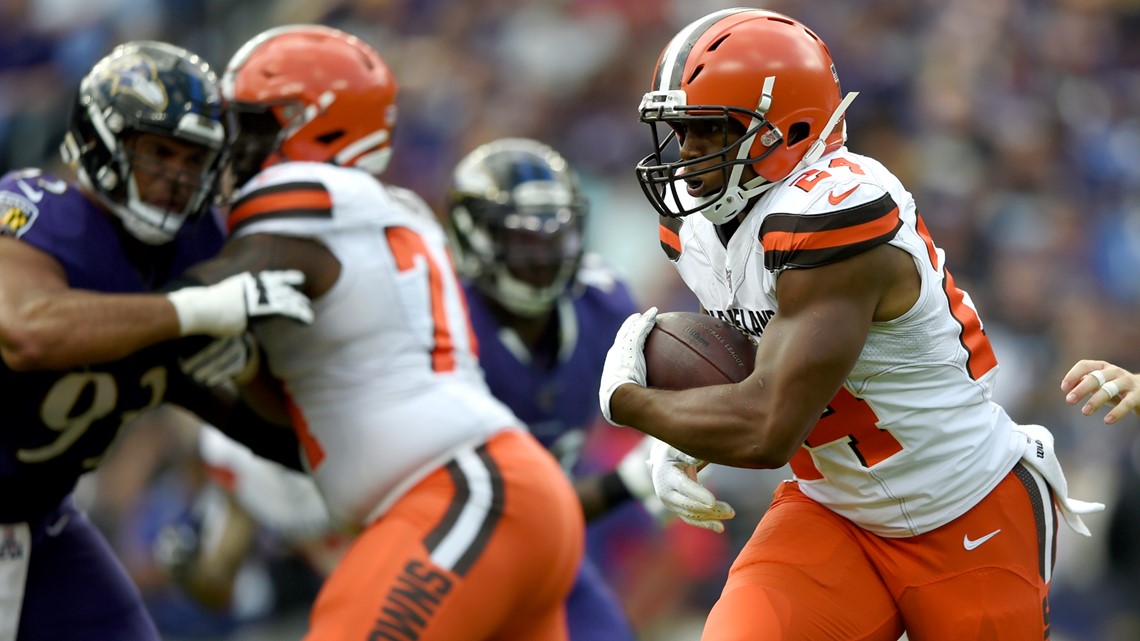 Chubb put that work ethic to good use in an AFC North Division game last week.
Chubb had some demons to exorcise after last week's loss to the Los Angeles Rams at FirstEnergy Stadium and he took out those frustrations on the Baltimore Ravens at M&T Bank Stadium in Baltimore.
With the memory of being stopped on fourth-and-nine in the second half still fresh in his mind, Chubb rushed for 165 yards and three touchdowns, including two third-quarter scores and an 88-yard scamper in the fourth quarter that helped seal the Browns' 40-25 victory over the Ravens, which put them into first place in the AFC North Division after the first quarter of the 2019 season.
"I might need to run a couple more draws on fourth-and-nine," Kitchens said with a laugh. "Maybe not at that time in the game."

Chubb's success comes as no surprise to his teammates, as they believe he will only get better as the season and his career continue because of that tenacious work ethic.
"He is always quiet, always working," right tackle Chris Hubbard said. "That is what you need in a locker room. He always has his 10 toes in, and he is going to continue to do that each day in and each day out. That is what he brings to the table."