CLEVELAND — Football season is here! Well, almost anyway.
First-year coach Freddie Kitchens, second-year quarterback Baker Mayfield and the Cleveland Browns are set to begin preparations for the 2019 regular season, as they get training camp underway at their Berea training facility on Thursday, July 25 with the first of 15 open practices over the next three weeks.
Here is what fans need to know ahead of the start of training camp.
BROWNS TRAINING CAMP SCHEDULE
Thursday, July 25: 10 a.m.-Noon
Friday, July 26: 10 a.m.-Noon
Saturday, July 27: 10 a.m.-Noon
Sunday, July 28: 10 a.m.-Noon
Monday, July 29: 10 a.m.-Noon
Tuesday, July 30: No practice
Wednesday, July 31: 10 a.m.-Noon
Thursday, August 1: 10 a.m.-Noon
Friday, August 2: 10 a.m.-Noon
Saturday, August 3: Orange and Brown Scrimmage, 4-6 p.m. at FirstEnergy Stadium
Sunday, August 4: No practice
Monday, August 5: 10:30 a.m.-12:30 p.m.
Tuesday, August 6: 10 a.m.-Noon
Wednesday, August 7: No practice
Thursday, August 8: Preseason Week 1 vs. Washington, 7:30 p.m.
Friday, August 9: 3:45-5:25 p.m.
Saturday, August 10: 2:45-4:45 p.m.
Sunday, August 11: No practice
Monday, August 12: 10 a.m.-Noon
Tuesday, August 13: No practice
Wednesday, August 14: Practice in Westfield, Indiana with Indianapolis Colts
Thursday, August 15: Practice in Westfield, Indiana with Colts
Friday, August 16: No practice
Saturday, August 17: Preseason Week 2 at Colts, 4 p.m.
Sunday, August 18: No practice
Monday, August 19: Closed practice
Tuesday, August 20: 10 a.m.-Noon
Wednesday, August 21: 10 a.m.-Noon
Thursday, August 22: No practice
Friday, August 23: Preseason Week 3 at Tampa Bay Buccaneers, 7:30 p.m.

In recent years, the Browns have featured a new layout with additional seats, which increased seating capacity to go along with the standing-room only sections at field level. The Browns have increased their seating capacity by 325 percent since 2016.
Gates open one hour prior to the listed start time.
Should practices be moved indoors due to inclement weather, they would be closed to the public because of space limitations.

SCRIMMAGE RETURNS TO CLEVELAND
The annual Orange and Brown Scrimmage is back at FirstEnergy Stadium in Cleveland after taking place at team headquarters in Berea last summer.
As the Browns were preparing for the 2018 season, FirstEnergy Stadium was in use for summer concerts, namely the dual show from Beyoncé and Jay-Z, but now, the "Home of the Browns" is ready to host the intra-squad game once again.

Tickets to the Orange and Brown Scrimmage cost $5, and the proceeds are going to the Browns Give Back's mission of "improving the quality of education" for Northeast Ohio students.
The proceeds from the scrimmage will benefit the Cleveland Browns Foundation's "Get 2 School" campaign to encourage school attendance so all students can succeed, both in the classroom and in the community. Additionally, proceeds from sales at the training camp pro shop will benefit the foundation.
Also, the Browns will hold their annual First-and-Ten Blood Drive to benefit the American Red Cross on Saturday, July 27.

In an effort to make sure all fans enjoy their experience at training camp, the Browns have a list of restricted items that will not be permitted at practices.
Here is a look at the prohibited items/activities:
Can/glass-bottled liquids
Hard plastic coolers (soft case coolers are permitted)
Camera lenses greater than four inches in length
Umbrellas, strollers, purses, fanny packs, backpacks and diaper bags are permitted, but subject to inspection, as are portable folding chairs and lawn chairs.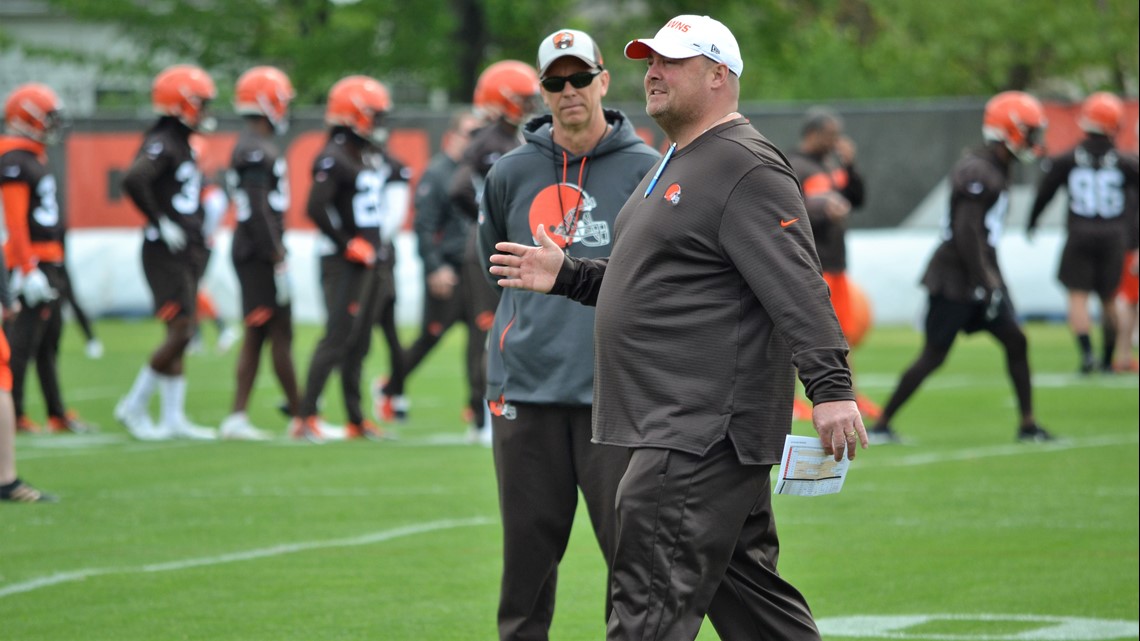 General parking for training camp is available at nearby Baldwin Wallace University on Beech Street, while handicap-accessible parking is available at the Berea training facility for those who have proper identification.
Fans parking at Baldwin Wallace can walk north on Beech Street, which dead-ends into the gates at the Browns' training facility.