CLEVELAND — Agreeing to terms with a Pro Bowl tight end, a proven offensive tackle and a capable backup quarterback, it didn't take long for the Cleveland Browns to bolster their roster when free-agent negotiating began on Monday.
But before Austin Hooper, Jack Conklin and Case Keenum can help the Browns on their field, the first impact they will likely make in Cleveland will come in the form of the NFL Draft.
Laying claim to seven picks -- including No. 10 overall -- the Browns figure to remain as equally active during next month's draft as they have been in free agency. With that in mind, let's take a look at how Cleveland's free-agent activity could affect its plans for the draft.
Tackling 10
Prior to the Browns' signing of Conklin, who spent the first four seasons of his NFL career with the Tennessee Titans, the general consensus from draft prognosticators was that Cleveland would be taking at offensive tackle with the No. 10 pick.
And while that may still be the case -- the Browns entered the offseason with holes at both left and right tackle -- they now have more flexibility with their first-round pick than they did before the start of this week.
Should one of the draft's top talents -- say Ohio State cornerback Jeff Okudah or Clemson linebacker Isaiah Simmons -- drop to No. 10, Cleveland could afford to take that player without feeling as if it was ignoring its most glaring need. In fact, considering Conklin's versatility -- he played left tackle at Michigan State and right tackle with that Titans -- and the departures of Joe Schobert and Christian Kirksey, one might argue that linebacker is now the Browns' biggest need.
The addition of Conklin could also manifest itself in the form of a trade down, which would allow Cleveland to collect assets and still nab a first-round talent at either offensive tackle, linebacker or even a lesser need. Or, the Browns could simply stay put and take the best offensive tackle available to pair with Conklin as the cornerstones of Cleveland's offensive line for the foreseeable future.
Either way, the Browns have options.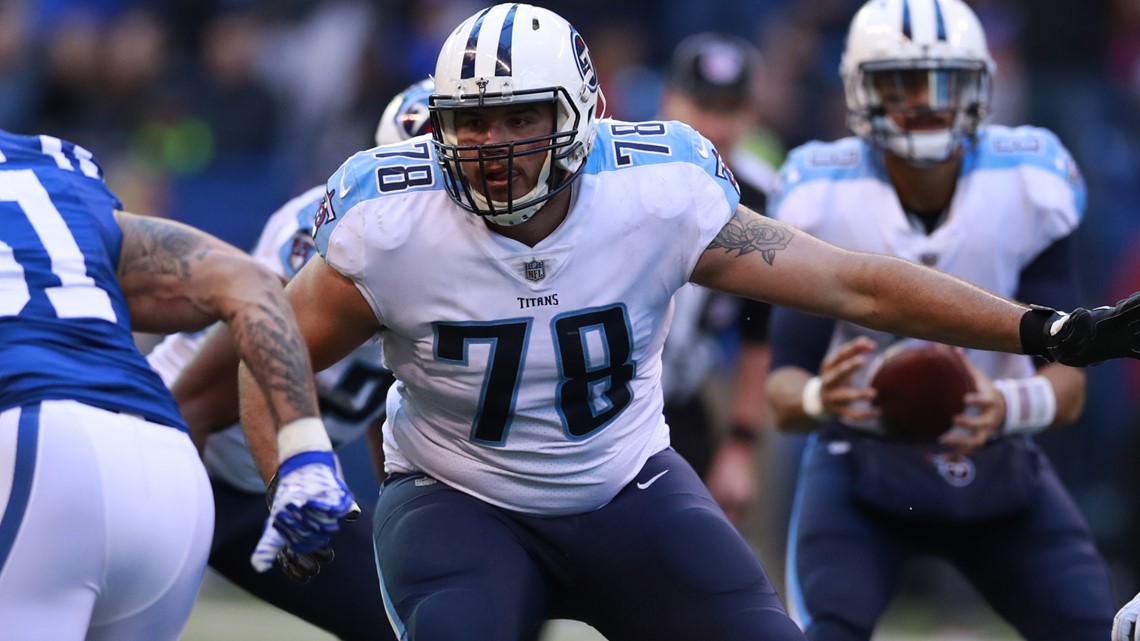 Jumping through Hoops
Between top-end talent and overall depth, there may not be a stronger position in this year's draft than at wide receiver.
And while the Browns already have Jarvis Landry and insist that Odell Beckham Jr. remains a part of their future, it wouldn't have been a surprise to see them bolster their receiving corps as early as the record round. Between depth concerns and Beckham's seemingly always uncertain future, it would have been tough to blame Cleveland for attempting to benefit from one of the richest receiver classes in recent memory.
That, however, was before the Browns made Hooper the NFL's highest-paid tight end with a reported 4-year, $42 million contract. In addition to Hooper, Cleveland lays claim to two of the league's 12 highest-paid wide receivers in Beckham and Landry, as well as a former first-round pick in David Njoku.
Add that all up, and it would be tough for the Browns to justify using one of their higher picks on an offensive skill player. Those plans, however, could quickly change -- especially if the team is unable to re-sign free agent Rashard Higgins.
Quarterback comfort
While the Browns remain committed to Baker Mayfield as their starter, it would be tough to argue that their quarterback room couldn't use some improvement. With Drew Stanton's contract having expired and Garrett Gilbert possessing little NFL experience, Cleveland's playoff hopes in 2020 rested on Mayfield's ability to not only stay healthy, but improve on his disappointing 2019 campaign.
But while the Browns appeared to fill their need for a reliable signal-caller by signing Keenum to a 3-year, $18 million contract, their quarterback additions may not stop there. One of Cleveland's "guardrails" under former general manager Sashi Brown -- who worked alongside current GM Andrew Berry -- was to continue investing in the quarterback position, even once a franchise quarterback like Mayfield has been identified.
As a result, don't be surprised if Cleveland takes a late-round flier on a player who could develop behind Mayfield and Keenum. In the long run, that player could theoretically become the Browns No. 2 quarterback and eventually, a trade asset, which would foot right in line with the team's current approach.