BEREA, Ohio -- Cleveland Browns quarterback Baker Mayfield is not a typical rookie, at least not like one coach Hue Jackson has seen before in his NFL career.
Despite being the No. 1 overall pick in the 2018 NFL Draft after winning the 2017 Heisman Trophy, Mayfield has proven himself to be a humble student of the game according to Jackson, who has worked with NFL quarterbacks for more than a decade.
"He is an outstanding listener," Jackson said after Sunday's practice. "Baker Mayfield has been everything I thought a quarterback should be for our organization thus far. He is doing the things that we want him to do, the way we want him to do it and he is exceeding those things because he is putting in the time.
"He does not have a pride or [arrogance] any kind of way," Jackson said. "I think his thing is 'You guys tell me what you need me to do and I am going to do it.' That is what he has done ever since he has walked through the building, and to me, that is exciting."
PHOTOS: Baker Mayfield is everything Cleveland Browns could want in a quarterback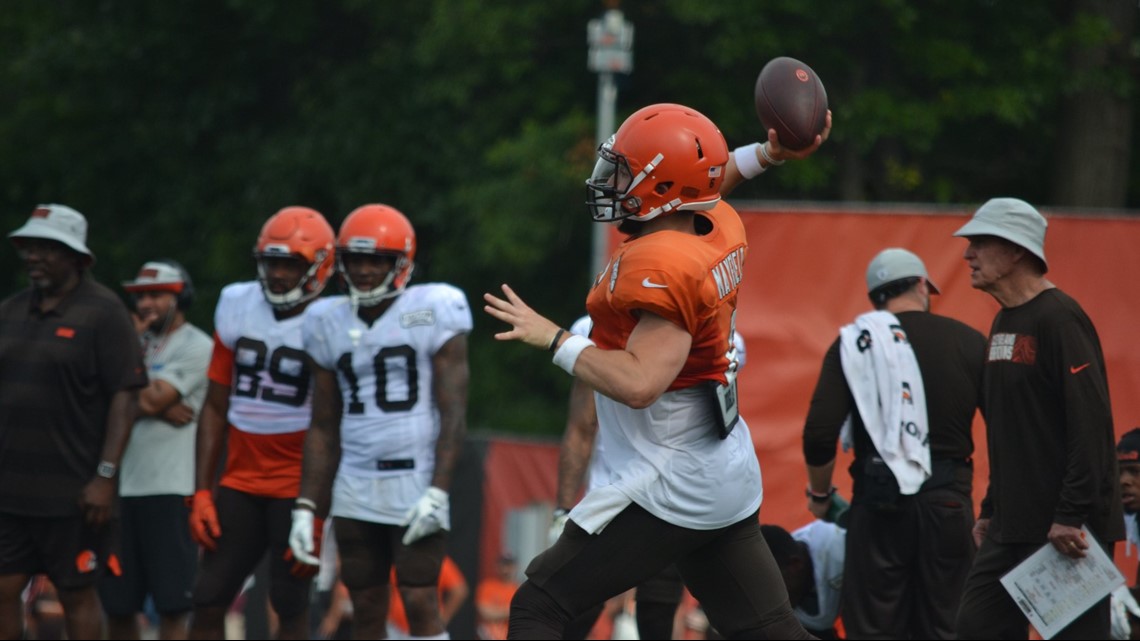 According to Jackson, Mayfield has no attitude issues, despite being considered by many in the ore-draft process to be the type of quarterback who would not be able to accept sitting behind a veteran signal-caller while learning the NFL game.
In fact, Jackson has noticed a strong relationship develop in the quarterback room between Mayfield, Tyrod Taylor and Drew Stanton.
"That is a player who is eager to learn and grow, but more than that, I think he has built an unbelievable bond with Tyrod Taylor, Drew Stanton and that quarterback group," Jackson said. "I think that is where it starts. There is trust. I think there is an honesty and transparency among that group. They have done a great job.
"When you are the first pick of the draft and you walk in, normally, some guys walk in with their chest out and "It is about me, me, me.' He is not about that. He is about the team. He is truly about the football team and about getting better, and that is why I am glad he is here."
Matt Florjancic, WKYC Digital Sports
The 6-foot-1, 215-pound Mayfield completed 285 of his 404 throws (70.5 percent) for 4,627 yards and 43 touchdowns against just six interceptions for the Oklahoma Sooners in 2017.
During his three years at Oklahoma and one season with the Texas Tech Red Raiders, Mayfield completed 1,026 of his 1,497 attempts (68.5 percent) for 14,607 yards and 131 touchdowns against only 30 interceptions.
And after an abbreviated offseason workout program, Mayfield has rediscovered his accuracy, something Jackson feels will benefit the Browns as they continue training camp.
"I just think that he understands his teammates better, and he knows where to place the ball to make a play," Jackson said. "He threw a ball behind the ear to someone today, and to me, it was outstanding.
"Those are the kinds of things that he is doing, along with staying in the pocket. I think that he is seeing the offense unfold a little bit better. I think that he understands the system better. I think that he is making really good progress, which is what you want to see from your quarterback."
Stream Live with fuboTV -Try Free Trial