CLEVELAND — Cleveland Browns defensive end Myles Garrett had his appeal in New York City Wednesday, and by Thursday afternoon, he and the team learned his indefinite suspension was going to be upheld, bringing a premature end to his 2019 season.
Reports emerged Thursday about Garrett's defense, and that he claimed Pittsburgh Steelers quarterback Mason Rudolph used a racial slur while the two scuffled, and while many on social media questioned why it took a week to reveal something egregious, his Browns teammates do not see him falsifying any details.
"Since I've met Myles, he's a very straightforward and honest person," Browns wide receiver Odell Beckham Jr. said. "He is what he appears to be. We all support Myles over here and just praying there's a resolution for what's going on.
"I just don't see Myles as someone who would lie or do anything like that. At this point, it is what it is and we're all just kind of waiting and just hope that justice is served or whatever. Whatever the case is going to be for him."

Garrett was suspended indefinitely just 12 hours after the win over the Steelers for an on-field brawl that resulted in his ejection, as well as the disqualifications of Browns defensive tackle Larry Ogunjobi and Steelers offensive lineman Maurkice Pouncey.
The incident boiled over when Garrett brought Rudolph to the ground well after a third-down play with eight seconds remaining in the game.
After the hit, Rudolph appeared to rip off Garrett's helmet after delivering a couple of kicks below the belt of the Pro Bowl defensive end. Garrett responded by ripping off Rudolph's helmet with several powerful tugs, and later, swinging it at and connecting to the quarterback's head when the signal-caller pursued the matter further.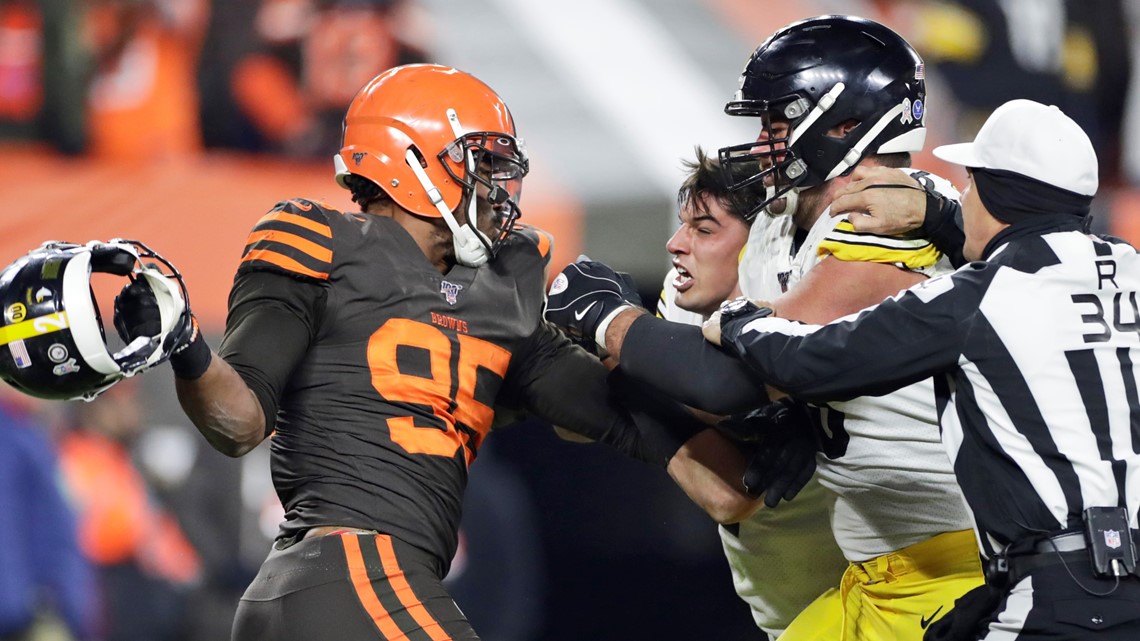 After Garrett ended up on the ground after getting tangled up with Steelers offensive lineman David DeCastro, Pouncey tried to protect his quarterback and delivered several kicks to the helmet and multiple punches to the Browns' Pro Bowl defensive end.
It was then that Ogunjobi escalated further the already volatile situation by pushing Rudolph from behind and to the ground, at which time, players left both benches and a scrum ensued in the end zone that took several minutes to get under control.
"Whatever the actions were, this is a guy I've never seen anything like that (from)," Beckham Jr. said. "Who knows? You don't know whatever evidence and things they find. I'm just praying there's a resolution for him. He's a very good dude and we all miss him."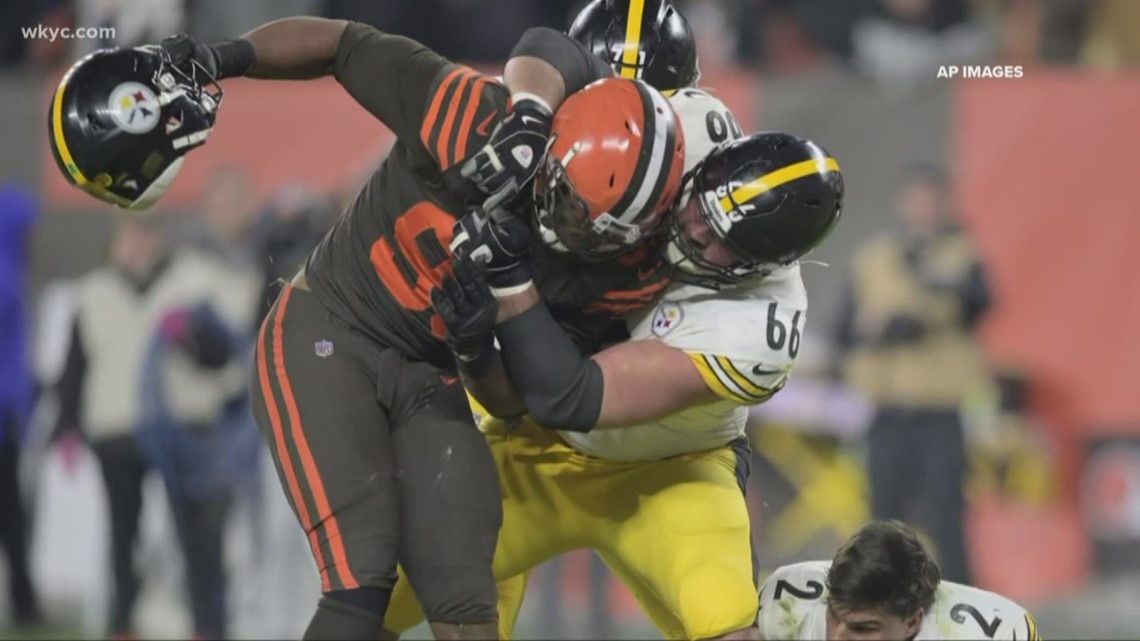 Asked if he could remain a teammate with someone who used a racial slur, Beckham Jr. acknowledged such a situation would be "tough" to work through.
"It goes back to whenever," Beckham Jr. said. "It's just something that will always be in our world. I don't know what was said. I can't speak on it because I don't really have the knowledge, but just kinda gotta let it play out."
Although Browns coach Freddie Kitchens declined to go into detail about his conversations with Garrett since the incident occurred, he, like Beckham Jr., continued to express his support for the Pro Bowl pass rusher.
"I am sure that Myles presented himself professionally, like he has done ever since the moment it happened," Kitchens said after Thursday's practice. "He has been nothing but professional in his responses.
"I stand by Myles, and that is not going to waver."