BEREA, Ohio — The last time the Cleveland Browns and Pittsburgh Steelers played, just two weeks ago on "Thursday Night Football" at FirstEnergy Stadium in Cleveland, the game was marred by a brawl that occurred in the last eight seconds of the fourth quarter.
As the two teams prepare for this week's rematch, Browns coach Freddie Kitchens laid out the facts simply to his team.
"It's either you or the team. Make a decision. That's it," Kitchens said prior to Wednesday's practice.
"We want to be tough and we want to play smart because that's what usually wins football games. That entails a lot of different things, and that's just one aspect of it. You have to put it all together to be successful, and sometimes, when you have younger guys, it takes them a little time to put it together, and I think we're starting to see some of those examples that they can focus and just concentrate on the task at hand."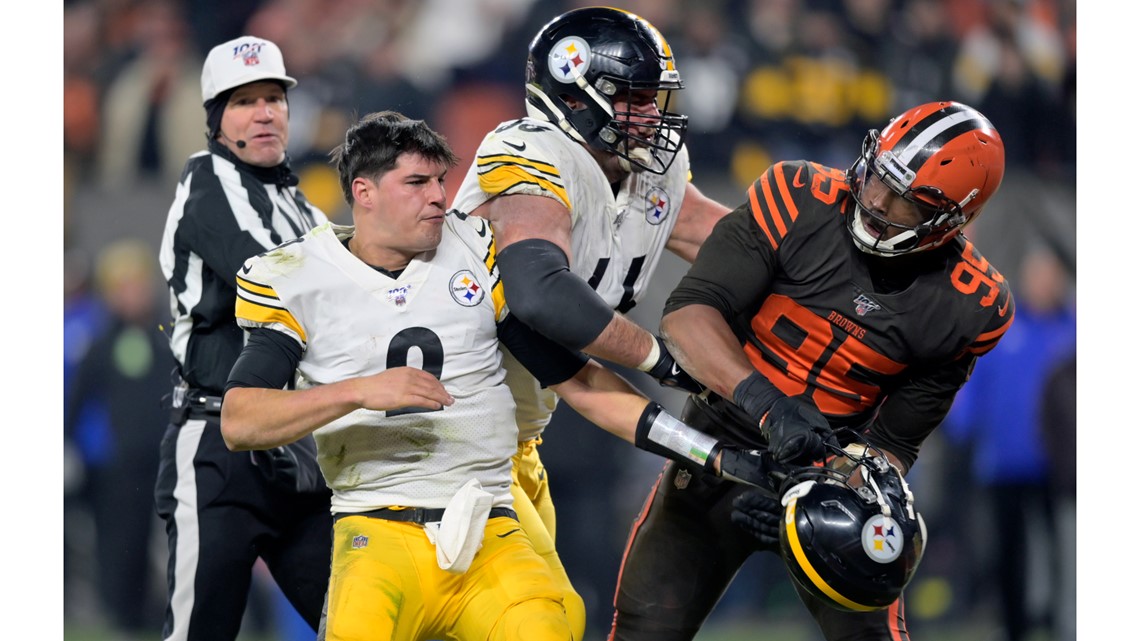 As a result of the incident, both teams were fined $250,000 and multiple players were docked pay for their roles in the incident. The most severe penalties went to Browns defensive end Myles Garrett, defensive tackle Larry Ogunjobi and Steelers center Maurkice Pouncey.
Garrett was suspended indefinitely and will miss at least the balance of the 2019 season before applying for reinstatement in the offseason, while Ogunjobi missed last week's 41-24 victory over the Dolphins, but he will be back for this week's game.
Pouncey was suspended three games but had the ban reduced to two on appeal. Pouncey will conclude that suspension this week.
"Composure's always a key, especially when you play divisional games," Kitchens said.
"We hold division games at a high standard around here because they mean just a little bit more from the standpoint of how your season's affected. Emotion's always a part of the game. It's the ability to keep your emotion in check and play with composure and passion instead of the emotion."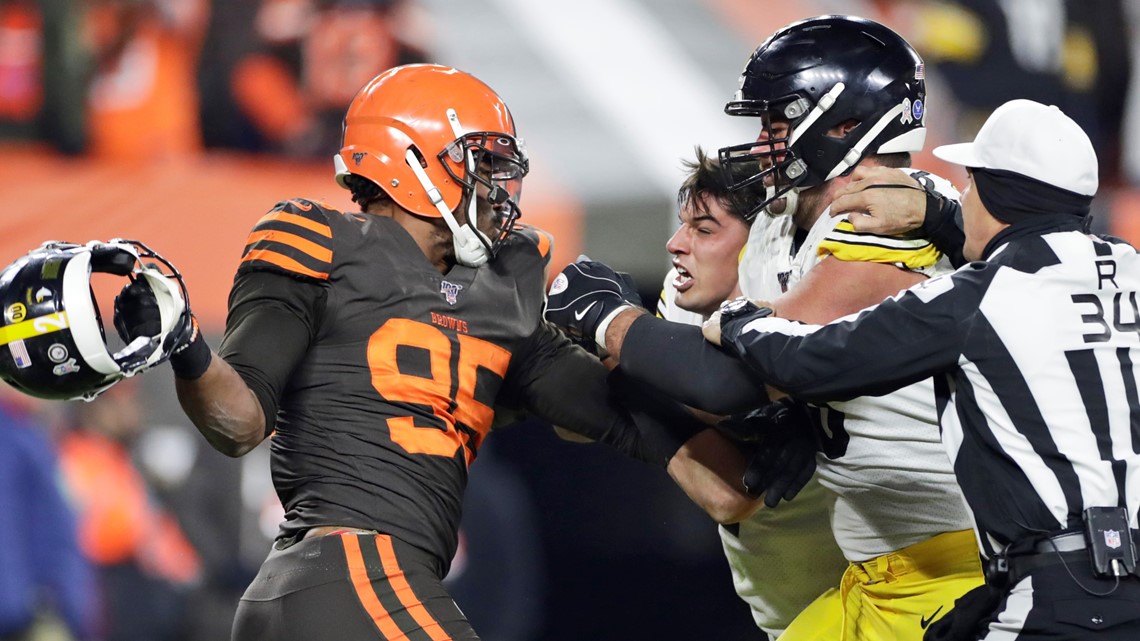 The Browns could sweep the Steelers in a regular-season series for the first time since 1988 and keep themselves in the playoff discussion over the stretch run of the year with a victory over their AFC North Division rivals at Heinz Field in Pittsburgh Sunday.
But Kitchens feels those facts do not matter, not especially if the team does not focus on the daily tasks it takes to prepare for a game in the National Football League.
"Coach Tomlin will have his team ready to play," Kitchens said. "To remain hyper-focused in what we have to accomplish this week, this day is the only thing our team should be focused about. Pittsburgh plays very well at home.
"They've got 38 sacks on the year and 30 of them have come at home. They're plus-nine in takeaway-giveaway at home, so they've been very effective at home. We have to make sure that we do what we can control, and that's control the day. It's going to be a great atmosphere to play in. We know that, and we'll be ready for that."