CLEVELAND — Cleveland Browns defensive end Myles Garrett could be facing legal action for his claims that Pittsburgh Steelers quarterback Mason Rudolph used a racial slur in a scuffle that led to a brawl when the two teams met in front of a national television audience Thursday Night Football on November 14.
While Rudolph and Steelers coach Mike Tomlin continue to refute the claims in prepared statements, on social media, and for the latter, an appearance on ESPN's First Take Monday, former Browns general manager John Dorsey says Garrett informed the team about the usage of a racial slur.
"It's the truth," Dorsey said in a text message to Nate Ulrich of the Akron Beacon Journal.
During a one-on-one interview with Mina Kimes last week, Garrett told ESPN that Rudolph "called me the N-word. He called me 'a stupid N-word.'"
"I still tried to let it go and still walk away, but once he came back, it kind of reignited the situation," Garrett said. "And not only have you escalated things past what they needed to be with such little time in the game left, now you're trying to re-engage and start a fight again.
"…I don't say the N-word, whether it's with 'a' [or] 'er.' To me personally, just shouldn't be said, whether it's by family, friends, anyone. I don't want to use it because I don't want [people to] find that appropriate around me for anyone to use."
Garrett was indefinitely suspended for the balance of the 2019 season as a result of the helmet-swinging incident involving Rudolph in the waning seconds of a 21-7 Browns win in front of the home fans at FirstEnergy Stadium in Cleveland.
The incident boiled over when Garrett brought Rudolph to the ground after a third-down play with eight seconds remaining in the game.
Following the hit, Rudolph attempted to rip off Garrett's helmet after delivering a couple of kicks below the belt of the Pro Bowl defensive end. Garrett responded by ripping off Rudolph's helmet with several powerful tugs, and later, swinging it at and connecting to the head when the quarterback pursued the matter further.
When Garrett ended up on the ground after getting tangled up with Steelers offensive lineman David DeCastro, center Maurkice Pouncey responded to the actions against Rudolph by delivering several kicks and multiple punches to the Browns' edge rusher.
It was then that Browns defensive tackle Larry Ogunjobi escalated further the already volatile situation by pushing Rudolph from behind and to the ground, at which time, players left both benches and a scrum ensued in the end zone that took several minutes to get under control.
More than 30 players and both teams were fined, while Garrett (indefinite), Pouncey (three games reduced to two) and Ogunjobi (one game) were suspended for their roles in the brawl.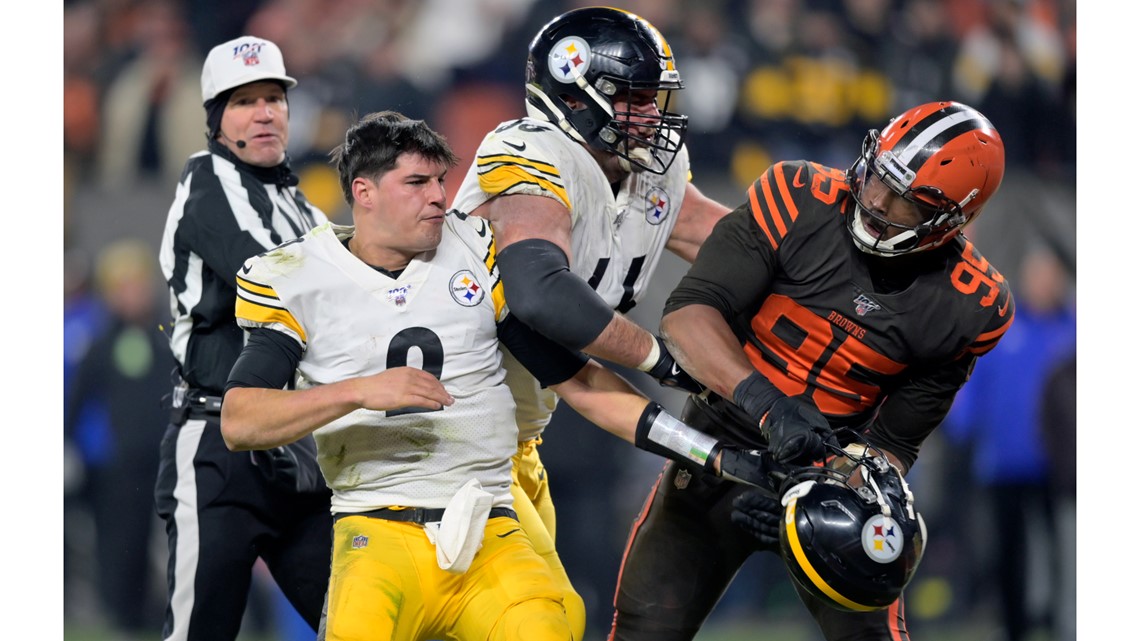 Garrett was reinstated by the NFL last week after missing the last six games of the 2019 season.
"Garrett, after originally apologizing to Mason Rudolph, has made the ill-advised choice of publishing the belated and false accusation that Mr. Rudolph uttered a racial slur on the night in question," Rudolph's agent and attorney, Tim Younger, said. "Mr. Garrett claims that Mr. Rudolph uttered the slur simultaneously with being taken down, and before Mr. Garrett committed a battery by striking Mr. Rudolph on the head with a six-pound helmet. His claim is ludicrous.
"Although Mr. Rudolph had hoped to move forward, it is Mr. Garrett who has decided to utter this defamatory statement -- in California. He is now exposed to legal liability."