CLEVELAND — Cleveland Browns center JC Tretter was fined almost $14,000 by the National Football League for pulling Baltimore Ravens defensive back Marlon Humphrey off of receiver Odell Beckham Jr. in last Sunday's AFC North Division game in Baltimore.
When Humphrey attempted to choke Beckham Jr. during the second half of the Browns' 40-25 win, Tretter did not hesitate to stop the melee by helping forcibly remove the cornerback from his wide receiver. Then, after throwing Humphrey to the ground, Tretter had several shoving matches with Ravens players, including linebackers Pernell McPhee and Kenny Young, which drew offsetting unsportsmanlike conduct penalties.
For his actions, the league levied an in-game penalty, and later, a fine against Tretter.
"It is what it is," Tretter said. "Like I said after it happened, I would not have changed anything I did. I understand the intent of the rule. Usually, it is about pulling somebody off a fumble or a pile where you do not want a situation to escalate when it is a non-situation.
"When you've got a guy mounted on top of another, choking him, if the answer is, 'We wanted you to stand there,' then I will take the fine for that. That is not an answer I would work with. I did not throw a punch. I did not think I escalated the situation any more. I was there to deescalate the situation. We will appeal it, and we will see what they say. I think common sense should hopefully rule, but you never really know about that so we will see."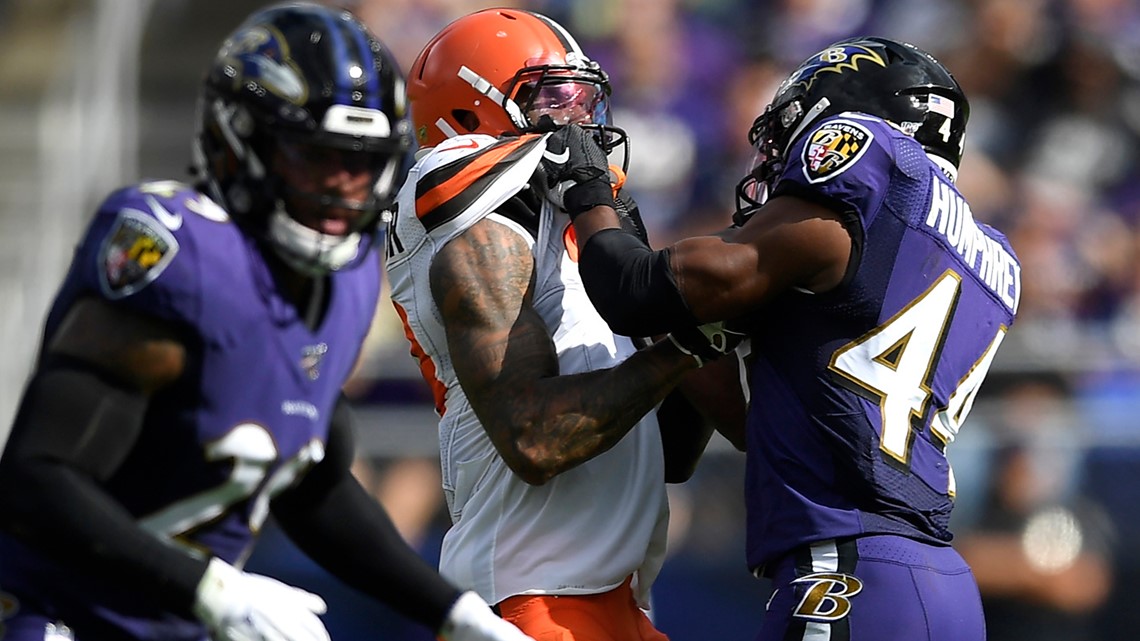 Beckham Jr. appreciated Tretter's help and offered to pay his fine.
"That's a rule that they're trying to implement so that people aren't coming in to pull you off a pile, and then, more fights start and stuff," Beckham Jr. said. "But it's just like, I'm trying to break it up for my team and get the thing situated and I've got however much money coming out of my pocket. Just for that."
On first-and-20 from the Baltimore 48-yard line with just over three minutes remaining in the third quarter, quarterback Baker Mayfield completed a 19-yard pass to running back Dontrell Hilliard, but as the ball carrier headed up the field, a melee ensued between several Browns and Ravens players.
The most egregious part of the incident occurred when Beckham Jr. appeared throw a punch and Humphrey wrestled him down to the field, but the Ravens defender was far from finished. With Beckham Jr. flat against the ground, Humphrey appeared to choke him for several seconds.
Two days after the game, the Ravens released a video of the incident that they claimed proved Humphrey did not try to choke Beckham Jr.
"I did not watch their Zapruder film, but I did hear that," Tretter said.
"Obviously, they are trying to protect their guy, so I get it. I think the film speaks for itself. I think it is pretty obvious what was going on."

Although Tretter may not win his appeal and could get docked five-figures for helping out a teammate, he is focused on this week's Monday Night Football game at the San Francisco 49ers.
"I am not concerned about it," Tretter said. "Whenever that gets scheduled, we will get that done and we will see where the chips fall."