BEREA, Ohio -- Rookie quarterback Baker Mayfield had quite the regular-season debut with the Cleveland Browns, as he came on in relief of starter Tyrod Taylor and engineered four scoring drives on the way to a 21-17 victory over the New York Jets at FirstEnergy Stadium last Thursday night.
In doing so, Mayfield earned a higher level of trust from his teammates, whom he will lead into Sunday's game against the Oakland Raiders at the Oakland Alameda Coliseum.
"He can make every throw," wide receiver Jarvis Landry said. "He can make every check. He can make every read, so our offense can continue to be us. Obviously, we're going to game plan and go from there."
PHOTOS | Cleveland Browns name Baker Mayfield starting quarterback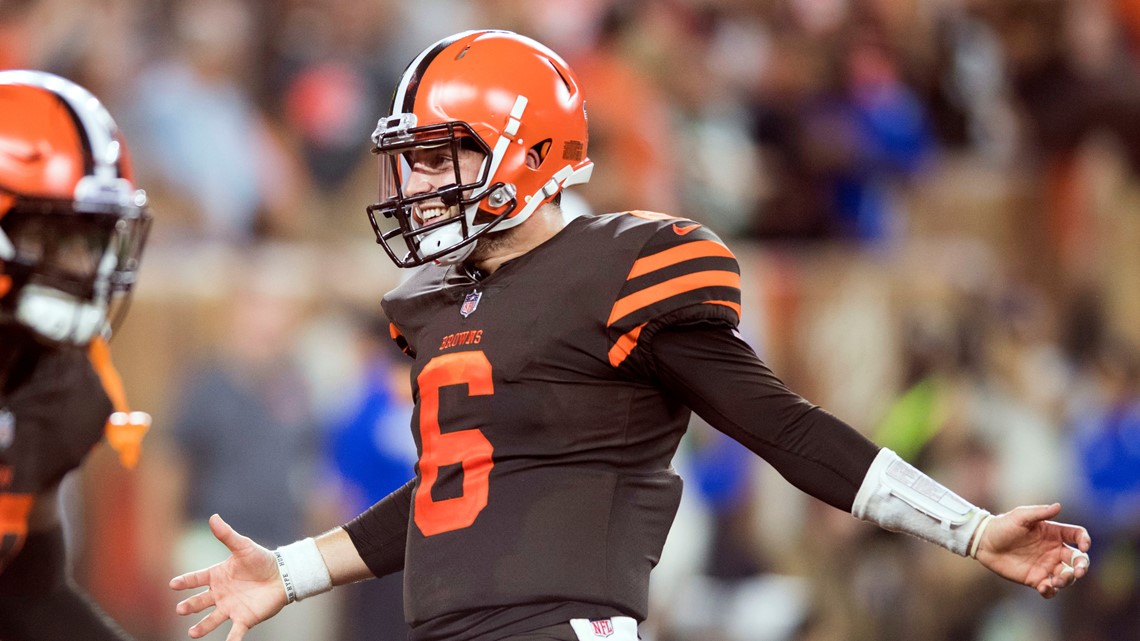 Prior to Mayfield entering the game, the Browns' offense sputtered through the first half, as Taylor struggled to find any kind of a rhythm and completed just four of his 14 attempts for 19 yards before a concussion brought his night to a premature end.
After Taylor suffered the concussion in the first half, Mayfield completed 17 of his 23 attempts for 201 yards and led the Browns to 21 of the final 24 points scored, all of which combined to give Cleveland the come-from-behind win.
However, well before Mayfield made his regular-season debut with the Browns, he had a level of trust and belief from his teammates.
"Since the day they drafted him," Landry said of when he thought Mayfield was ready to take command of the offense. "Obviously understanding the potential and the things he can do, and what makes him special and having the guys around him with the trust level at a premium as well."
Matt Florjancic, WKYC Digital Sports
Landry was on the receiving end of eight passes for 103 yards against the Jets, and most of those catches came after Mayfield entered the game in the second quarter for Taylor. Of Landry's eight receptions, seven came from Mayfield, and the two combined for 91 yards.
Not one to shy away from the moment, Mayfield came out firing and completed back-to-back throws for a combined 31 yards, and after being stripped of the football on a sack, came back and threw a 16-yard completion to Landry on the ensuing play.
"He's a football player," Landry said. "He's a guy that is extremely confident, you know, and in those situations, he didn't panic. He stepped in, he stepped up and did what his team needed him to do."
Matt Florjancic, WKYC Digital Sports
Five days after leading the Browns to their first victory since December 24, 2016, Mayfield was chosen to be the Browns' starting quarterback against the Raiders, and his teammates have rallied around him and embraced the opportunity to play alongside the No. 1 overall pick in the 2018 NFL Draft.
"It was very impressive, and it's another challenge for us, another test for us, as an offense, as a team, so we're excited and looking forward to it," Landry said.
"We want to attack teams and we want to go after matchups, and at the end of the day, it's about us executing our plays and making the plays."
Stream Live with fuboTV -Try Free Trial