CLEVELAND — It wasn't Patrick Mahomes, after all. It was Chad Henne.
You know, the other old guy from Michigan playing quarterback in the NFL.
With Patrick Mahomes concussed in the Chiefs locker room, it was the 37-year-old Henne's 13-yard scramble on third-and-14 followed by his completion to Tyreek Hill on fourth-and-1 that gave the Chiefs the first down they needed to beat the Browns 22-17 in Sunday's AFC divisional playoff game in Kansas City. The Browns again came so close before watching their season end at the hands of a guy who's been relegated to a backup role for the second half of his career.
Before Sunday, Henne hadn't thrown a single postseason pass in his 13-year NFL career. Before starting for Mahomes in Week 17, Henne hadn't started a game since 2014, but today he had made the two biggest plays when his team most needed them. Just like that, the Browns' season was over.
It ended with that same sickening feeling any Browns fans over 40 certainly knows. It's like a gut punch that drops you to your knees. "What just happened? It can't be over!"
But it is, and now comes the all-to-familiar process of coming to grips with the fact there will be no game next Sunday.
Your mind instantly goes into replay mode; the "What if?" game is in full effect: What if Rashard Higgins doesn't fumble on his way to the pylon? What if the NFL officials did their job and correctly flag the Chiefs for targeting? What if the NFL doesn't have one of the dumbest rules in all of sports in effect ruling a fumble into the end zone that goes out of bounds is a turnover?
Really?!? Lose a fumble out of bounds anywhere else on the field and the last team to possess the football has it. Not into the end zone, though. Dumb!
But that's the way the Browns football bounces. Fitting, 33 years to the day of another fumble on the way to the end zone in a five-point playoff loss. Didn't we just know that it would be something fluky, something we've never seen before that ends the dance? It's just what happens to the tortured Cleveland sports fans. I won't take inventory of the previously flukey plays that are burned into the minds of all of us. That's what ESPN does. I'm not going there today.
But when you strip away the disappointment, the frustration of wasted timeouts; the almosts; and coulda, shoulda, wouldas, this was an incredible effort by OUR Cleveland Browns. The future, as hard as it is to think about right now, is as bright as it's been in three decades.
Think about it: The Kansas City Chiefs are undeniably the yard stick of the NFL right now. They are the gold standard, and the Browns took them to the brink and gave them all they wanted today. This Browns team is not far away from being able to be mentioned as a legitimate preseason contender to win Super Bowl LVI in 2022.
Think of the adversity, the injuries, the COVID hurdles. This season has been one challenge after another. Remember, a guy name Blake introduced himself to Baker Mayfield a few hours before he was blocking for him in a playoff win against the Pittsburgh Steelers. Odell Beckham Jr was lost early in the season with the torn ACL. Nick Chubb missed four games with a knee injury. Olivier Vernon's ruptured Achilles' ended his season early. Myles Garrett, Denzel Ward, Jarvis Landry, Joel Bitonio and many others missed time with COVID-19. Kevin Stefanski couldn't even coach in the first playoff game.
When has any NFL team faced more adversity than the Browns did this season? Yet the defending champion Kansas City Chiefs needed a ridiculously fluky play to end Cleveland's season.
I know it's early. I know this is no time for consolation prizes. But this team fought through it all to get to the brink against the team most generally regarded as the team to beat in the NFL. That's progress from where we've been; 1-31 wasn't that long ago. The cupboard was empty then. The hope tank didn't even have fumes.
If someone would have told us at the end of that nightmare that was 2017 that just three seasons later we'd be here, we would've called them liars. "Impossible. No chance." Yet, here we are. Three years ago we became the first franchise in NFL history to ever have consecutive 15-loss seasons. Today, we're a bad no-call from potentially playing for a trip to the Super Bowl.
Usually right now, we're discussing blame. Why did another season get away. Who's fault was it? How do we fix this sinking ship? This offseason will be much different: We can first pass around credit.
First to Kevin Stefanski, who likely had every one of his NFL friends quietly wondering, '"What in the hell is Kevin doing? He can't turn the Titanic around. No one can!"
Yet, he did. He came to a franchise that had been bouncing off icebergs for two decades and was taking on water. Stefanski came in with the steely look of a seasoned veteran and never blinked at this challenge. His constant look of calm was a steady reminder there was work to be done, but it could happen.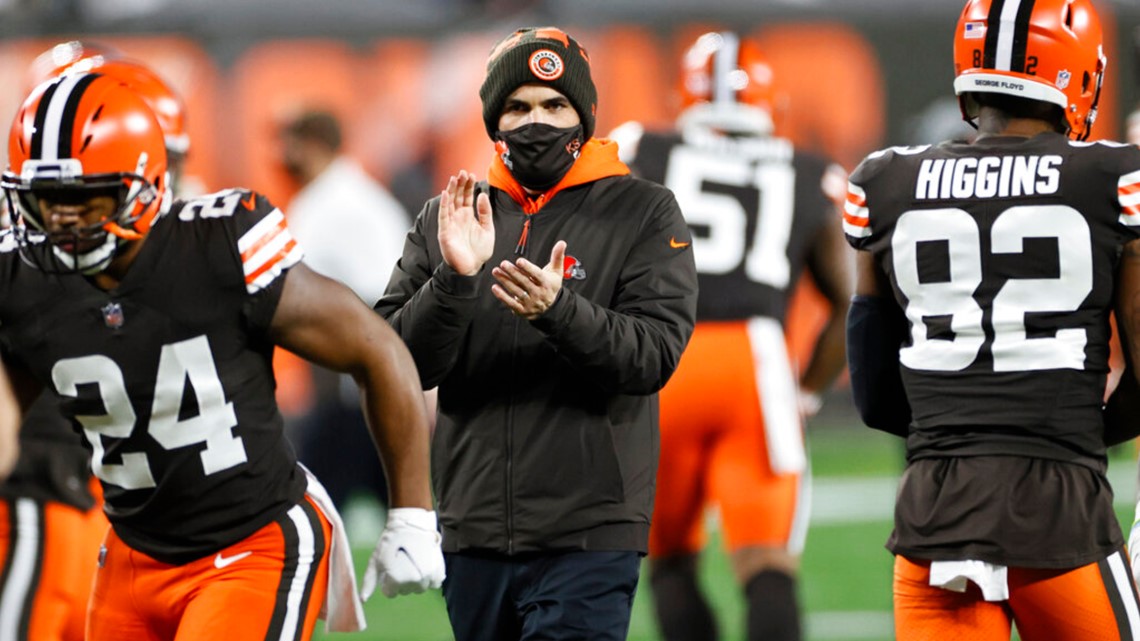 Baker Mayfield should be credited. All he did is answer his disappointing sophomore slump season by throwing for the third-most touchdowns by a Browns quarterback in a single season. His completion percentage improved while throwing four more touchdowns and an impressive 13 fewer interceptions. He also took a major leap toward becoming the unquestioned leader of this football team.
The Chubb-Hunt tandem is also due a ton of credit. The duo is working spectacularly with even more room to grow. And who in the wide world of the NFL would have guessed the Browns would possess one of the best offensive lines in the game?
The defense has a ton of upside, as well. Denzel Ward re-established himself as one of the best cornerbacks in the game, and of course Myles Garrett is one of the league's top three pass rushers who also continues to shine in run stop.
Even team owners Jimmy and Dee Haslem are in line for credit. They finally got the coaching search right. The franchise is clearly moving forward for the first time in their tenure.
Speaking of moving forward, it's the defense where the most work needs to be done. The Browns need another solid corner and could definitely use a top safety. Remember, they will have former Jim Thorpe Award-winner Grant Delpit back after the second-round draft pick from LSU lost his entire rookie season with a ruptured Achilles. If the defense can take the same jump next year that the offense took this season, the Browns will be a real force to be reckoned with in 2021.
I'm guessing this feeling won't go away anytime soon. It's been a while since we've experienced this on the football side, but my memory tells me I was still pretty salty by the time the draft rolled around. I'm guessing it will be sometime around late July before we push this to the back of our brains, before we can really let the hope of the future drown out the pain of the past.
But I will say, the pain I'm feeling now--though real and all-consuming--pales in comparison to the pain of 0-16.
So onward we go. Thanks for the ride, Browns. In Stefanski we trust. We will be back, only next year we'll likely be able to live it in person by filling FirstEnergy Stadium.