CLEVELAND — The news out of Berea was not good Tuesday for the Cleveland Browns, the playoff-bound Cleveland Browns.
Head coach Kevin Stefanski, defensive backs coach Jeff Howard, and tight ends coach Drew Petzing are all COVID positive. They are out for the remainder of the week, and most importantly, out for the game on Sunday.
To make matters worse, two players also tested positive: left guard Joel Bitonio and wide receiver KhaDarel Hodge. The news is particularly gut-wrenching for Bitonio, who was set to play in his first playoff game after being a part of some horrible Browns teams in his seven-year career.
The Browns right now are crippled, not by preparation for the game against the Steelers, but by this virus. It first hit them the day before the New York Jets game, when all of their receivers were ruled out along with two linebackers and an offensive lineman. Cleveland lost that game, finding it very difficult to be competitive even against a team that had only won one game.
It continued all of last week. Remember, the Browns only squeezed in (and I mean squeezed in) two practices to get ready for what would be their most important game of the season, a win-and-your-in scenario against Pittsburgh.
You need practice, right? Well, they didn't get much of it, because day by day by day, the concerns were very real and evident that the virus had hit the Browns. More players tested positive, more players were deemed to be in close contact, and most of them could not take the field.
And now, this. What's going to happen? They're going to play the game on Sunday night. I know a lot of people are wondering how it can be a competitive situation if the Browns have lost a significant chunk of their coaching staff and roster. How do they go in and take part in a playoff game?
Quite frankly, I think the NFL says, "You go get on the bus, go two and a half hours to Pittsburgh, and you play." It's a weird season; the NFL has come out and said that since they started this whole thing. Their motto is, "We're gonna plow through it. Any way we can get to the finish line, we're gonna get to the finish line."
They're not going to postpone this game. They're not going to push it to next week. They have a schedule; it's rigid. You play with the players you have who are eligible, and you bemoan the fact that you are missing some key players and, my goodness, your head coach.
Kevin Stefanski is the guy who put this whole thing together, the guy who authored this wonderful 11-5 season. He's not with us Sunday, and Mike Priefer now becomes the acting head coach of the team.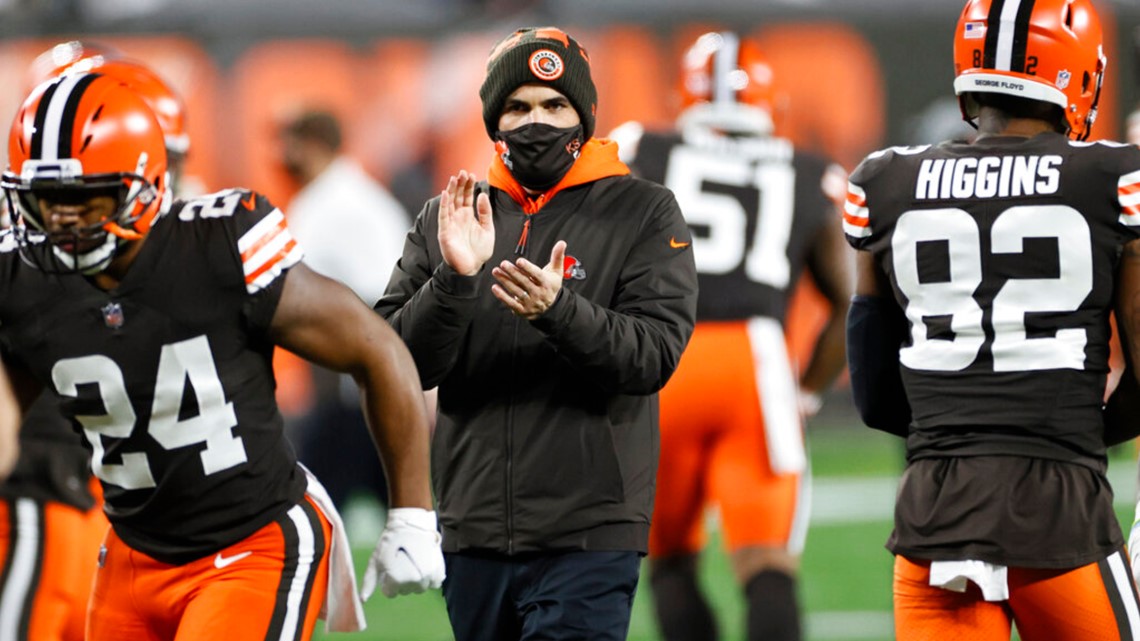 Are the Browns prepared to do this? I would say we can feel comfortable in one thing: They have been impeccably prepared all season long for whatever has come their way, with football strategy and with organizational strategy. I have to think there was a disaster scenario where they asked "What if the head coach gets sick?"
Remember, Stefanski got a false positive test back in the summer and had to leave the team. It was only for a period of about nine hours, but at that point or maybe even before that, the Browns were so organized that they probably had a plan in place. In his place steps Priefer, a Cleveland native whose father once coached at Padua Franciscan High School.
I don't mean to be dramatic, but this is only Tuesday. As we go along, you wonder if the Browns or even the Steelers will get hit with more of these positive tests. Who the heck is going to play on Sunday night?
Somebody is, and the game will go on.