EAST RUTHERFORD, N.J. — A win is a win, and after that loss to Tennessee a week ago, a win was needed by the Browns.
And that's exactly what happened, on Monday Night Football to boot. The Browns dominated the Jets, but by no means is this a finished project.
This is going to get better and better the more time the Browns are playing together. Specifically, it should get better and smoother offensively. It is definitely a work in progress, which is a bit surprising when you consider that we thought the team would just roll up and down the field with all the playmakers.
Big plays take time to get in sync. That is definitely going to take some time, but the Browns need more big plays from that offense. They need more rhythm, they need to be more balanced, they can't waste field position, and at times that was a problem on this Monday night.
The Browns defense was superior in this game. The front four was great, and Myles Garrett got penalties and sacks. I would take sacks, minus the penalties, but in the overall picture he's still a great player. Even though he's got to stay on side and stop hitting the quarterback late, he had a hat trick with three sacks.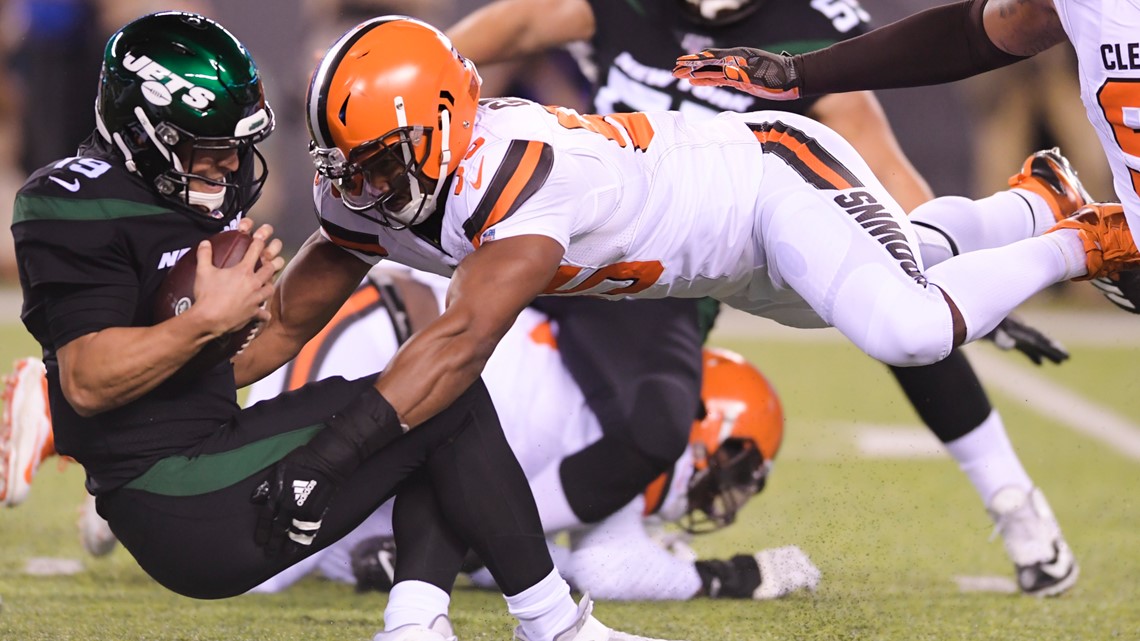 Other than that, the linebackers were fantastic. Joe Schobert and Christian Kirksey particularly were tremendous, and the Browns threw a net around Le'Veon Bell all night long. He ran into orange helmets every time he touched the ball (which was a lot), but the defense got the job done.
The Browns also feasted on Jet quarterback injures, as Trevor Siemien went out with an ankle issue. Luke Faulk came in and played admirably, but he was pestered all night long by a fierce Browns pass rush.
So, you get the look of what it can be when it all works. Baker Mayfield 89 yards to Odell Beckham Jr. (he just ran away from everybody) was especially a thing of beauty. It is, too, to be 1-1, but they'll have to be much better on Sunday night when they come home to take on a tremendous team in the defending NFC champion Los Angeles Rams.
But on this Monday night, it's a good start for the Browns. The pressure was on to win, and they answered the call.