BEREA, Ohio — Could talented running back Kareem Hunt really be in danger of not making the Cleveland Browns' roster at the end of training camp?
According to ownership, the answer to that question is yes, as the third-year professional has to serve an eight-game suspension for assaulting a woman at a Cleveland hotel/apartment complex in February of 2018 and was involved in an altercation at a well-known establishment downtown that drew the attention of law enforcement.
"You have to take the situation very, very, very seriously," Dee Haslam said. "We spent a lot of time and John (Dorsey) spent a lot of time with Kareem and felt like he has potential as a person, which is, obviously, as important as a player. He needs to continue to work really hard to be part of our organization."
Jimmy Haslam added, "Kareem understands what he has to do to continue to be a part of the Cleveland Browns."

A standout player for the Willoughby South High School Rebels, Hunt was released from his rookie contract on November 30, 2018 when video showed him pushing, and later, kicking a woman at The 9 Hotel in Downtown Cleveland. Since that video became public, reports of other incidents involving Hunt have surfaced.
During the video, the 23-year old Hunt was seen having to be physically restrained by another member of a group that gathered in a hallway.
At the time of Hunt's release last November, the Kansas City Chiefs said he was less than honest in reporting the incident. However, since the footage became public, Hunt has sought professional help.
"We know that Kareem has work to do, and he is in counseling working really hard," Dee Haslam said. "It is up to him. It truly is up to him. We have high expectations for our players."

The Chiefs jettisoned Hunt despite two productive seasons in Kansas City.
Hunt rushed for 2,151 yards and 15 touchdowns with 106 first downs, 19 plays going for at least 20 yards and four 40-yard gains. Additionally, Hunt caught 79 passes out of the backfield for 833 yards and 10 touchdowns, including a single-season career high of seven in 2018.
As a rookie in 2017, Hunt rushed for an NFL-best 1,327 yards on 272 carries, an average of 4.9 yards per attempt, which earned him a spot on the AFC Pro Bowl team.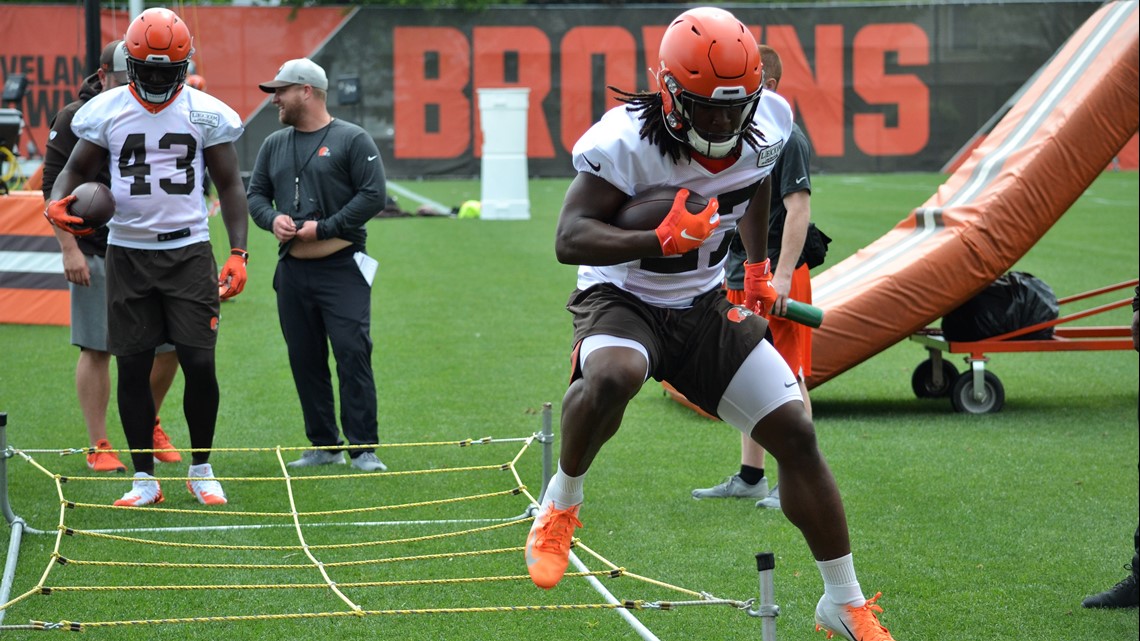 Currently, the Browns are awaiting word from the NFL and NFLPA to allow Hunt to remain with the team in some way during his eight-game ban. Typically, league rules prohibit suspended players from having any direct contact with the team or being around the facility until his ban is completed.
"Those talks are still ongoing," Jimmy Haslam said. "Obviously, the league has the final call, but those talks are still ongoing."