CLEVELAND — 11:11 p.m.-Browns fall to 2-3 with crushing loss to 49ers
The Cleveland Browns never got on track offensively and struggled to get drive-ending stops on defense, and that combined to add up to a 31-3 loss to the San Francisco 49ers at Levi's Stadium in Santa Clara, California, which was seen by the entire country on Monday Night Football.
The Browns (2-3, second place in the AFC North Division) surrendered 275 rushing yards to the 49ers (4-0, first in NFC West) and managed 180 yards of total offense on the way to their third loss of the 2019 regular season.
Quarterback Baker Mayfield completed only eight of his 22 attempts for 100 yards with two interceptions, the second of which came on a deflection on a pass that hit wide receiver Antonio Callaway both in the hands and the chest before former Browns defensive back K'Waun Williams returned the ball 51 yards to the Cleveland 49-yard line.
Also, Mayfield had two fumbles, one of which the 49ers recovered, and was sacked four times for 42 lost yards, two of which were registered by former Ohio State Buckeyes standout Nick Bosa.
Running back Nick Chubb and wide receiver Jarvis Landry were two of the few bright spots for the Browns in the blowout loss to the 49ers. Chubb rushed for 87 yards on 16 carries, while Landry, despite missing most of the practice week while in the NFL Concussion Protocol, caught four passes for 75 yards.
49ers quarterback Jimmy Garoppolo completed 20 of his 29 attempts for 181 yards and two touchdowns, while running backs Matt Breida (114 yards, one touchdown) and Tevin Coleman (97 yards, one score) combined for 211 yards on 27 rushing attempts.
10:34 p.m.-Browns trail 49ers, 28-3, after three quarters
The Cleveland Browns' offense is having some kind of trouble trying to solve the San Francisco 49ers' defense, and the scoreboard reflects that struggle in their Monday Night Football game at Levi's Stadium in Santa Clara, California.
The Browns managed less than 50 yards of offense in the third quarter and trailed the 49ers, 28-3, after three quarters of play.
Quarterback Baker Mayfield is eight of 22 for 100 yards and two interceptions, good enough for a 13.4 quarterback rating.
10:01 p.m.-Kittle extends 49ers' lead over Browns
The San Francisco 49ers came out of the locker room after halftime and got right back to work against the Cleveland Browns in their Monday Night Football game at Levi's Stadium in Santa Clara, California.
Despite starting at their own 10-yard line after a special teams blunder, the 49ers marched 90 yards on their first drive of the second half, and quarterback Jimmy Garoppolo capped off the possession with a 22-yard touchdown pass to tight end George Kittle.
The Garoppolo-to-Kittle connection gave San Francisco a 28-3 lead over the Browns with 10:37 to play in the third quarter.
9:32 p.m.-Tevin Coleman rushes for 49ers TD
Tevin Coleman's first touchdown run with San Francisco gave the 49ers a 21-3 lead over the Cleveland Browns with 1:54 to play in the first half of their Monday Night Football game at Levi's Stadium in Santa Clara, California.
Facing a first-and-10 from Cleveland's 19-yard line, Coleman ran around left tackle, hit another gear of speed as he got to the second level and raced across the goal line for the touchdown.
San Francisco's third scoring drive of the game was set up by the Browns' third turnover of the half, an interception of Baker Mayfield at the San Francisco one-yard line that was returned by defensive back K'Waun Williams to the Cleveland 49.
Mayfield fired a pass over the middle of the field to wide receiver Antonio Callaway, who was seeing his first action of the season after serving a four-game suspension for violating the league's substance abuse policy, but the second-year pass catcher let it bounce off his hands and chest before Williams corralled it.
9:06 p.m.-Seibert gets Browns on the board
After coming up empty in the first quarter, the Cleveland Browns got on the scoreboard early in the second period of their Monday Night Football game against the San Francisco 49ers at Levi's Stadium in Santa Clara, California.
Rookie kicker Austin Seibert converted a 30-yard field goal attempt and cut the 49ers' lead over the Browns to 14-3 with 11:22 to play in the second quarter. It was Seibert's eighth straight field goal conversion of his first NFL season after a rocky preseason and training camp.
Before Seibert converted the field goal, the Browns travelled 51 yards in nine plays.
Earlier in the drive, quarterback Baker Mayfield completed a 25-yard pass to wide receiver Jarvis Landry, and then, went back to the veteran pass catcher on third-and-six for a 12-yard gain. Also, receiver Odell Beckham Jr. rushed around right end for 11 yards on the scoring possession.
8:45 p.m.-49ers build onto lead
The San Francisco 49ers are making a statement on Monday Night Football, and the Cleveland Browns are on the receiving end of said statement.
For the second time in three possessions, running back Matt Breida scored a touchdown, the second of which gave the 49ers a 14-0 lead over the Browns with 6:26 to play in the first quarter from Levi's Stadium in Santa Clara, California.
As a follow-up to his 83-yard touchdown run on San Francisco's first possession, Breida hauled in a five-yard scoring pass from quarterback Jimmy Garoppolo to make it a two-score lead for the home team.
8:24 p.m.-49ers score on first offensive play
Well, that did not take long for the San Francisco 49ers to put the Cleveland Browns behind the proverbial eight-ball on the road.
On their first play of the Monday Night Football game against Browns, the 49ers went to running back Matt Breida, and after taking a pitch from quarterback Jimmy Garoppolo, he hustled 83 yards down the field for a touchdown that put San Francisco in front of Cleveland, 7-0, with 13:17 to play in the first quarter from Levi's Stadium in Santa Clara, California.
The 49ers defense got a three-and-out against Cleveland on the game's opening drive, and then, intercepted Baker Mayfield on the ensuing possession.
6:45 p.m.-Ward, Williams, Higgins out once again
The Cleveland Browns will take on the San Francisco 49ers at Levi's Stadium in Santa Clara, California tonight on Monday Night Football, but they do so without two starters in their secondary and a starting wide receiver.
The Browns announced their inactives after the 90-minute meeting, and cornerbacks Greedy Williams and Denzel Ward are among those who will not suit up for the game. Joining them on the sideline will be receiver Rashard "Hollywood" Higgins, who will miss his fourth straight game because of a knee injury.
Williams and Ward are working their ways back from hamstring injuries and will miss their third consecutive starts tonight.
Along with the three starters, the Browns will be without wide receiver Taywan Taylor, rookie safety Sheldrick Redwine, defensive end Genard Avery and offensive lineman Kendall Lamm.
6:30 p.m.-Browns look to get above .500 mark tonight
The Cleveland Browns are in the midst of a four-week stretch that includes three prime time games, and their latest appearance on Monday Night Football required a cross-country trip to the Bay Area.
The Browns (2-2) will play the San Francisco 49ers (3-0) at Levi's Stadium in Santa Clara, California tonight, and it will be their second road Monday Night Football game in the last four weeks, as they defeated the New York Jets, 23-3, on the road in Week 2.
And while there are no shortage of challenges awaiting in the prime time games, Browns coach Freddie Kitchens recognizes the importance of playing on the national stage.
"I would have made the schedule differently, but they did not ask me when they did it," Kitchens said. "We are very happy for our fans. To play these prime time-type games, it is exciting for our fans. We just want to put our best foot forward for that particular week, whatever time the game is."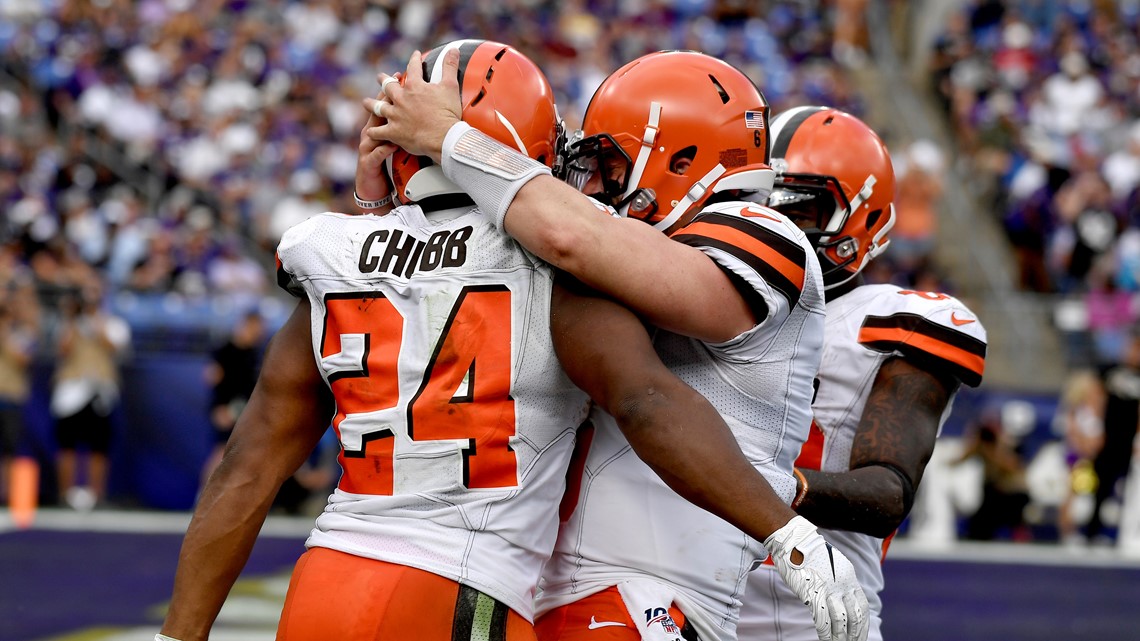 Quarterback Jimmy Garoppolo is back running the offense after missing much of the 2018 season because of a torn knee ligament, and he appears to be back to form, as he has completed 58 of his 84 attempts (69.0 percent) for 739 yards and five touchdowns against four interceptions and has been sacked only twice this season.
When Garoppolo hands off, the two-headed attack of Matt Breida and Raheem Mostert have combined for 428 yards on 75 carries, while second-year ball carrier Jeff Wilson Jr. has scored all four of San Francisco's rushing touchdowns this season.
"He looks like he is back to 100 percent and making good throws," Kitchens said of Garoppolo. "He can make every throw on the field. Making good decisions. He is a very good quarterback.
"They do an excellent job running the ball -- I think 175 yards a game running the ball. Kyle (Shanahan) has always done a great job in the run game and created unique ways to throw the ball down the field. Nothing has changed from that area and he has been very successful doing it."