In the aftermath of last week's brawl between the Cleveland Browns and Pittsburgh Steelers on Thursday Night Football, a common sentiment has seemed to emerge: While there's no excusing what Myles Garrett did in hitting Mason Rudolph in the head with his own helmet, it was Rudolph whose actions started the whole ordeal.
"I don't know. You'd have to ask those guys," Tomlin said, referring to the Browns, when asked what his team could learn in order to prevent a similar incident from occurring in the future. "I don't know that we did anything to make it happen anyways in the first place. That's why I said we didn't have anything to learn from it."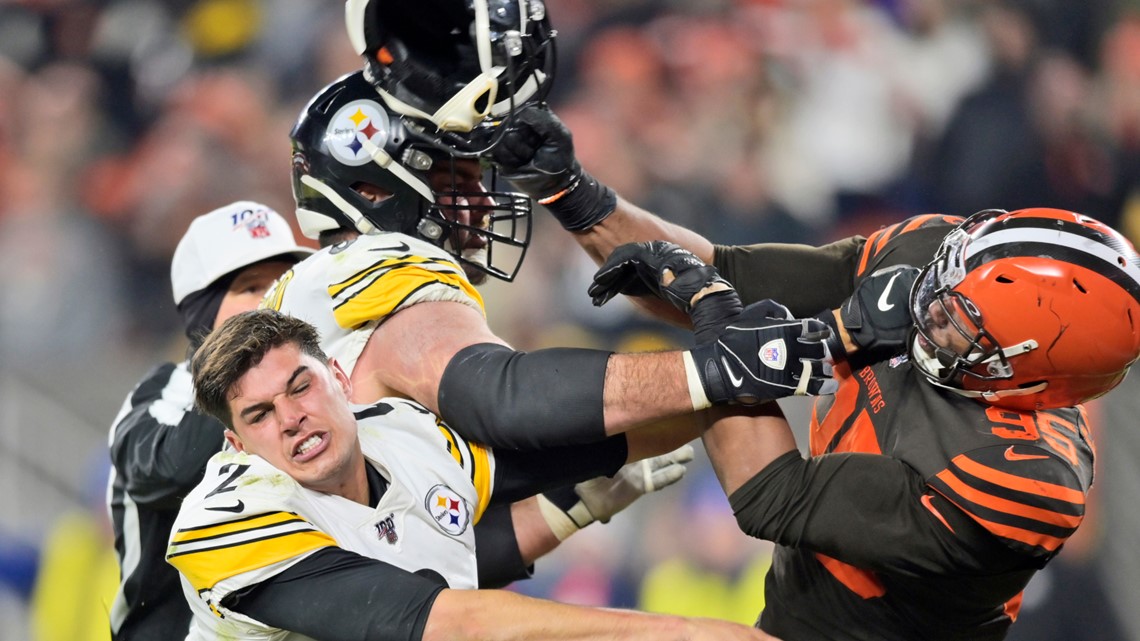 Whether or not Tomlin's assessment was accurate depends on where you think the skirmish began.
Reviewing the film of the fight, the following events appeared to transpire:
Facing a 3rd and 29 with 14 seconds left in the game and the Browns leading 21-7, Rudolph dropped back and threw a dump-off pass to running back Jaylen Samuels.
After wrapping up Rudolph shortly after the pass, Garrett brought the second-year quarterback down to the ground, where the two became entangled.
While on the ground, Rudolph began grabbing at Garrett's helmet and used his leg to try to push the Pro Bowl defensive end off of him.
Garrett then proceeded to rip Rudolph's helmet off of him and struck a charging Rudolph in the head with it while being restrained by Steelers offensive lineman David DeCastro.
After Garrett struck Rudolph, the 23-year-old defensive end was then tackled to the ground by DeCastro and Maurkice Pouncey, who proceeded to kick and punch him.
Browns defensive tackle Larry Ogunjobi shoved Rudolph down to the ground.
Garrett received an indefinite suspension, which is currently slated to last through at least the remainder of the 2019 season and playoffs, while Pouncey was suspended three games and Ogunjobi was suspended for one. All three players are appealing their punishments, with Garrett's hearing scheduled for Wednesday.
While Tomlin may not believe his team was at fault for the incident, that hasn't stopped others from pointing to Rudolph's tugging on Garrett's helmet as a catalyst for the fight. Speaking on the Fox pregame show on Sunday, former NFL defensive back Charles Woodson singled out Rudolph, who was fined but not suspended for his actions on Thursday.
"Here's what really ticked me off about Mason Rudolph: In his postgame press conference, he talked about himself as a guy who, 'I'm never going to back down from anybody.' You started the fight," Woodson said. "What are you talking about that you aren't backing down from anybody when you're the one who caused this entire situation. You talk about 'bush league' and 'cowardly,' to me, that was cowardly."