BEREA, Ohio — Between the emergence of quarterback Baker Mayfield and running back Nick Chubb over the second half of the 2018 season under now head coach Freddie Kitchens and the acquisition of wide receiver Odell Beckham Jr. in March, expectations have been heaped upon the Cleveland Browns heading into the 2019 season.
Veteran coordinator Todd Monken has heard all about the outside expectations for the Browns, and he hopes the offense will be exciting and entertain Cleveland fans throughout the year.
"It should be fun to watch," Monken said. "I think we have really good skill players. I do not think we are going to be in a position to where you think, 'Okay, wow, we are going to have to protect the defense. We are going to have to run it. If we punt, we punt.' Believe me, I am all for 10-7 games if that is what it takes and I am for it if you have to score more, but ultimately, the fun and what I like is exciting plays and getting your playmakers in space.
"It should be fun. That is what it should be. It should be fun for our players to utilize all of their skills. To me, that is balance. It is not run-pass. It is, 'Do you have enough skill players touching the ball as balance and using the whole field as balance."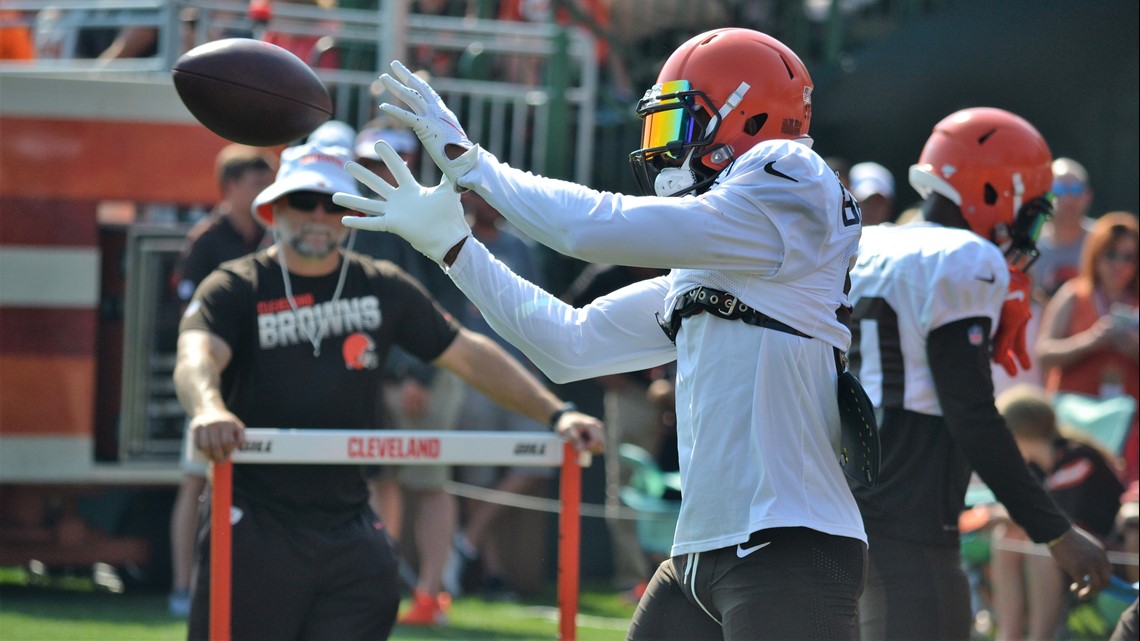 Over 59 regular-season games, including 56 starts, in five years with the Giants, Beckham Jr. turned 622 targets into 390 receptions for 5,476 yards and 44 touchdowns. Beckham Jr. averaged 92.8 yards per game, including a league-best 108.8 during the 2014 season.
Beckham Jr. has put four 1,000-yard and three double-digit touchdown seasons on his resume since being selected with a first-round pick in the 2014 NFL Draft out of Louisiana State University.
Last season, Beckham Jr. turned into a 77-catch, 1,052-yard, six-touchdown effort for the Giants.
Beckham Jr. is a three-time Pro Bowl selection (2014-2016) and two-time Second Team All-Pro honoree (2015-2016) during his five years with the Giants.
"He is a special talent in that he can play all three positions," Monken said. "He is not a guy that probably is not as comfortable inside. He is comfortable inside. He can play all three positions. You can move him around and find ways to get him the ball. He has been great so far."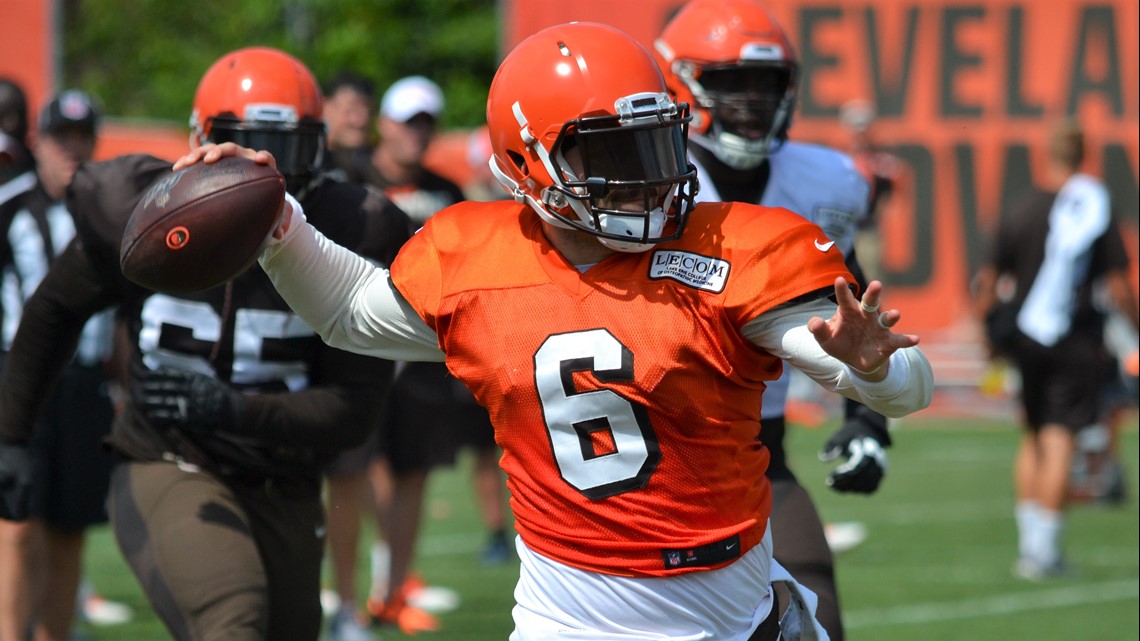 After taking over the first-team offense in the second quarter of a Week 3 win over the New York Jets, Mayfield completed 310 of his 486 attempts (63.8 percent) for 3,725 yards and 27 touchdowns against 14 interceptions.
Under Kitchens' direction, Mayfield completed 180 of his 263 attempts (68.4 percent) for 2,254 yards and 19 touchdowns against eight interceptions.
Although Mayfield does not get official credit for the victory over the Jets because he came on in relief of an injured Tyrod Taylor, the first-year quarterback guided the Browns to seven wins and the greatest single-year turnaround in franchise history.
"At the core from a competitive nature standpoint, I have said this many times, he is what I thought he was," Monken said. " He likes to have fun and he loves to play football, but do not confuse that with that he just clowns around because he does not.
"It is important to him. It is important to the meetings. He asks great questions. He wants to be on the same page. He wants to be elite. When you are that way, all of these guys want to be elite players, but he is at the top of that group."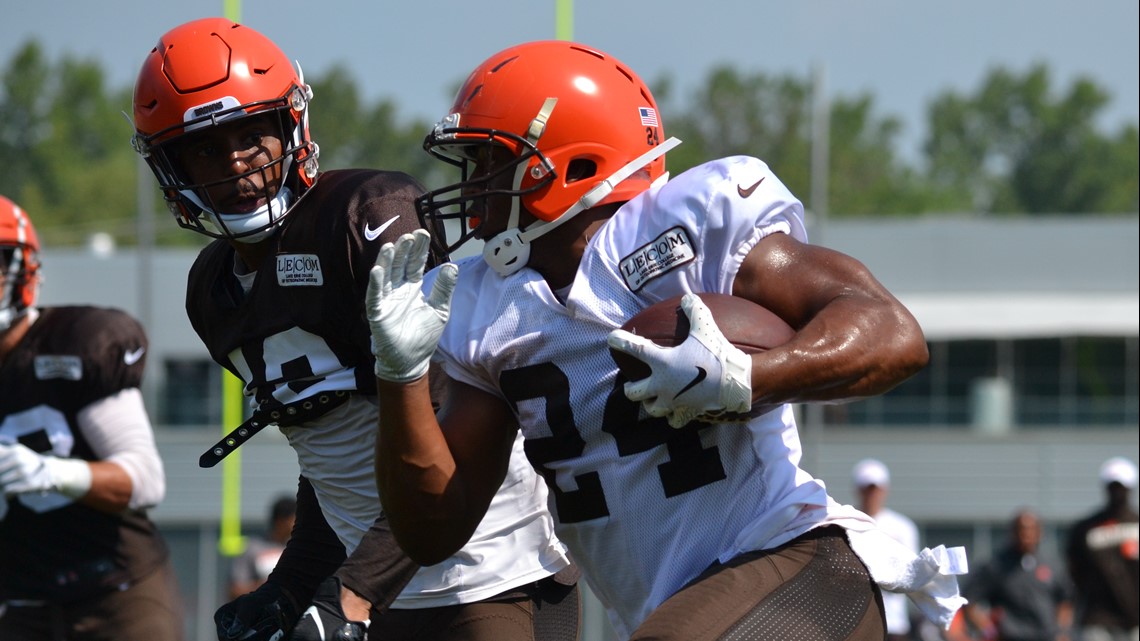 Chubb finished the 2018 season, one in which he saw limited time in the first seven games, with 996 yards and eight touchdowns on 192 carries. Chubb had 11 20-yard runs, four 40-yard bursts and 47 first-down conversions.
A second-round pick in the 2018 NFL Draft out of the University of Georgia, Chubb rushed for 788 of his 996 yards and five of his eight touchdowns on 140 carries with Kitchens calling the plays. After the changes in the coaching staff, Chubb averaged 5.63 yards per carry and became a contributing player in the passing game as well.
"I think his talent shows through when the physical part comes out," Monken said.
"He is a really good one-step, one-cut guy downhill and it is hard to get your hands on him and he is faster than you think and he has the ability to finish runs. That part of it has been good. It has been impressive when you turn on the film. That is what you expect to see."