PITTSBURGH — Sometimes, a t-shirt says it all.
In the moments following the Pittsburgh Steelers' 20-13 win over the Cleveland Browns at Heinz Field in Pittsburgh Sunday, the Pittsburgh Clothing Company tweeted out a photo of its latest t-shirt design, a "Pittsburgh finished it" special edition.
The Pittsburgh Clothing Company's design came in response to Cleveland-based GV Artwork's "Pittsburgh started it" t-shirt that Browns coach Freddie Kitchens wore to the movies and in a photo with a fan on Friday night.
The "Pittsburgh finished it" shirt has a double meaning, as not only did the Steelers finish the game by scoring 20 straight points to seal the come-from-behind victory, but also, could prove prophetic in terms of the Browns' playoff chances.
With the Tennessee Titans beating the Indianapolis Colts and holding a tiebreaker over Cleveland after a season-opening victory at FirstEnergy Stadium, the Browns' playoff chances are fading fast with no margin for error over the last four weeks of 2019.
The Browns have to regroup to face a Cincinnati Bengals team that beat the New York Jets for their first victory of the season Sunday before going on the road in two of the final three weeks, first at Arizona on December 15, and then, at Cincinnati on December 29.
Those road trips bookend the home finale against the AFC North Division frontrunners, the Baltimore Ravens, who have had more than two months to stew on the 15-point loss the Browns handed them in Baltimore in Week 4.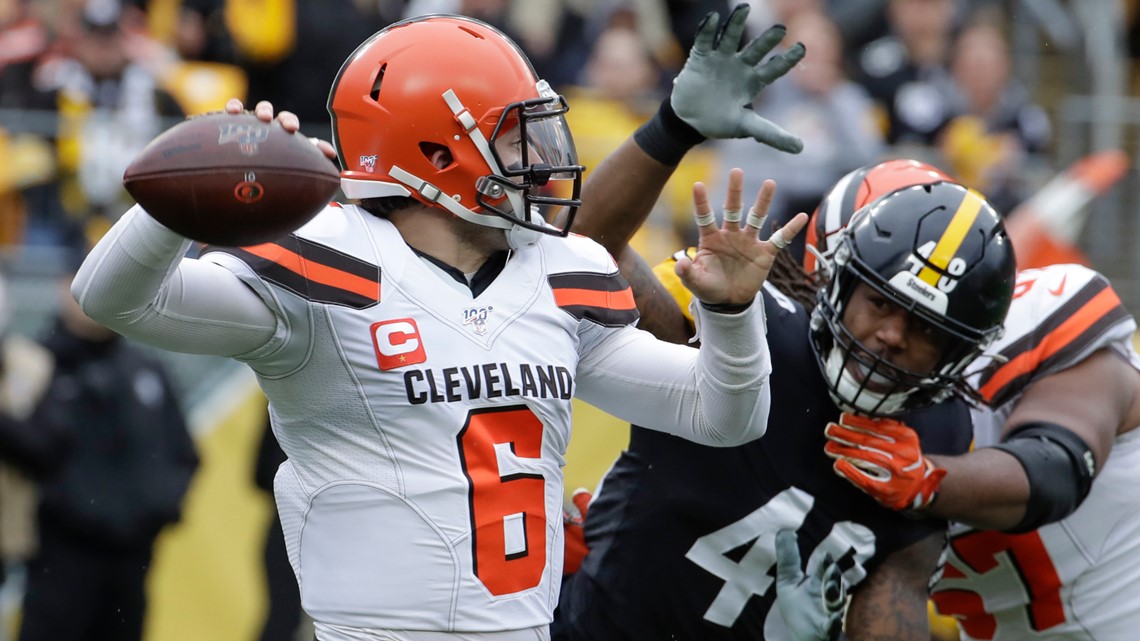 The Browns looked poised to complete their first regular-season sweep of the Steelers since doing so three straight times from 1986-1988, but as has been the case often since their return to the National Football League in 1999, they will have to wait until next year to break the streak.
Despite jumping out to a 10-point lead in the second quarter and playing against Pittsburgh's third-string quarterback, Devlin "Duck" Hodges, who had a limited body of work as a professional, the Browns allowed 20 straight points and never recovered on the way to the seven-point loss.
With the latest road loss to the Steelers, the Browns fell to 5-7 on the season, which mathematically eliminated them from contention for the AFC North Division championship, as the Ravens, at 10-2, have an insurmountable lead over Cleveland and only Pittsburgh could catch Baltimore now.