After a week's worth of joint practices, the Cleveland Browns and Indianapolis Colts will once again face each other -- this time under the bright lights of Lucas Oil Stadium.
On Saturday, the Browns and Colts will square off in what will mark the second preseason game for both teams. Saturday's showdown will mark a matchup between two teams who possess lofty expectations entering the 2019 season -- although each will be lacking varying degrees of star power in the exhibition.
Will the Browns be able to build on their 30-10 preseason-opening victory over the Washington Redskins? And what sort of insurance plan does Indianapolis have in place without Andrew Luck? We'll find out on Saturday.
Until then, here's everything you need to know about the preseason matchup between the Browns and Colts:
Game info, how to watch on TV:
Location: Lucas Oil Stadium, Indianapolis, Indiana
TV channel: News 5, NFL Network
Radio: ESPN 850, 92.3 The Fan, 98.5 WNCX, La Mega 87.7 FM
Betting line: Indianapolis -3
Over-under point total: 43.0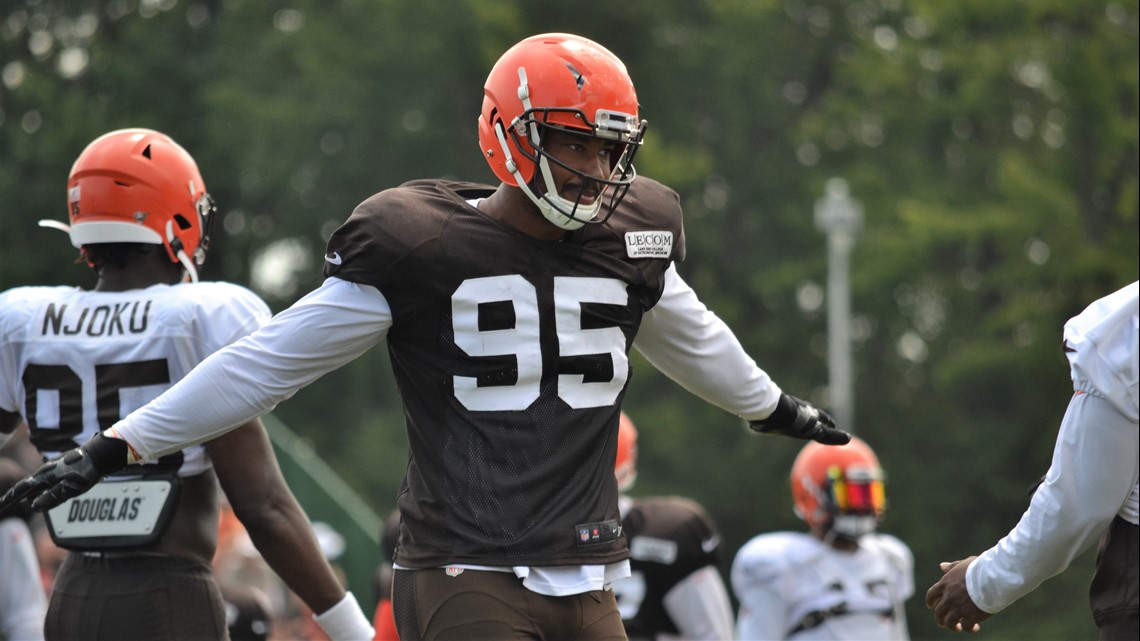 Storylines
Arriving in Indiana on Tuesday, the Browns have spent the better part of the past week practicing against the Colts -- although by the end of Thursday's final practice, the competition was far from friendly.
From all accounts, Thursday's practice featured no shortage of post-drill shoving as the dog days of Training Camp wore on both teams.
Nevertheless, it will be interesting to see how the familiarity between the Browns and Colts carries over from the practice field to Saturday night. At the very least, it should provide an intriguing wrinkle for the Browns, as they prepare to face an opponent they just spent multiple days practicing against.
While it remains to be seen how many of the Browns' key players will take the field on Saturday, if the team's opener against Washington was any indication, it may not be many.
Odell Beckham Jr.'s Cleveland preseason debut -- if he ever makes one -- will once again be delayed due to a hip pointer and most of the Browns' stars only saw limited action vs. the Redskins last week. Baker Mayfield, Myles Garrett, Nick Chubb and Christian Kirksey only played in a series each against Washington and it wouldn't be surprising to see Freddie Kitchens take a similar approach vs. the Colts on Saturday.
As was the case last week, limited playing time for Cleveland's top players could open the door for breakout performances elsewhere on the Browns' roster. Last week, rookie linebacker Mack Wilson recorded two interceptions, with second-round pick Greedy Williams adding a third. And who, of course, could forget Damon Sheehy-Guissepi's 86-yard punt return for a touchdown, which may have cracked the door open for more playing time for the viral sensation?
A little less than two weeks into Training Camp, two position battles in the Browns' starting lineup remain unsettled.
At right guard, 2018 second-round pick Austin Corbett appears to be the odd man out, having been relegated to backup center on the team's most recent depth chart. That leaves Eric Kush, Kyle Kalis and Willie Wright to battle it out for the right to replace Kevin Zeitler, with Kush's experience likely giving him a leg up.
As for kicker, neither Greg Joseph nor Austin Seibert have inspired much confidence to this point in camp. Seibert's status as a fifth-round pick could give him an inherent advantage, although we could soon be reaching a point where general manager John Dorsey considers alternatives.

What's on the line?
As is the case with any preseason game this year, the most important thing for the Browns is to remain healthy -- although that rings true this week more than most.
After a week's worth of joint practices, there's no reason for Cleveland to let any beefs spill onto the playing field or put an unnecessary amount of strain on its key players.
Given Kitchens' conservative approach last week, the Browns will likely be relying on backups for the majority of Saturday and that's just fine for a team still developing the "bottom half" of its roster. And in case Cleveland needs any more reason to appreciate the value in being healthy, it doesn't look any further than the Colts, whose preseason optimism has been hampered by the uncertainty surrounding Andrew Luck's injured ankle/calf.