To this point in the preseason, the Cleveland Browns have been hesitant to play their key players.
Friday, however, might be the best look Browns fans get at their team ahead of the Sept. 8 season opener against the Tennessee Titans. While head coach Freddie Kitchens may not be using his team's exhibition against the Tampa Bay Buccaneers as a true "dress rehearsal," Friday's matchup figures to feature the most playing time for Cleveland's key players that they'll see in any of their four postseason games.
With that in mind, here's everything you need to know about the Browns' third contest of the 2019 season:
Game info, how to watch on TV:
Location: Raymond James Stadium
TV channel: News 5, NFL Network
Radio: ESPN 850, 92.3 The Fan, 98.5 WNCX, La Mega 87.7 FM
Betting line: Cleveland -3
Over-under point total: 42.5
Storylines
Dress rehearsal?
Through the first two games of the preseason, the Browns have amassed a 2-0 record without relying heavily on any of their key players.
And although Kitchens said earlier this week that he doesn't buy into the idea that an NFL team's third game should be used as a "dress rehearsal," it does sound as if Friday will mark at least Baker Mayfield's most significant playing time of the preseason.
"I think that third game, a lot of the time is treated, as the last warmup before the real thing starts because none of the starters play in the fourth game, just because it so close to the real one. It's a final tune-up, iron everything out, treat it more like a game week with the mental prep work of getting into a routine, so yeah, I'm looking forward to playing."
Kitchens, meanwhile, has been mum on specifics of Friday's game plan for playing time, but did admit the Browns "are going to play our guys some." And although those determinations will be made on a player-by-player basis, if there's one Cleveland preseason game that might actually resemble the regular-season product, Friday might be it.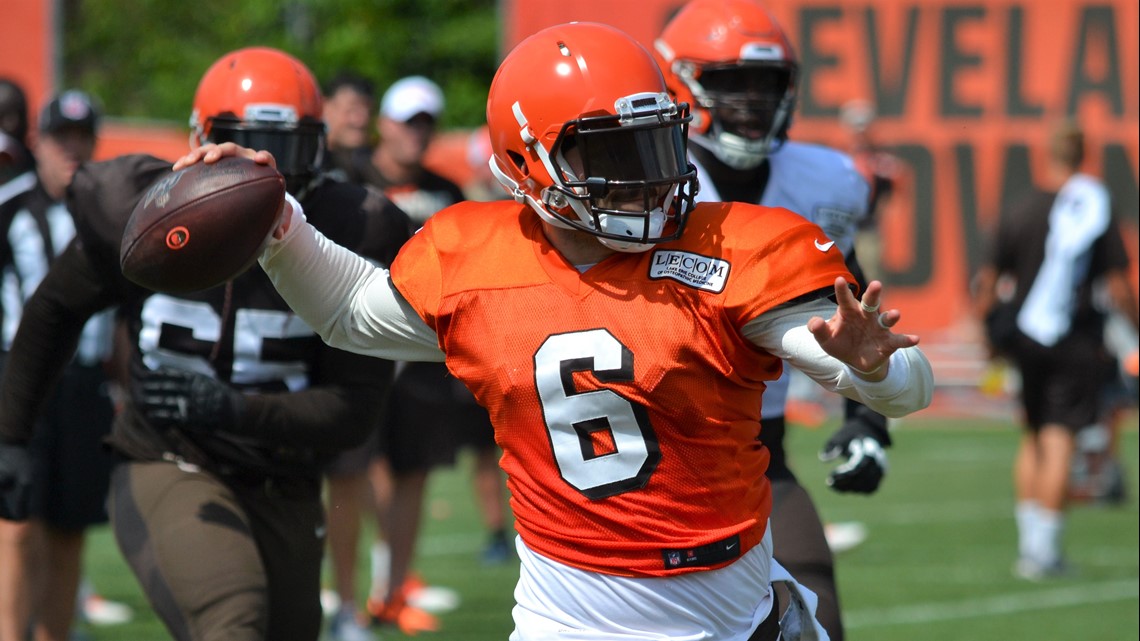 Still battling
With nearly two weeks to go until the season opener, the two primary position battles in Cleveland's starting lineup remain unsettled.
At right guard, Eric Kush has emerged as the new front-runner to replace Kevin Zeitler, although rookie Drew Forbes has entered the mix. Austin Corbett, meanwhile, may find himself on the roster bubble despite entering the 2018 second-round pick previously entering the preseason in pole position to serve as Cleveland's starting right guard.
As for the Browns' kicking situation, Greg Joseph and Austin Seibert remain the only two kickers on the Cleveland roster. But should neither player put together a strong performance on Friday, it may finally be time for John Dorsey to consider his options elsewhere entering the final week of the preseason.
On the bubble
With Training Camp officially over and just two weeks remaining until the season opener, the Browns' roster will soon need to be cut down from 90 players to 53.

In addition to wide receiver, Cleveland's front office will soon have sort out how much depth it will be keeping at positions like linebacker and which players it feels comfortable counting on across its roster. And while there should be ample playing time available in next week's preseason finale against Detroit, every moment counts when you're fighting for your NFL future.
What's on the line?
Like any NFL preseason game, Friday night's outcome is relatively meaningless. This time of year is more about evaluating players than teams -- especially one like the Browns that doesn't appear intent on featuring their key players in any significant way.
But if there was a preseason game to pay attention to this year for Cleveland, Friday night's matchup against the Bucs appears to be it. At the very least, Mayfield -- who has previously appeared in just one drive this preseason -- appears to be in line to play at least a quarter, giving Browns fans their best look at their franchise quarterback ahead of the start of the regular season.
More than anything, however, the most important outcome for Cleveland on Friday is to remain as healthy as possible entering the final week of the preseason.