CLEVELAND — No more scrimmages. No more exhibitions. No more Madden simulations.
After nearly a year's worth of anticipation, the Cleveland Browns' 2019 season is finally here.
On Sunday, the Browns will host the Tennessee Titans to kickoff their most highly touted season since returning to the NFL more than two decades ago. Coming off a 7-8-1 season in 2018 that included Baker Mayfield's emergence as a franchise quarterback, Cleveland was already one of the NFL's hottest teams -- and that was before the Browns' blockbuster trade to acquire star receiver Odell Beckham Jr.
Favored to win the AFC North and facing no shortage of expectations, Cleveland will finally take its first step toward either living up to the hype or turning in another disappointing season. With that in mind, here's everything you need to know about the Browns' season-opening matchup vs. Tennessee, in which Cleveland will be searching for its first Week 1 win since 2004:
Game info, how to watch on TV, betting line:
Location: FirstEnergy Stadium
Radio: ESPN 850, 92.3 The Fan, 98.5 WNCX
Betting line: Cleveland -6
Over-under point total: 45.5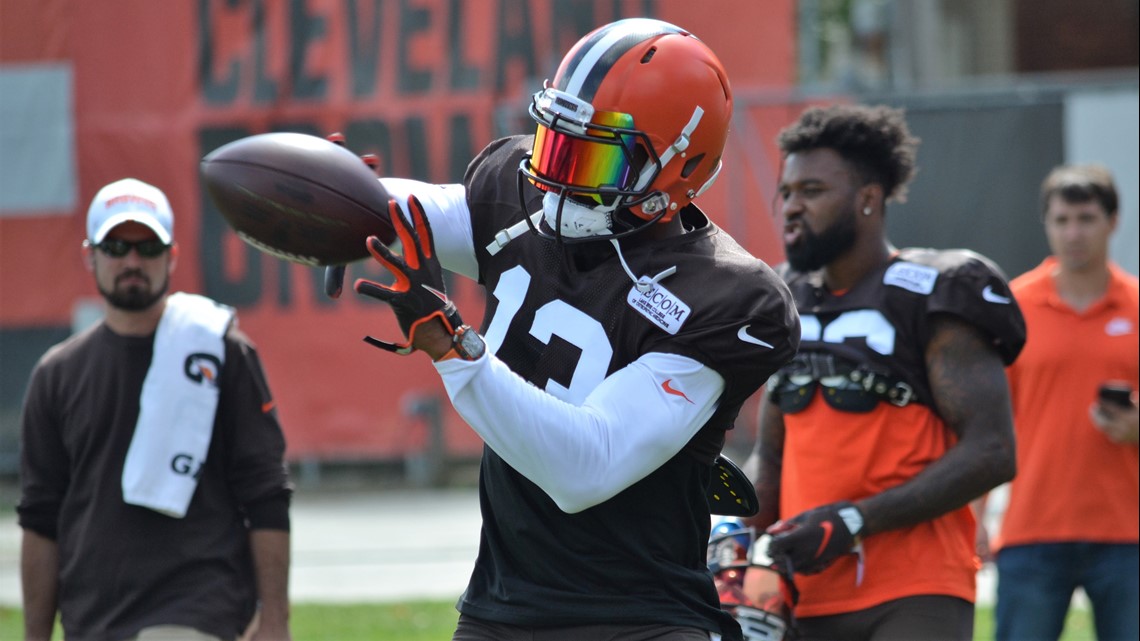 Key storyline
Beckham's big debut
On Sunday, it will have been 180 days since Cleveland acquired Beckham in a blockbuster trade with the New York Giants.
After sixth months of anticipation, he'll finally make his Browns debut.
In doing so, the 3-time Pro Bowl receiver will instantly become one of the most talented athletes to ever suit up for Cleveland. In five seasons in New York, the 2014 NFL Offensive Rookie of the Year totaled 390 receptions for 5,476 yards and 44 touchdowns, including 77 receptions for 1,052 yards and 6 touchdowns a season ago.
As for whether Beckham will be at full strength on Sunday, that's a different story. On Thursday, the 2014 first-round pick revealed he's been dealing with a hip injury that's been hampering some of his running ability.
Nevertheless, Beckham's debut remains one of the most highly anticipated in Cleveland sports history. And even if he's not playing at his full capacity, we should see a glimpse of the chemistry that he and Mayfield been developing since the Browns acquired Beckham in March.
Myles' mismatch
Beckham won't be the only one making his Cleveland debut on Sunday.
After trading for defensive end Olivier Vernon and signing defensive tackle Sheldon Richardson, the Browns will unleash their new-look defensive line on a Titans offensive line that will be far from full strength. With Taylor Lewan suspended, Tennessee will likely fill his void at left tackle with Dennis Kelly, who missed multiple practices this week due to injury.
Facing a unit anchored by Pro Bowl defensive end Myles Garrett, the Titans' offensive line could be in for a long day as any extra attention it pays to the former No. 1 overall pick could open up opportunities for the Browns' defensive line elsewhere. For all the talk about Cleveland's offense this offseason, it could be its defense that steals the show on Sunday afternoon.

Coming home
From a Titans perspective, perhaps the most interesting storyline comes in the form of head coach Mike Vrabel's homecoming.
A native of Akron, Vrabel starred at Walsh Jesuit, before enjoying a successful career at Ohio State and winning multiple Super Bowls as a member of the New England Patriots. Last year, the Titans hired the former Pro Bowl linebacker, who made it clear this week he's still proud of his Northeast Ohio roots.
"It is always unique when you go back home as a player and now as a coach to see things kind of come full circle," Vrabel said. "I lived 18 years in Akron and grew up there as a Browns fan. I was at the last game at Memorial Stadium and then started a career as a professional football player and a coach.
"There will be a lot of people at the game. It will be an opportunity for me to see some people that I have not seen in a while, but it will be about the players and it will be about those guys on the field. It is not about me heading back into Northeast Ohio."
What's on the line?
If the Browns are going to live up to the lofty expectations they're facing this season, they're going to have take advantage of their matchups with teams like the Titans -- especially at home. Simply put, there are too many good teams and tough road trips ahead for Cleveland to slip up against teams it's favored to beat.
Ideally for the Browns, they'd live up to the hype instantly on Sunday with an offensive explosion from Mayfield, Beckham and running back Nick Chubb and a strong showing on defense led by the team's revamped defensive line. Wins in the NFL -- even for good team -- however, rarely come easily. And for a franchise that hasn't won a season opener in 15 years, starting the season 1-0 should be the only true objective that matters this weekend.
Prediction: