CLEVELAND — Time is running out to impress decision-makers across the National Football League, as the Cleveland Browns and their 31 counterparts are just days away from having to reduce their roster from 90 players to 53.
Following Thursday's preseason finale against the Detroit Lions at FirstEnergy Stadium in Cleveland, the Browns' coaching staff and front office will meet and make decisions that shape the initial roster before the team opens up regular-season play at home against the Tennessee Titans on Sunday, September 8.
How many receivers and tight ends will make the roster and how many quarterbacks will the Browns keep behind starter Baker Mayfield? Those are just a few of the questions that must be answered over the next three days.
Here is a projection for what the Browns' offensive depth chart will look like after cuts are made Saturday.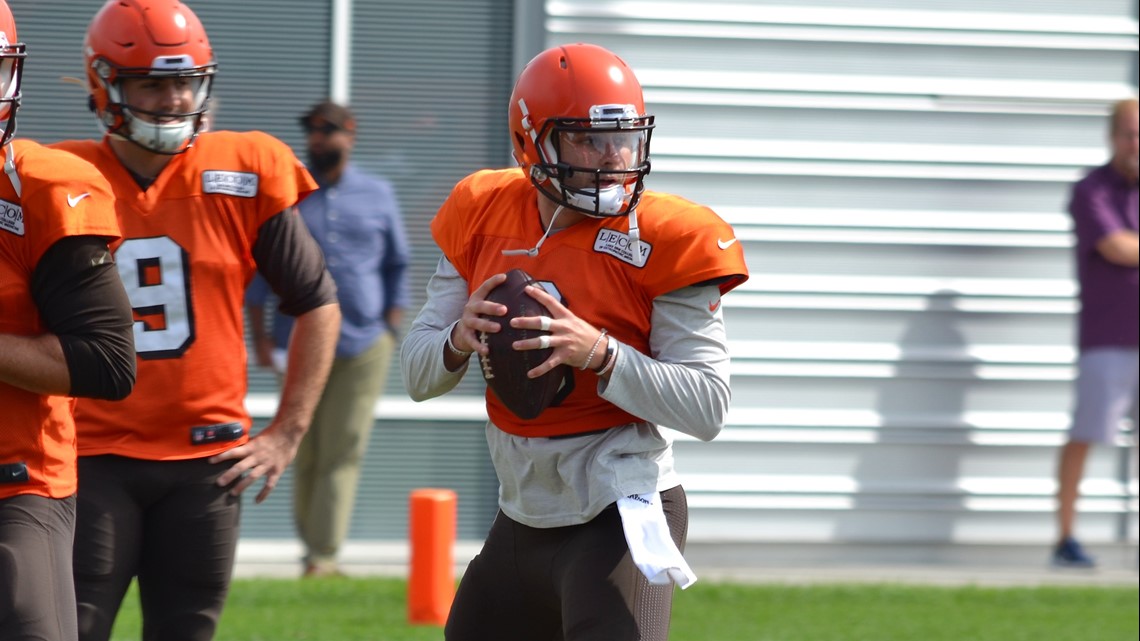 Quarterback (3): Mayfield, Drew Stanton, Garrett Gilbert
After taking over the first-team offense in the second quarter of a Week 3 win over the New York Jets, Mayfield completed 310 of his 486 attempts (63.8 percent) for 3,725 yards and an NFL rookie record 27 touchdowns against 14 interceptions during the 2018 season.
Mayfield is the unquestioned leader of the group, but what is going on behind him on the depth chart?
Stanton, a veteran backup who could double as an offensive coordinator-in-waiting, gives the room stability and a 13-year NFL veteran presence.
Gilbert beats out David Blough for the final spot if the Browns elect to keep three quarterbacks.
Gilbert enters the preseason finale having completed 27 of his 41 attempts (65.9 percent) for 286 yards with two touchdowns against no turnovers, while Blough has been successful with 14 of his 26 throws (53.8 percent) for 156 yards and two scores.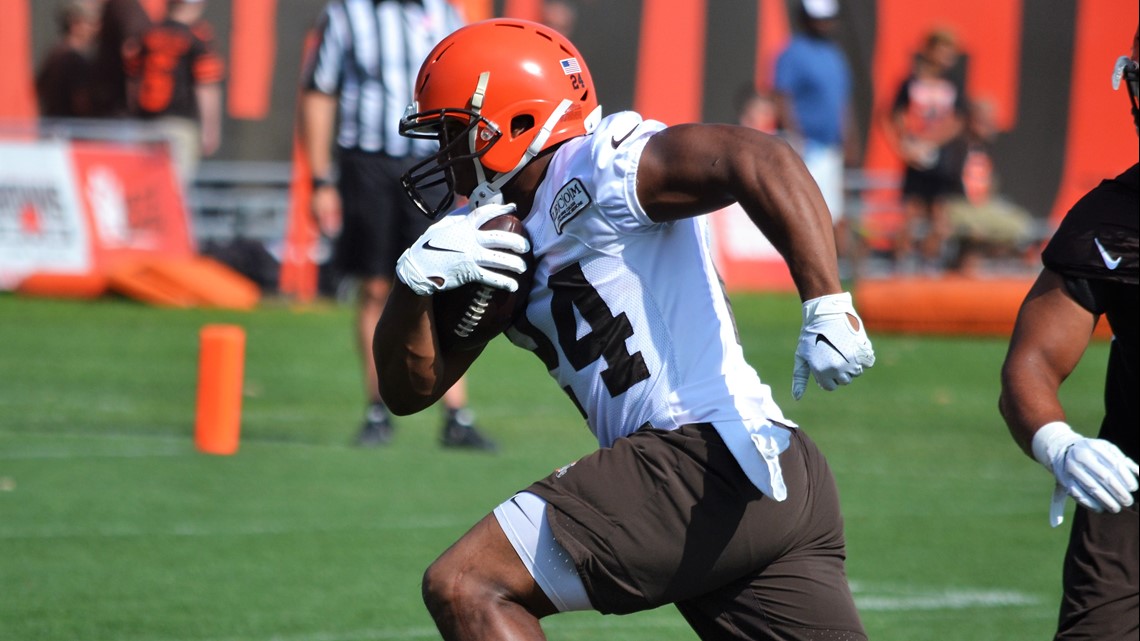 Running back (3): Nick Chubb, Dontrell Hilliard, D'Ernest Johnson
Chubb finished the 2018 season, one in which he saw limited time in the first seven games, with 996 yards and eight touchdowns on 192 carries. Chubb had 11 20-yard runs, four 40-yard bursts and 47 first-down conversions.
A second-round pick in the 2018 NFL Draft out of the University of Georgia, Chubb rushed for 788 of his 996 yards and five of his eight touchdowns on 140 carries under the direction of coach Freddie Kitchens. After the changes in the coaching staff, Chubb averaged 5.63 yards per carry and became a contributing player in the passing game as well.
With Kareem Hunt slated to miss the first eight games of the season because of a suspension, depth behind Chubb will by key, and while Hilliard helps as a pass-catcher out of the backfield, Johnson gives the Browns a backup running back that can double as a kick returner.
Fullback (1): Joe Kerridge
Despite being a late addition to the roster in training camp, Kerridge will make the team and be a lead blocker for Chubb and the other ball carriers.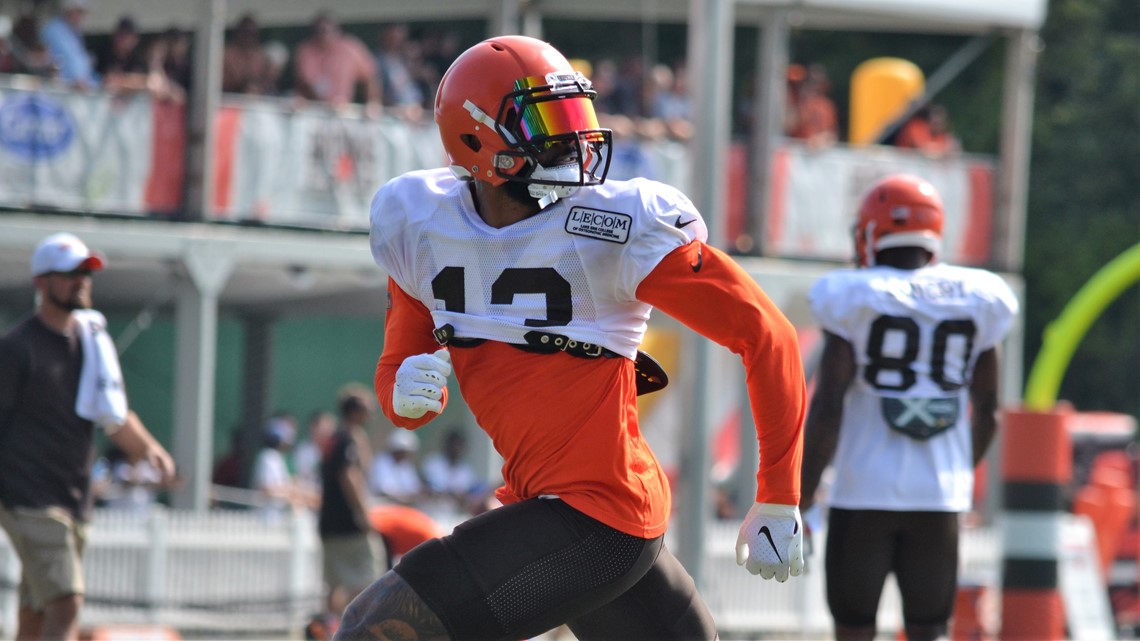 Wide Receiver (7): Jarvis Landry, Odell Beckham Jr., Derrick Willies, Braxton Miller, Damion Ratley Rashard "Hollywood" Higgins, Ishmael Hyman
The top three spots belong to Landry, Beckham Jr. and Higgins, but the Browns are going to need more than those players to step up at wide receiver.
Willies and Miller have regular-season track records in the NFL, while Ratley is an intriguing prospect who missed much of training camp due to injury. Although Miller was signed on the final day of training camp last week, if he can show productivity on special teams, the former Ohio State Buckeyes quarterback will have a spot on the roster.
Hyman is the surprise addition to the team because of a solid showing in the preseason (six catches for 69 yards) and the fact that Antonio Callaway will miss the first month of the season due to a league-mandated suspension.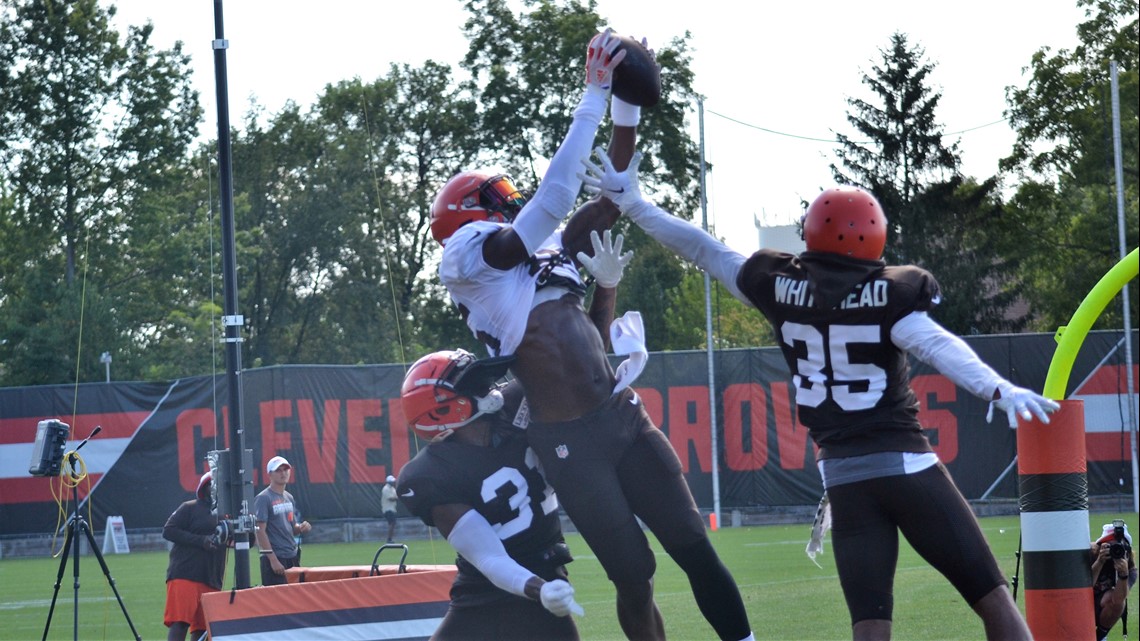 Tight End (3): David Njoku, Demetrius Harris, Seth DeValve
Athletically, Njoku is the best the Browns have, while Harris is getting an opportunity to be a pass-catcher for the first time in his career after spending several seasons behind Kansas City Chiefs All-Pro Travis Kelce.
Because of his edge in regular-season experience, DeValve will make the roster over younger players at his position if the Browns keep three tight ends. It will mark the third straight year in which DeValve missed several weeks of training camp because of injury but still found his way onto the team.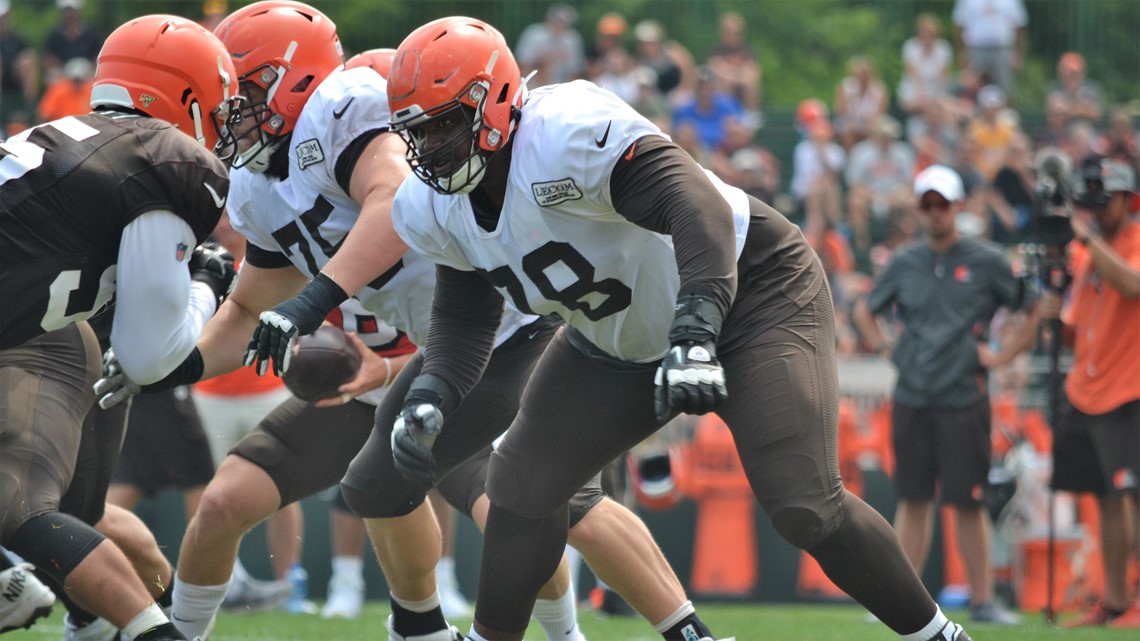 Offensive Line (8): Greg Robinson, Joel Bitonio, JC Tretter, Eric Kush, Chris Hubbard, Kendall Lamm, Austin Corbett, Drew Forbes
The Browns will have Robinson (left tackle), Bitonio (left guard), Tretter (center), Kush (right guard) and Hubbard (right tackle) in the starting lineup, while Lamm will be the team's swing tackle. Forbes will be the backup guard and Corbett will work at center if Tretter is out of action.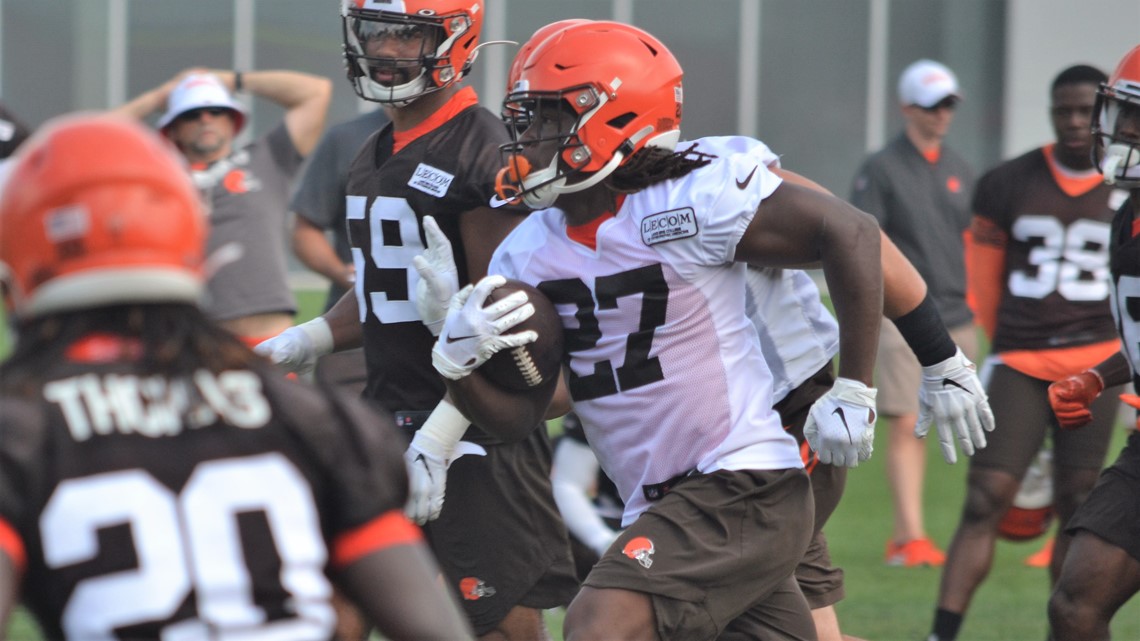 Late additions (2): Hunt, Callaway
Hunt and Callaway figure to be key parts of the Browns' offense in 2019, but will have to wait to make an impact, as they will combine to miss 12 games over the first half of the season.
Hunt will serve an eight-game ban for a physical altercation with a woman in February of 2018 and Callaway will miss four weeks because of a failed drug test.