5:15 p.m.-Cleveland Browns question practicality of NFL's new roughing-the-passer rule
BEREA, Ohio -- The National Football League has changed quite a few regulations designed at protecting quarterbacks from serious injury in recent seasons, but the latest roughing-the-passer rule has players and coaches around the league questioning the practicality of the calls.
Like their counterparts across the league, the Cleveland Browns are not sure why defenders have to put themselves at added risk to avoid landing on the quarterback when trying to bring him down to the ground.
"It's definitely in the back of my head and in the back of a lot of players' heads because they don't want to hurt the team, but then again, it's their career, it's their job to tackle the quarterback, so it's in everybody's head," Browns defensive end Emmanuel Ogbah said.
Defensive tackle Larry Ogunjobi added, "Really, you just have to be wary. It is not really about changing technique. It is more about understanding where you have to put yourself in position in order to even make that type of play. Try to make sure that you do not put yourself in position to get flagged for it."
Matt Florjancic, WKYC Digital Sports
The Browns have first-hand knowledge of how a penalty can change a game.
On the opening drive of the second quarter, the Pittsburgh Steelers faced a third-and-seven from the Cleveland eight-yard line when Ben Roethlisberger rolled to his left and lofted a pass out of the back of the end zone. Right after Roethlisberger released the throw, Garrett slammed into him and brought down the 15-year veteran signal-caller.
One snap after Roethlisberger drew a roughing-the-passer penalty against Garrett, he handed off to running back James Conner, who sprinted untouched into the end zone for the touchdown, which kicker Chris Boswell followed with a successful PAT try in the 21-21 tie.
Also, the Browns saw what happens when a defender plays by the rules, as Miami defensive lineman William Hayes tore the anterior cruciate ligament in his right knee while trying to avoid landing on Oakland quarterback Derek Carr last week.
"I guarantee you our players feel that way," Browns coach Hue Jackson said. "They would rather take a penalty in a heartbeat than to get hurt. I hope William recovers fast. Obviously, everyone is trying to figure out the rule and how to do it better.
"Everybody wants to understand it. I think the league is doing everything they can. It sent out videos. I show our football team every week something that they are trying to point to on how to judge it better for the referees and to officiate it better. At the same time, I think the players have to keep playing. They just have to keep playing and do the things we are coaching them to do, and we will let everything else take care of itself."
Steve Mitchell
Ogbah is hopeful the NFL's Competition Committee addresses the rule in their conference call this week, but regardless, it will not affect the way Browns defenders approach Sunday's game against the Oakland Raiders.
"Not changing the way that I am playing," linebacker Joe Schobert said.
4:15 p.m.-Cleveland Browns looking to build confidence, win streak starting Sunday in Oakland
BEREA, Ohio -- There was no shortage of celebration from Cleveland Browns fans after their team broke a 19-game winless streak with a 21-17 victory over the New York Jets at FirstEnergy Stadium last Thursday night.
And while the Browns players and coaches were proud to deliver that happiness, they let the fans know their intentions are to brighten more days with victories as the 2018 rolls on, starting this week against the Oakland Raiders at the Oakland-Alameda Coliseum Sunday.
"We're a growing team," wide receiver Jarvis Landry said. "For a lot of us, it's the first time being on the field together in actual game, like in a game.
"Those first two games, we had our opportunities there, big opportunities to be sitting in a pretty position right now that we didn't take advantage of, but we learned from (it). Hopefully, having that W, then going on the road right now is going to give us the confidence that we need to create the streak here."
PHOTOS | Cleveland Browns face New York Jets on Thursday Night Football at FirstEnergy Stadium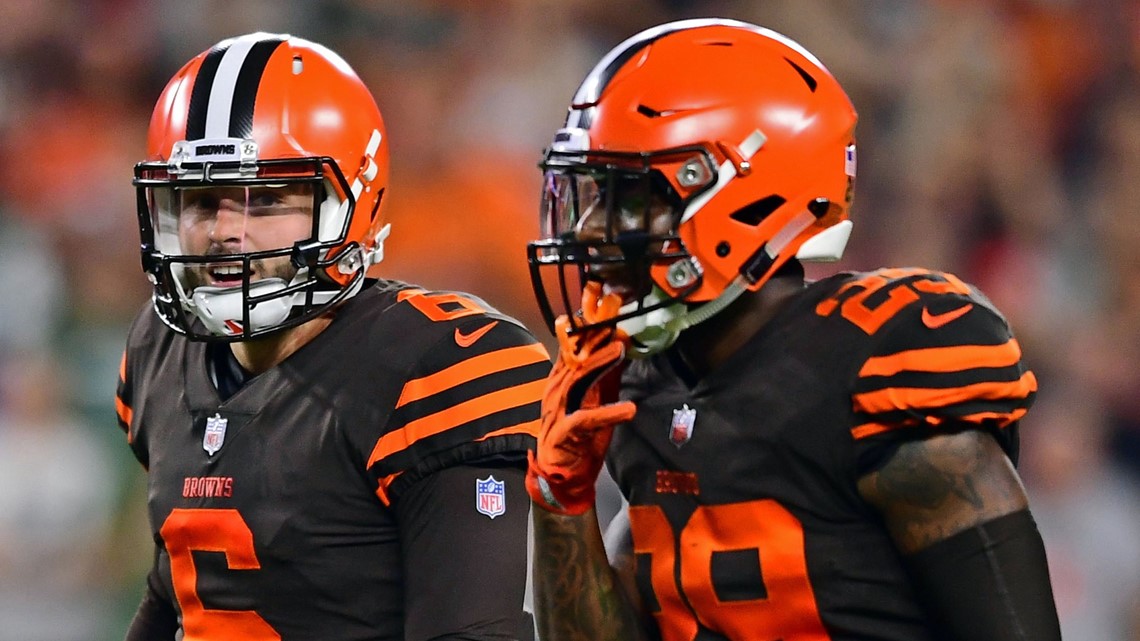 With starter Tyrod Taylor suffering a concussion in the first half against the Jets, quarterback Baker Mayfield entered the game, completed 17 of his 23 attempts for 201 yards and led the Browns on four scoring drives, all of which combined to give Cleveland its first victory since December 24, 2016.
Also, the win came three years to the day after the Browns last won a September game.
"As I told our football team, we need to always be focused; but two, there is a whole other level of focus now," Browns coach Hue Jackson said. "You are not sliding in here under the radar with people thinking you are not a good team.
"I think we have a team that if we keep growing and keep getting better, someday people will say that we are a good team. We are not that yet. We have not earned that, but I think we have the makings if we keep working, if we do not get caught up in what everyone says and thinks and all of that stuff and keep working like we always have, I think we've got a chance to have a team that we will be very proud of."
Landry believes there were some opportunities left on the field over the first few weeks of the season, but senses the Browns have learned from the miscues and aim to put a better product on the field against the Raiders.
"Just looking at how we played the last three weeks as a team, obviously, we didn't put it together in all phases the way that we wanted it to, but we did a lot of great things," Landry said. "The defense has been playing probably the best in the league.
"Special teams has been making plays. We've got to find ways to make more plays on special teams. On offense, we've just got to limit the mental errors and penalties. We start doing that, and we'll have more opportunities in the red zone, in the strike zone to score touchdowns and put more points on the board, so it's a good direction."
Matt Florjancic, WKYC Digital Sports
After last week's win over the Jets, Landry wants to see more celebrations like the one that took place both at FirstEnergy Stadium and around Cleveland last Thursday night.
"I saw a couple of pictures from, I want to say the day after, and you couldn't even see the street, and that's something that speaks about the fans here, the great fans here, and the tradition and the history that people want to relive again," Landry said. "It's good."
3:00 p.m.-Jarvis Landry: Baker Mayfield 'can make every throw,' has trust of Cleveland Browns' teammates
BEREA, Ohio -- Rookie quarterback Baker Mayfield had quite the regular-season debut with the Cleveland Browns, as he came on in relief of starter Tyrod Taylor and engineered four scoring drives on the way to a 21-17 victory over the New York Jets at FirstEnergy Stadium last Thursday night.
In doing so, Mayfield earned a higher level of trust from his teammates, whom he will lead into Sunday's game against the Oakland Raiders at the Oakland Alameda Coliseum.
"He can make every throw," wide receiver Jarvis Landry said. "He can make every check. He can make every read, so our offense can continue to be us. Obviously, we're going to game plan and go from there."
PHOTOS | Cleveland Browns name Baker Mayfield starting quarterback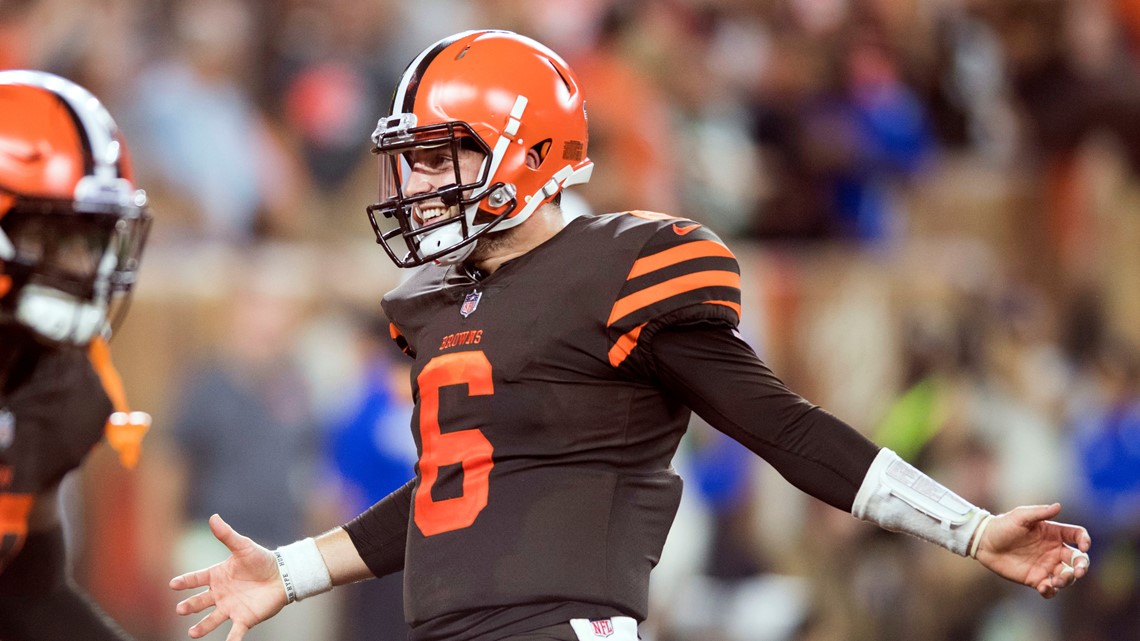 Prior to Mayfield entering the game, the Browns' offense sputtered through the first half, as Taylor struggled to find any kind of a rhythm and completed just four of his 14 attempts for 19 yards before a concussion brought his night to a premature end.
After Taylor suffered the concussion in the first half, Mayfield completed 17 of his 23 attempts for 201 yards and led the Browns to 21 of the final 24 points scored, all of which combined to give Cleveland the come-from-behind win.
However, well before Mayfield made his regular-season debut with the Browns, he had a level of trust and belief from his teammates.
"Since the day they drafted him," Landry said of when he thought Mayfield was ready to take command of the offense. "Obviously understanding the potential and the things he can do, and what makes him special and having the guys around him with the trust level at a premium as well."
Matt Florjancic, WKYC Digital Sports
Landry was on the receiving end of eight passes for 103 yards against the Jets, and most of those catches came after Mayfield entered the game in the second quarter for Taylor. Of Landry's eight receptions, seven came from Mayfield, and the two combined for 91 yards.
Not one to shy away from the moment, Mayfield came out firing and completed back-to-back throws for a combined 31 yards, and after being stripped of the football on a sack, came back and threw a 16-yard completion to Landry on the ensuing play.
"He's a football player," Landry said. "He's a guy that is extremely confident, you know, and in those situations, he didn't panic. He stepped in, he stepped up and did what his team needed him to do."
Matt Florjancic, WKYC Digital Sports
Five days after leading the Browns to their first victory since December 24, 2016, Mayfield was chosen to be the Browns' starting quarterback against the Raiders, and his teammates have rallied around him and embraced the opportunity to play alongside the No. 1 overall pick in the 2018 NFL Draft.
"It was very impressive, and it's another challenge for us, another test for us, as an offense, as a team, so we're excited and looking forward to it," Landry said.
"We want to attack teams and we want to go after matchups, and at the end of the day, it's about us executing our plays and making the plays."
11:15 a.m.-BROWNS GET BACK TO WORK
The Cleveland Browns resume practice in Berea today ahead of Sunday's game at the Oakland Raiders.
Wednesday's practice will be the Browns' second on-field work session with rookie Baker Mayfield serving as the No. 1 quarterback on the depth chart, and the No. 1 overall pick in the 2018 NFL will continue his preparations for his first regular-season start in the NFL.
FOLLOW ALONG
For the latest information out of Berea and to be a part of the discussion, tweet using the hashtag, #3Browns.
Stream Live with fuboTV -Try Free Trial