CLEVELAND — Why did Josh McDaniels wait until Friday to meet with the Cleveland Browns regarding their head coaching vacancy when the New England Patriots were eliminated from the postseason by the Tennessee Titans last Saturday?
That question has been asked multiple times in the last week, especially after Patriots special teams coordinator Joe Judge was allowed to interview for and accept an offer to become the next head coach of the New York Giants, and CBS Sports reporter Jason La Canfora provided some clarity on that situation.
"Bill Belichick refused to allow longtime offensive coordinator Josh McDaniels to move up his scheduled interviews with teams interested in him as a head coaching candidate to the start of this week, league sources said," La Canfora wrote. "At the same time, he pushed special teams coordinator Joe Judge for the New York Giants' coaching vacancy and greenlit a Monday interview for him."
While McDaniels had to wait until Friday to speak with the Browns, it took him out of the running for jobs with the Giants and Carolina Panthers, both of whom made hires earlier in the week, and apparently, that was the whole point.
McDaniels got his start in coaching with a graduate assistantship at Michigan State University in 1999, Then, McDaniels joined the Patriots as a personnel assistant (2001) and moved on to defensive assistant (2002-2003) before being elevated to quarterbacks coach in 2004.
Ahead of the 2005 season, McDaniels was named offensive coordinator and quarterbacks coach for the Patriots, a position he held for four years before becoming coach of the Broncos.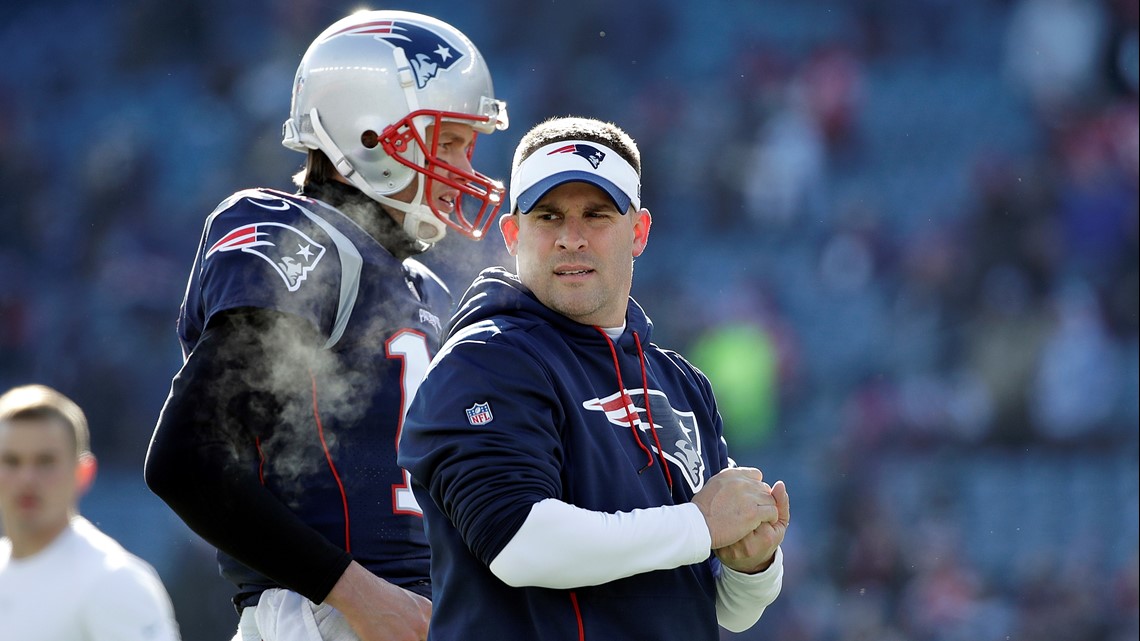 Following his dismissal in Denver, McDaniels became the offensive coordinator and quarterbacks coach for the St. Louis Rams in 2011 before returning to the Patriots in 2012. McDaniels has remained the offensive coordinator and quarterbacks coach for the Patriots for the last eight years.
During his time with the Patriots, McDaniels has been a part of five Super Bowl-winning teams.
"Belichick would not relent to move up their window to speak with McDaniels in the immediate days following that defeat," La Canfora wrote, citing "multiple sources with teams that requested interviews with McDaniels."
"(Tom) Brady's future is very much in limbo, with the 43-year old quarterback contemplating playing elsewhere in 2020, sources said, which would make retaining McDaniels even more paramount as there is no set replacement on staff and Brady has been in one offense his entire career."

A native of Barberton, Ohio and product of tradition-laden programs at Canton McKinley High School and John Carroll University, McDaniels was the eighth person to interview for the Browns' head coaching vacancy.
In addition to McDaniels, the Browns have spoken with a Super Bowl-winning coach, Mike McCarthy, as well as prominent offensive coordinators, Greg Roman (Baltimore Ravens), Eric Bieniemy (Kansas City Chiefs), Brian Daboll (Buffalo Bills) and Kevin Stefanski (Minnesota Vikings).
Also, San Francisco 49ers and Philadelphia Eagles defensive coordinators Robert Saleh and Jim Schwartz interviewed with the Browns' coaching search committee.
Of their eight candidates, seven remain available, as McCarthy accepted an offer to become the new head coach of the Dallas Cowboys. Four of their candidates, Roman, Bieniemy, Stefanski and Saleh remain in postseason competition.
Daboll and Schwartz's teams were eliminated on Wild Card Weekend last week.