CLEVELAND -- Cleveland Browns wide receiver Antonio Callaway is expected to play in tonight's preseason opener against the New York Giants at MetLife Stadium in East Rutherford, New Jersey despite an off-the-field incident earlier this week.
Cleveland.com first reported the news.
Callaway's availability for tonight's game was called into question after an off-field incident.
In the early hours of Sunday morning, Callaway was cited for misdemeanor possession of marijuana and driving with a suspended license in the Cleveland suburb of Strongsville, and then, failed to disclose the incident to the Browns, who discovered the issue when it was reported during Tuesday's practice.
PHOTOS: Why Antonio Callaway's latest incident should be troubling for Cleveland Browns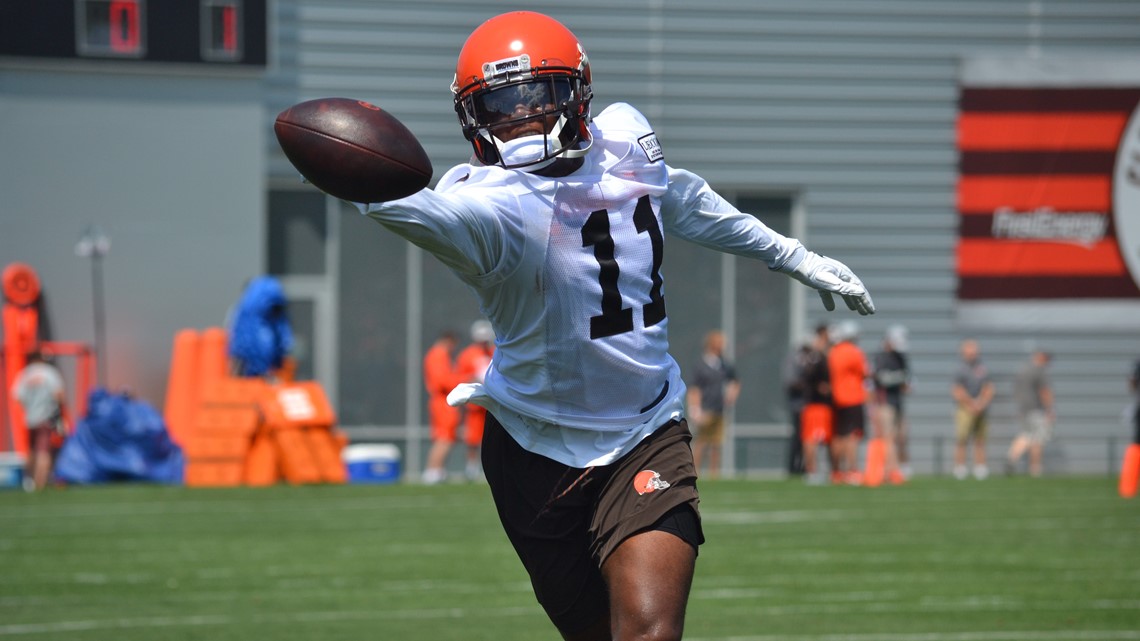 When Browns coach Hue Jackson addressed the media following Tuesday's practice in Berea, he was "surprised" and "disappointed" by the news, but is working on getting more details on the incident before handing out any discipline.
"I think we've kind of laid it out, what our expectations are," Jackson said. "We've kind of said what we do and what we don't do. My job is to make sure that I look into these things, understand them all, and then, the person's got to deal with the consequences that come with it. We don't take things lightly."
Matt Florjancic, WKYC Digital Sports
Monday's issues were the latest in a string involving Callaway.
Callaway's troubles started at Florida when he was suspended for the 2016 spring practices during a sexual assault investigation. He was later cleared of three charges by a Title IX hearing officer at a hearing not attended by the plaintiff and her attorney.
In July of 2017, Callaway pleaded no contest to possession of drug paraphernalia, and then, was suspended for the entire 2017 season when it was discovered that he used stolen credit card information to make purchases at the school's bookstore.
In addition to the legal troubles, Callaway had a diluted drug test sample at the 2018 NFL Scouting Combine, which, under league rules, counts as a failed test.
Matt Florjancic, WKYC Digital Sports
In just two seasons at Florida, the 5-foot-10, 193-pound Callaway caught 89 passes for 1,399 yards and seven touchdowns. Additionally, Callaway was a playmaker in the return game, as he ran back 56 punts for 653 yards and two touchdowns, as well as six kickoffs for 176 yards and one touchdown.
Callaway was the first player in Florida history to score a touchdown five different ways, as he caught seven, returned two punts and one kickoff for scores, threw for one on his only career pass attempt and rushed in another during the 2016 season.
Matt Florjancic, WKYC Digital Sports
"He's got that explosive-play potential," quarterback Baker Mayfield said. "He's got phenomenal speed, and so, I think he's a guy that when the lights come on, we're going to be really excited to watch. He's just got that potential, and once you put all those pieces together of knowing what we want to execute, it's going to be a pretty dangerous duo."
Fellow quarterback Tyrod Taylor added, "His route running is definitely something that stands out. Of course, he's a younger guy in his rookie year, but he's confident, of course, in his hands, but he has great route-running ability. He knows, just has a natural feel for the game and knows how to get open.
"I would say just making plays throughout training camp has built his confidence, and he's going out there and playing at a high level, day in and day out."
Stream Live with fuboTV -Try Free Trial