CLEVELAND — Cleveland Browns coach Kevin Stefanski continues to build up his coaching staff, and reportedly, that included the hiring of an offensive coordinator with experience in the NFL as both a player and assistant coach.
According to multiple reports, Stefanski brought on former NFL quarterback and Cincinnati Bengals position coach Alex Van Pelt to serve as offensive coordinator.
There is no word yet on whether Stefanski, the Minnesota Vikings' offensive coordinator during the 2019 season, will call the plays or yield those duties to Van Pelt, but he is willing to do what maximizes the Browns' chances for success on game day.
"As we put the staff together, if there's someone that's on staff that I feel gives us the best chance to win, that person will call the plays," Stefanski said during his introductory press conference earlier this month. "It doesn't have to be me.
"I'm all about what's best for the Cleveland Browns. If that's me calling plays, great. If it's not, I'm fine with that, too."
In addition to his tenure with the Bengals, where he was a quarterbacks coach under Marvin Lewis in 2018 and Zac Taylor in 2019, Van Pelt has worked with the Green Bay Packers (2012-2017), Tampa Bay Buccaneers (2010-2011), Buffalo Bills (2006-2009) and Frankfurt Galaxy of NFL Europe in 2005.
Van Pelt has worked as a quality control coach, quarterbacks coach and offensive coordinator with the Bills and served as a quarterbacks coach for the Buccaneers for two seasons. Then, Van Pelt moved on to mentor Green Bay's running backs (2012-2013) and quarterbacks (2014-2017) before joining the Bengals' staff.
A late-round pick in the 1993 NFL Draft, Van Pelt played quarterback for the Pittsburgh Steelers (1993), Kansas City Chiefs (1993-1994) and Bills (1994-2003) during his 11-year career.
Van Pelt inherits an offense led by quarterback Baker Mayfield, running back Nick Chubb and star receivers Jarvis Landry and Odell Beckham Jr.
Mayfield saw a significant drop in production during his second professional season, as his completion percentage and touchdowns went down and the interceptions went up by seven as he became the franchise's first quarterback in 18 years to start all 16 games.
Mayfield completed 317 of his 534 attempts (59.4 percent) for 3,827 yards and 22 touchdowns against 21 interceptions in 2019 after completing 310 of his 486 throws (63.8 percent) with an NFL rookie-record 27 touchdowns against 14 picks during the 2018 season.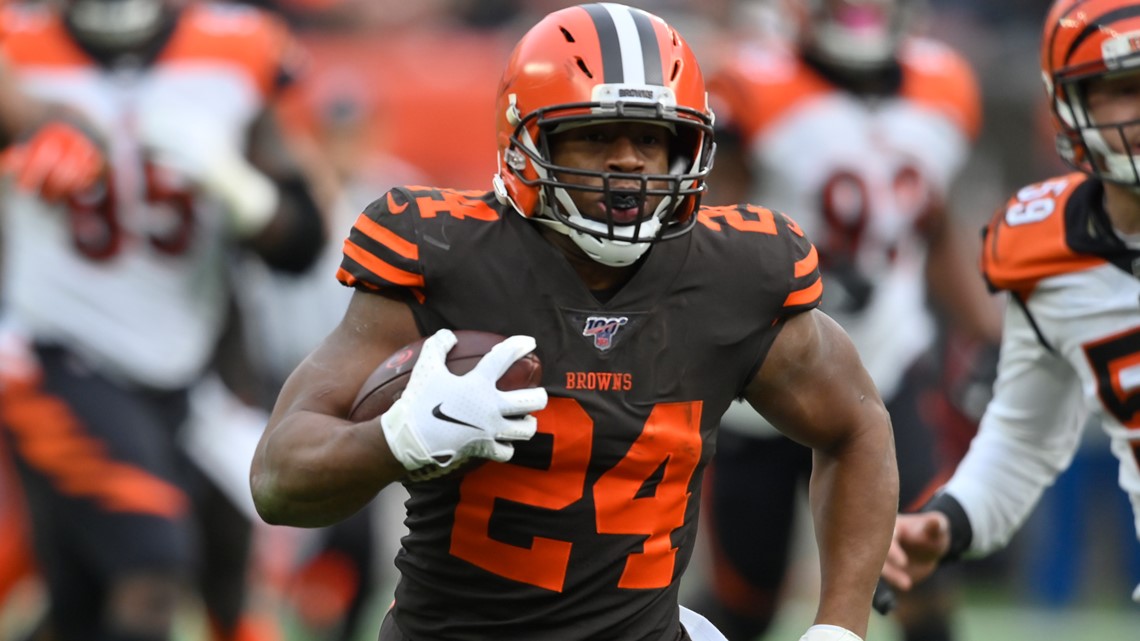 Additionally, Chubb rushed for 1,494 yards and eight touchdowns on 298 carries for an average of 5.0 yards per attempt.
Beckham Jr. reunited with a former Louisiana State University teammate in Landry and former position coach Adam Henry in 2019, and they finished the season Nos. 1 and 2 on the team in receptions, receiving yards and touchdowns among wide receivers.
Landry converted his 83 receptions into 1,174 yards, a 14.1 yards-per-reception average and a team-best six touchdowns, while Beckham Jr. gained 1,035 yards and scored four touchdowns on his 74 catches. Beckham Jr. averaged 14.0 yards per reception.