BEREA, Ohio — Apparently, second-year quarterback Baker Mayfield is not the only one feeling dangerous within the Cleveland Browns' locker room.
The Browns scored 30 points, including an opening-drive touchdown with the first-team offense, in a 30-10 victory over the Washington football team in the first preseason game of the season at FirstEnergy Stadium in Cleveland Thursday night, and they did that without Jarvis Landry and Odell Beckham Jr. in the lineup.
"You throw those guys in the mix, and it's gonna be dangerous," Browns quarterbacks coach Ryan Lindley said prior to Saturday's practice. "Save the first play, (Mayfield) was a little amped up, which he can be. He probably was a little quick throwing that one to Derek (Willies). If he puts that on him, it's pretty much picture perfect how you want him to run a no-huddle drive.
"We're probably just under that in a normal two-minute situation. I hate to say perfection because you can always be a little bit better, but he did great. That's why I talk about too, taking ownership. He gets out there and puts guys in spots, and he really thrives on those no-huddle situations."
The Browns marched right down the field against the Washington football team on the first drive not only without some of their key offensive weapons, as Landry, Beckham Jr. and Kareem Hunt were held out of action, but also, even after tipping their hand during warmups.
"We let them know pre-game," Lindley said of the uptempo start to the game. "That was the deal. In preseason, it's like, 'you want to know how long starters are playing and we're not looking to go out there and catch them off-guard.'
"At the end of the day, for us, it's a preseason game. The regular season, obviously we'd be like, 'Let's catch them off-guard and let's roll. Let's get them on their heels and knock them down,' but for us, we want to work it. We want to work against a guy who knows what he's doing and knows what they're expecting."
The Browns wanted to make a statement won the coin toss, took the ball and quarterback Baker Mayfield opened the preseason with a scoring drive, as his touchdown pass to Rashard "Hollywood" Higgins gave Cleveland an early 7-0 lead over Washington with 12:47 to play in the first quarter.
Facing a first-and-10 from Washington's 24-yard line, Mayfield took the snap from center JC Tretter and fired a throw down the left hashmarks to Higgins, who broke open between the second and third-level defenders to create the window for the touchdown pass.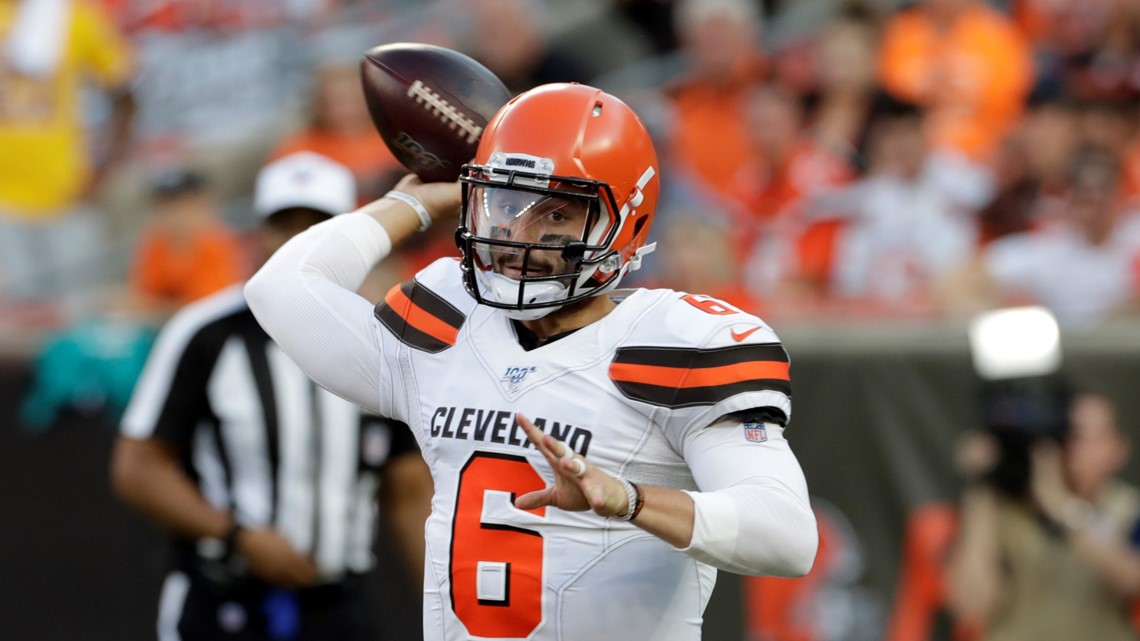 Mayfield was five of six for 77 yards with the touchdown pass on the first drive of the game, which was "no doubt" more impressive to Lindley because the defense got a tip as to what was coming on the opening possession.
"We want them to kind of know what is coming and expect it, and at the end of the day, it's kind of one of those things you feel when you're rolling like that," Lindley said.
"As long as we execute and we're in the right spots and we've got the quarterback making the right decisions, we shouldn't be stopped. And with the guys that we have, when Jarvis and 13 (Beckham Jr.) are out there, that's just guys that are making more plays with the ball."