CLEVELAND — Cleveland Browns quarterback Baker Mayfield has struggled to find consistency during the first five weeks of the 2019 regular season, but there is no panic within the locker room about their on-field leader.
In fact, the Browns are confident that Mayfield will bounce back from his recent struggles because they have seen him do so on many occasions, especially when the narrative within the media changes from positive to negative.
"Baker, he's competitive, man," running back Nick Chubb said. "He has a fire inside him that's always burning and very intense. We all know that he's going to start playing a lot better. He's going to get back to what we know he is.
"Right now, I think everyone's kind of not doing their best. It's going to take all of us to try a little harder and do a little more. Look at ourselves in the mirror and do a little more. It's not just one person. It's not just Bake. We can help him in every area."
Mayfield never found a rhythm and spent much of the night escaping the pocket when protections broke down against the San Francisco 49ers last Monday.
Mayfield completed only eight of his 22 attempts for 100 yards with two interceptions, the second of which came on a deflection on a pass that hit wide receiver Antonio Callaway both in the hands and the chest before former Browns defensive back K'Waun Williams returned the takeaway to the Cleveland 49-yard line.
Veteran cornerback Richard Sherman had the first of the two interceptions, as he jumped a route run by Callaway on the Browns' second possession of the game, corralled the turnover and returned it to the Cleveland 41-yard line.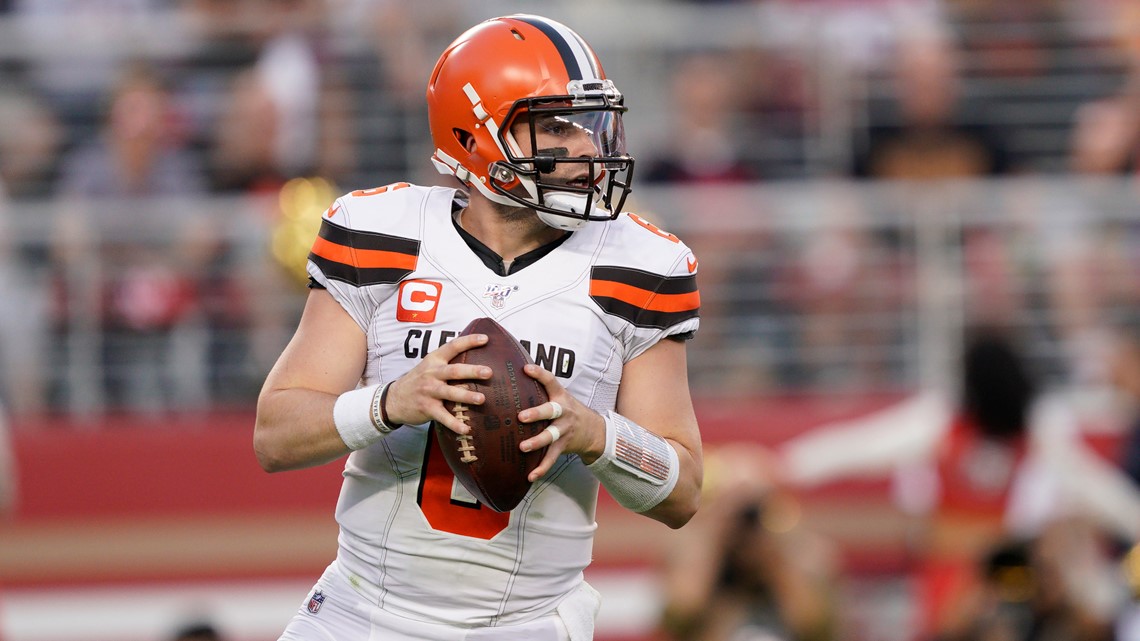 Also, Mayfield had two fumbles, one of which the 49ers recovered, and was sacked four times for 42 lost yards, two of which were registered by former Ohio State Buckeyes standout Nick Bosa.
"He's a tough guy and you see him get it, and it's like, 'Can we not let this happen?'" left guard Joel Bitonio said. "That's what I think of. It's our job to keep him up as a whole offense -- linemen, running backs, tight ends, receivers, and that's something you never want to see.
"His confidence is not something that wavers. He's the same guy. He goes out there. He's ready to make plays, but when he's getting hit like that, it's one of those things where you're like, 'Let's not let this happen.'"
On the season, Mayfield has completed 90 of his 161 pass attempts (55.9 percent) for 1,247 yards and four touchdowns against eight interceptions. Also, Mayfield has been sacked 16 times for 128 lost yards and lost one fumble.
Those struggles have been magnified inside the opponent's 20-yard line, where Mayfield has completed just six of his 24 pass attempts, which was not a problem during his rookie year when he completed more than 60 percent of his red-zone throws.
"He's the same guy," Chubb said. "He's not letting it get to him. That's what we expect. We've all been in that situation where things don't quite go our way, but you keep pushing and keep being patient, and eventually, you'll break through.
"We know what to expect with Bake. He's going to come out hot and do a lot of good for us."