CLEVELAND — Cleveland Browns coach Freddie Kitchens has been described as a "straightforward leader" that is honest in his assessments of football players, and as luck would have it, he is pretty quotable, too.
Kitchens was honest when answering questions from the media on the first day of the offseason program at team headquarters Monday, and at times, he generated a round of laughter from the reporters gathered in the conference room, as well as a new t-shirt idea.
Here are five of the most memorable quotes from Kitchens' press conference.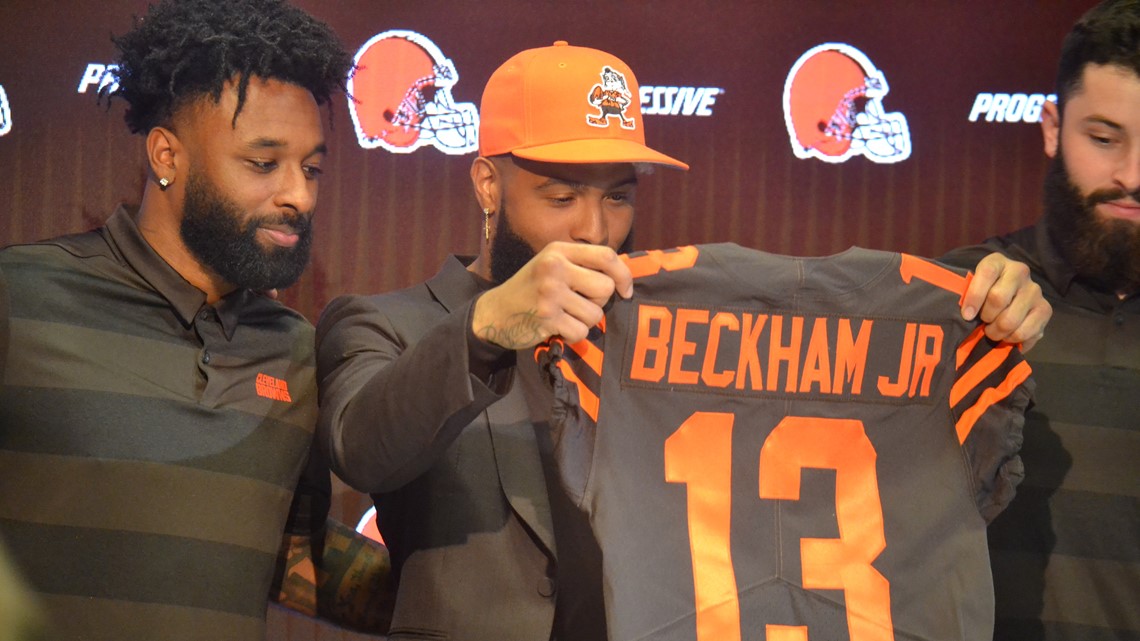 Early in the offseason, the Browns signed talented defensive tackle Sheldon Richardson to a three-year deal and acquired both edge rusher Olivier Vernon and wide receiver Odell Beckham Jr. in separate trades with the New York Giants.
Despite the roster overhaul, Kitchens knows there is plenty of work to be done before the Browns are "game ready."
"Right now, we are just a bunch of good individual players," Kitchens said. "Yeah, our roster looks great on paper -- whoopty-hell, alright? -- but at the end of the day, we better be a good team. You start building that during this time of the year, and training camp is a big portion of that."
During the NFL Annual Meetings in Phoenix last month, Kitchens was asked what he would say to Beckham Jr. when the Pro Bowl receiver reported to Berea for the offseason program, and he responded by saying, "I love you."
Well, Kitchens backed up that claim when he welcomed Beckham Jr. to team headquarters Monday
"Gave him a hug, too. He said he loved me. It was like a love story," Kitchens said with a laugh.
"The better you can make the locker room -- that does not have to be a Kumbaya session, I am not talking about that -- but it has to be with people that you trust and respect. You become loyal to them. When you look back after retirement, that is what you are going to miss. That is what we are trying to create here because the quicker that happens, the better off we are all going to be."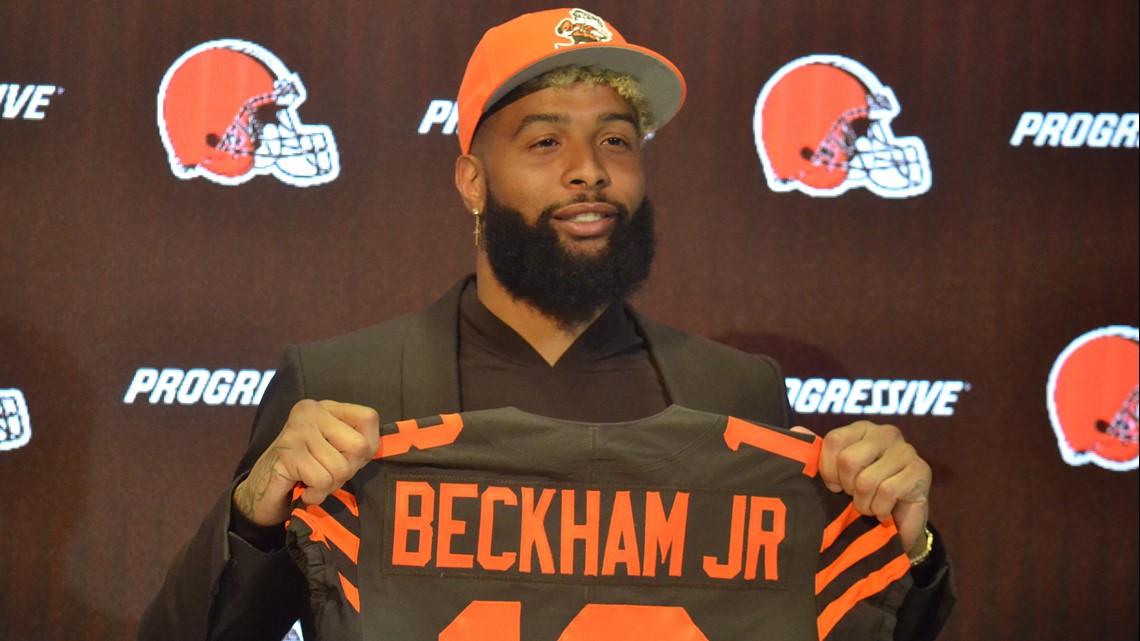 "Looks good in orange and brown"
Beckham Jr. is known as a passionate player who proverbially wears his heart on his sleeve, and while that has gotten him into hot water with Giants officials and labeled a bad teammate in the New York media, the Browns embrace the attitude he brings to Berea.
Kitchens believes Beckham Jr. will fit in well with the passionate Cleveland fans.
"The passion, that I think that he will match their passion," Kitchens said. "He is really going to like it. He is going to love it, and he looks good in orange and brown."
The Browns caught a little bit of flack for scheduling Beckham Jr.'s press conference for the day of the Cleveland Indians' home opener, but Kitchens did what he could to assuage any hard feelings about the timing of the interviews.
And he did so by rocking an Indians "Block C" cap and showing his support for the club.
"I would like to start by wishing the Indians luck today in their home opener," Kitchens said.
"As a fellow Cleveland-ite -- is that a word? -- Going to be pulling for them."
With the addition of Beckham Jr. to a roster with a young nucleus of talent, expectations have risen within the fan base for the Browns heading into the 2019 regular season, but those opinions will not influence anything that is done in Berea to prepare for games.
"When you start talking about expectations, if a team is supposed to be not very good, then the expectation level is low, so the first thing a coach wants to go in and say is that, 'You have to block out the noise from outside,'" Kitchens said.
"No pun intended, but nobody else matters except for the people in the room. Those are the only ones that matter and those are the only ones that can affect anything that we do as far as winning and losing. This is ultimately about winning and losing."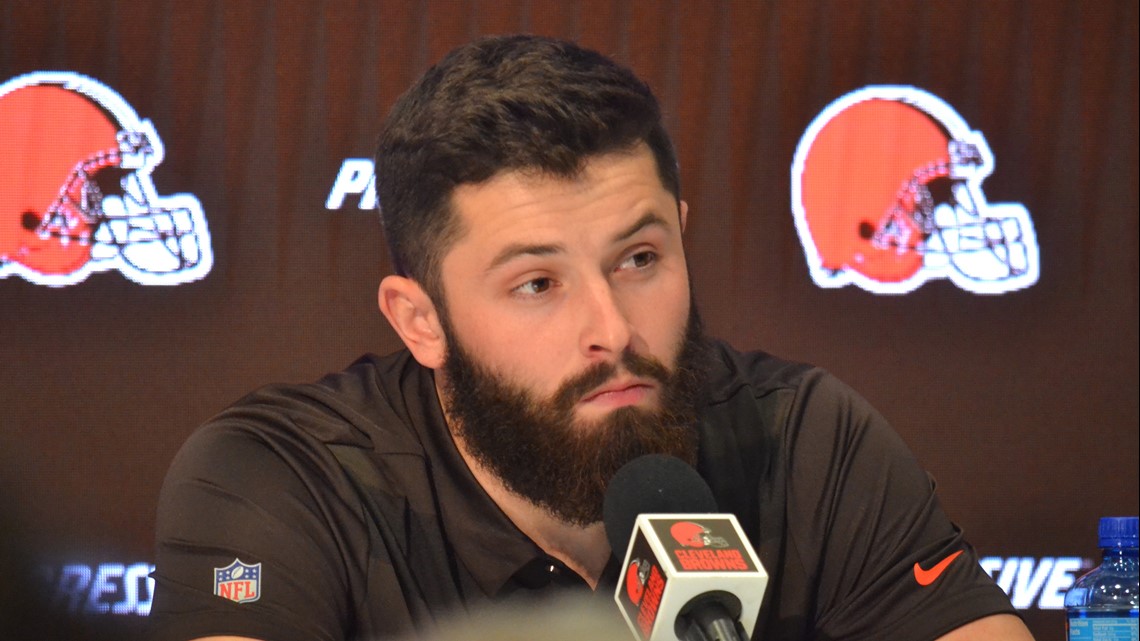 Kitchens was far from the only quotable Browns official/player who spoke with the media Monday, as quarterback Baker Mayfield more than held his own.
With Beckham Jr. and running back Kareem Hunt being added to the offense during the offseason, Mayfield was asked on keeping everybody happy, and he found a comedic way of saying it was a good problem for him to have.
"Probably just close my eyes and throw it and hope one of them catches it," Mayfield said. "I'm not worried about that. They know I'm going to do my job, and I hope they trust me to do that."