DEERFIELD BEACH, Fla. — It's been an NFL offseason unlike any we have ever seen before, as restrictions brought on by the coronavirus pandemic have drastically changed the way teams operate during the spring and summer.
Some are wondering if the league will even be able to play this fall, as COVID-19 is expected to remain a threat through at least the end of the year. Browns wide receiver Jarvis Landry is very mindful of those concerns and knows players' safety needs to be paramount, but he is still looking forward to getting back on the field.
"The world needs sports. The fans need sports," Landry said Wednesday in a conference call with reporters. "For me just looking at it, it is wanting to make sure that everybody is safe from the players to the fans to everybody in the whole entire world because this is affecting a lot of people right now."
The situation had the potential to be particularly problematic for the Browns, who coming off a disappointing 6-10 season are attempting to get acclimated to yet another new coaching staff. Teams are currently not allowed at their respective facilities, but Landry complimented head coach Kevin Stefanski and quarterback Baker Mayfield (who led a workout with teammates in Texas) for their work in keeping the team up to speed.
"Obviously, this is challenging for everybody and everybody that is going through this process having to learn through iPads, Zoom calls and things like that," Landry said. "Baker has done a great a job making sure everyone is on the same page and staying together."
Although he met with Mayfield and other players in Texas via Zoom, Landry did not join them for the workout. Instead, he remains in Florida rehabbing his surgically-repaired hip, and says the process is actually "a little bit ahead of schedule" despite him not having access to certain workout equipment during the pandemic shutdown.
"It has forced me to be more creative around the house with the workout equipment that I have and ordering new workout equipment to make sure that I can do the things that I need to do to make sure that I can play," Landry said, adding that he is still working out at a facility and that he plans to be back at full strength by August. "Everything has just kind of been enhanced from what I have always done in the past."
Landry has never missed a game in his NFL career, and even though he admittedly played hurt in 2019 he still put up a career-high 1,174 receiving yards along with six touchdowns. He was one of the few bright spots for Cleveland in what seemed like a chaotic campaign, and in the process became just the third team receiver to make the Pro Bowl since 1999.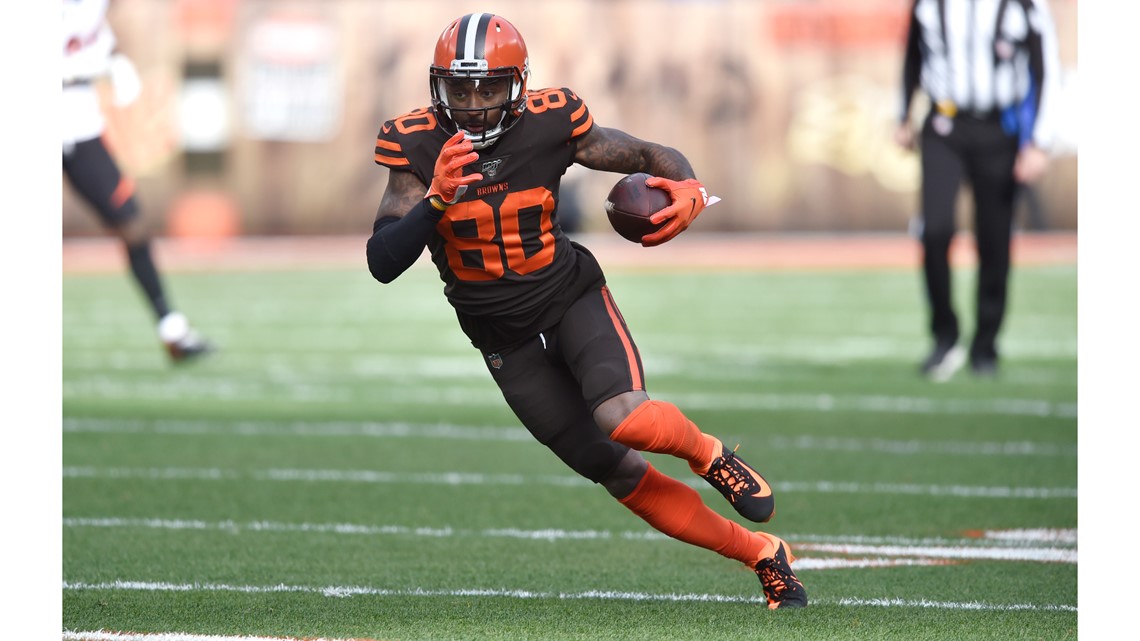 Landry's best friend Odell Beckham Jr. joined him in eclipsing 1,000 yards last year, and the two will have more help on offense in 2020 with the addition of players like fellow Pro Bowler Austin Hooper and rookie Donovan Peoples-Jones. Landry is a huge fan of the later (a sixth-round pick out of Michigan), and has already been impressed by the 21-year-old's willingness to learn.
"A lot of our conversations, he has a lot of questions, which I admire about him," Landry said, noting that Peoples-Jones also has an advantage of getting a bit of a rest during the shutdown. "I keep talking to him all the time, 'Just listen to your body. Trust your body. Trust what you are feeling right now and understand that a lot of people did not get this opportunity to kind of have this break with this quarantine.'"