BEREA, Ohio -- The Cleveland Browns will get a collectively-bargained day off Tuesday after five straight days of work, including a pair to fully-padded practices, at the start of training camp.
Although in the midst of training camp, Browns coach Hue Jackson elected not to give the players a curfew Monday night, choosing instead to remind his charges to "be smart" in their time away from the facility and be ready to work when the team reconvenes for on-field work at team headquarters Wednesday.
"I trust them now," Jackson said in his post-practice press conference.
"You have to trust them. It is their day off. I trust them with my phone really close to me, but I do trust our guys. Our guys understand that there are some things that we do not tolerate. They get it."
PHOTOS: Day Five of Cleveland Browns Training Camp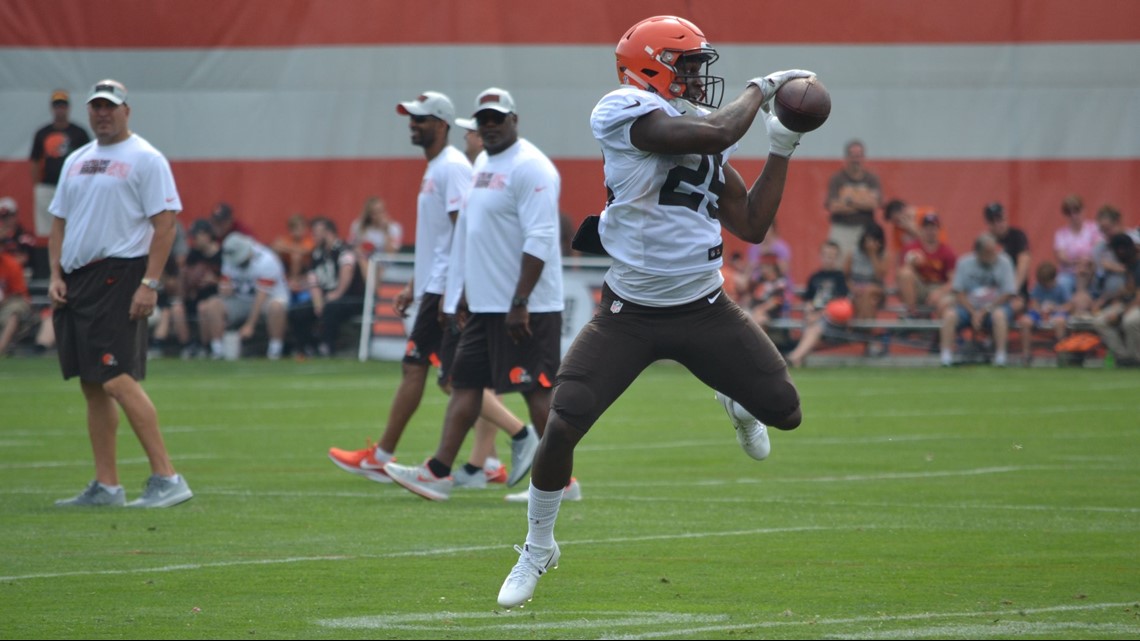 Following Monday's practice, Jackson held a longer-than-normal full-team meeting with the players and reinforced the importance to come back focused and ready to work.
"'Be smart tonight. We need you all back,' and I just think that is always a lesson for our players," Jackson said of his message to the team.
"'When you get a chance to have some free time, what do you do with it?' I would hope these guys -- if we did not do our job as coaches, they will be out -- and hopefully, we have, and they will rest. Hopefully, we have pushed them pretty good, and they need some rest for their bodies."
While players understand there is no such thing as a bad time for a break, especially during a three-week training camp ahead of the 2018 regular season, Jackson feels the team goes into the off day on a good note and wished he could keep going with the on-field work.
"I would keep practicing to be honest with you," Jackson said.
"I think we were finding a groove there a little bit. I think the players appreciate the rules and how the CBA works. As coaches, we wish we could keep going. They need it. They probably need to get away from us for a little bit. We will see them around the building. At the same time, the rest comes, as you said, at a good time."
Matt Florjancic, WKYC Digital Sports
CHUBB SHOWING UP IN PRACTICE
Browns rookie running back Nick Chubb is not big on talking, not when there is work to be done, and the man known as "Old School" by his teammates for his approach to the game has made an early impression on the coaches.
"Nick has had a good camp," Jackson said. "The running backs -- Carlos (Hyde), Duke (Johnson Jr.) and Nick -- have all done a good job. They are picking up the system well, making plays. If he is having a good day, somebody is blocking for him too. The offensive line did some good things as well."
Matt Florjancic, WKYC Digital Sports
COLEMAN STACKS UP GOOD DAYS
The key to a strong training camp performance is the ability to stack up good days of practice, and that is exactly what wide receiver Corey Coleman has been able to do in recent days.
Knowing there is an opportunity to earn playing time because of the absence of Josh Gordon and Ricardo Louis' season-ending neck surgery, Coleman fought to get onto the field Sunday, forgoing a scheduled rest day, and not only shined in that practice, but also, on Monday.
"I think that his confidence is growing," Jackson said. "Corey is a confident player anyway. This is Year Three and the fifth day in this, and he just kind of understands that you have to grind through it. He has done that. I have been really impressed. He has come out every day, been a little sore, but has fought through it and went out and made plays."
Matt Florjancic, WKYC Digital Sports
NJOKU HAS CONFIDENCE OF COACHES
Much like his first training camp last summer, tight end David Njoku has struggled to catch the ball consistently, and Sunday's practice was full of passes hitting the ground or getting knocked out of his hands by the defense.
Following Sunday's practice, Jackson pulled aside Njoku and tried to raise his spirtis.
"He needs to know that I have confidence in him," Jackson said.
"I know the kind of player that he can be, but there is so much work that he has to do to be what I think he wants to be. In order to do that, every day you have got to be focused, determined and disciplined. He has to work at that every day, and I think that he did today."
Matt Florjancic, WKYC Digital Sports
THOMAS ON THE MEND
The Browns bolstered the defensive line early in the third round of the 2018 NFL Draft by selecting former University of Miami defensive end Chad Thomas with the No. 67 pick.
In 49 games over four years with the Hurricanes, Thomas registered 51 solo tackles, assisted on 52 takedowns and registered 103 total stops. Of those 103 tackles, 11 were sacks and 26 were behind the line of scrimmage for 99 lost yards.
Additionally, Thomas forced two fumbles and recovered two others, one each in his sophomore and junior seasons.
After starting training camp on the sideline because of injury, Thomas passed his physical and worked his way into the drills Monday.
"He is another big athlete who is physical," Jackson said. "I will learn more about him when he puts on the pads full-time and comes out here and competes with our guys, but I am excited to see him when that time comes. I think that he can bring another element. From what we saw on tape when he was coming out, he is big and strong. He can hold the point and rush. It gives us another one of those types of players."
Stream Live with fuboTV -Try Free Trial