CLEVELAND — The Cleveland Browns have no shortage of playmakers on the roster at running back heading into training camp for the 2019 season.
With Nick Chubb emerging as a No. 1 option despite being underutilized over the first half of the 2018 season, veteran Duke Johnson Jr. continuing to be a factor in the passing game and the signing of controversial talent Kareem Hunt in February, there are plenty of options when it comes to the running backs.
The key going forward is figuring out if Johnson Jr. can work without being a distraction if his trade demand is not met.
"I expect Duke to be a professional, and I think he will be," coach Freddie Kitchens said during mandatory minicamp last month. "He has never been anything but a professional. Whatever his personal feelings are, those are his personal feelings. I am not going to dictate someone's feelings.
"Just because we sign another good player does not mean that someone else has to get traded. I have said that. I love good players, and we have some good players. Now, we just have to come together as a team, and I have a good feeling that Duke will do that."
Chubb finished the 2018 season, one in which he saw limited time in the first seven games, with 996 yards and eight touchdowns on 192 carries. Chubb had 11 20-yard runs, four 40-yard bursts and 47 first-down conversions.
A second-round pick in the 2018 NFL Draft out of the University of Georgia, Chubb rushed for 788 of his 996 yards and five of his eight touchdowns on 140 carries under Kitchens' direction. After midseason changes in the coaching staff, Chubb averaged 5.63 yards per carry and became a contributing player in the passing game as well.
"If we didn't have so much talent here, I think Nick could be a guy that can have 1,000 yards rushing and 1,000 yards receiving," running back coach Stump Mitchell said. "He's that's good.
"Will that happen? I don't know because we've got a lot of talent, but he is talented enough to do that."
Since his release from the Kansas City Chiefs in late November of 2018 because of a physical altercation involving a woman at The 9 Hotel/apartment complex in Cleveland, Hunt has sought counselling for his off-the-field issues.
Following a lengthy NFL investigation, Hunt was subsequently suspended for the first eight games of the 2019 regular season.
In two years with the Chiefs, Hunt rushed for 2,151 yards and 15 touchdowns with 106 first downs, 19 plays going for at least 20 yards and four 40-yard gains. Additionally, Hunt caught 79 passes out of the backfield for 833 yards and 10 touchdowns, including a single-season career high of seven in 2018.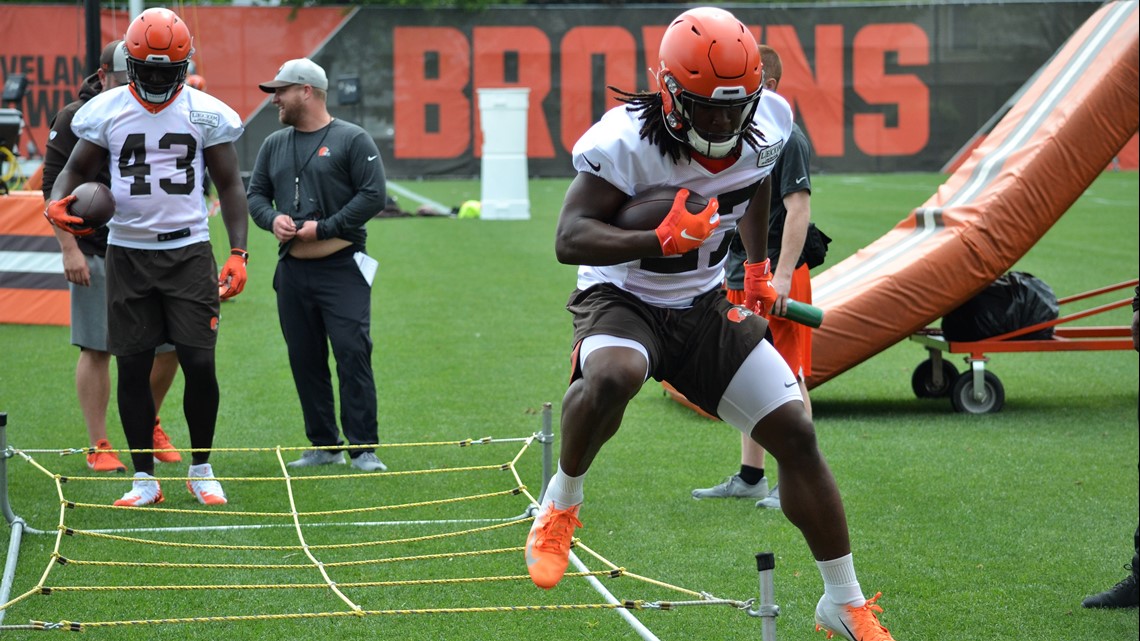 As a rookie in 2017, Hunt went from not expected to have a large role in the offense to rushing for an NFL-best 1,327 yards on 272 carries, an average of 4.9 yards per attempt, which earned him a spot on the AFC Pro Bowl team.
"He realizes the magnitude of the egregious offense that he has committed," GM John Dorsey said after signing Hunt. "He is truly remorseful. He has taken steps to seek professional counseling with regards to trying to become a better person moving forward.
"I think that is all you can ask for in these types of situations. I do want to add this: This is one of those situations that by no means is it a guarantee. He's got to earn the trust of everybody within this organization, with everybody within the community of Cleveland moving forward."