CLEVELAND — Half a score and five coaching searches ago, our Cleveland Browns are closing out their 21st year since return to the National Football League prior to the 1999 season after a three-year hiatus following the original team's move to Baltimore to become the Ravens.
The 2010s, just like the earliest part of the 21st century, have been a struggle for the Browns, as they routinely were out of the postseason discussion well before the Thanksgiving holiday in late November and often, found themselves in the basement of the AFC North Division, as well as at near the top of the board in the annual NFL Draft.

Here is a year-by-year look back at Browns' journey through the 2010s.
Final record: 5-11 (third place in AFC North)
After starting the season with three straight one-score losses, the Browns won three of their next five games, but six setbacks over the last eight weeks of the year spoiled any hope of breaking the team's playoff drought.
One bright spot for the 2010 season was the performance of running back Peyton Hillis, who rushed for 1,177 yards and 11 touchdowns on 270 carries, a year that drew so much support from Browns fans that the former Arkansas Razorbacks standout won a contest to appear on the cover of the popular Madden video game.
Following the season, the Browns made a coaching change as then-president Mike Holmgren and GM Tom Heckert turned over the on-field leadership of the franchise to Pat Shurmur.

Final record: 4-12 (fourth in AFC North)
Rather than the traditional offseason program, a work stoppage prevented Shurmur from having any time with most of his players until the start of training camp, as he was shaking hands with and introducing himself to his charges in the warm-ups before the first practice.
Hillis was unable to regain the magic he had in 2010 and drew criticism from his teammates for missing a game with a routine illness, and then, flying home to Arkansas on the weekly off day to get married midseason. Draft pick Montario Hardesty did not help as much as the Browns hoped because he battled a rash of injuries and his NFL career never got on track.
Special teams was a strength of the team, as kicker Phil Dawson converted 24 field goal attempts, including a seven-of-eight mark from 50-plus and 14 of 16 on tries from at least 40 yards out and return specialist Joshua Cribbs took back 39 kickoffs for 974 yards.

Final record: 5-11 (fourth in AFC North)
The writing was on the wall that changes were imminent in Berea just three days into training camp, when it was announced that Jimmy Haslam had agreed to purchase a majority ownership stake in the Browns from Randy Lerner.
Although he would get traded early into the 2013 season, running back Trent Richardson had a breakout rookie year, rushing for a then-franchise record 950 yards and 11 touchdowns on 267 carries, along with 51 catches for 367 yards and one score.

Head coach: Rob Chudzinski
Final record: 4-12 (fourth in AFC North)
Following the five-win season in 2012, Haslam and his advisors chose to fire Shurmur, Heckert and Holmgren and gave control of the franchise to Joe Banner and general manager Michael Lombardi, who had one previous stint in the Browns' front office.
Despite a three-game winning streak that gave the Browns a 3-2 record, the team could not sustain the momentum, losing three in a row, and then, ending the year with seven consecutive setbacks that led to the dismissal of Chudzinski after just 11 months on the job.
While there was not much team success, there was a memorable individual performance from wide receiver Josh Gordon.
Although Gordon missed two games because of a suspension, he led the NFL with a franchise-record 1,646 yards and nine touchdowns on 87 catches.

Final record: 7-9 (fourth in AFC North)
The Browns struggled to find Chudzinski's replacement because of their decision to change course so quickly, and after an extensive series of interviews with candidates, hired longtime defensive assistant Mike Pettine.
Although Banner and Lombardi hired Pettine, they were not around to see his early success, as three weeks after the move, Haslam fired both of them and turned over the personnel department to assistant GM Ray Farmer.
After a 3-3 start to the season, the Browns rattled off three straight wins and four of five in late October and throughout November. However, five straight losses to end the season brought to an end a hope of breaking a playoff drought.

Final record: 3-13 (fourth in AFC North)
The Browns were unable to stack victories in Pettine's second year and despite a Pro Bowl season from tight end Gary Barnidge, who caught 79 passes for 1,043 yards and nine touchdowns, the offense was not able to finish drives in the end zone.
The Browns scored more than 28 points just once during the season, and in the hours following a season-ending 28-12 loss to the Pittsburgh Steelers, the organization was once again making a transition in leadership.

Final record: 1-15 (fourth in AFC North)
Haslam made the unprecedented move of naming the team's general counsel, Sashi Brown, the new executive vice president of football operations and giving him final say over the 53-man roster. Brown made several deals to trade back in his first draft, and of his first 14 picks, only two, linebacker Joe Schobert and wide receiver Rashard "Hollywood" Higgins, are still with the franchise.
The Browns' lone win came in a Christmas Eve game against the then-San Diego Chargers in Week 16 after a missed field goal in the waning minutes sealed the victory.

Final record: 0-16 (fourth in AFC North)
In the history of the NFL, only two teams have gone winless through a 16-game season, and the 2017 Browns joined the 2008 Detroit Lions in infamy.
Rookie quarterback DeShone Kizer went from third-string to starter in just four weeks of training camp, and he struggled with turnovers in red zone possessions. Kizer finished the year with twice as many interceptions, 22, as touchdown passes, 11.

Head coach: Jackson/Gregg Williams
Final record: 7-8-1 (third in AFC North)
New GM John Dorsey decided to retain Jackson because the team played hard over the final four weeks of the regular season, but by mid-year, it was evident that change was coming.
At 2-5-1 following a 33-18 loss to the Steelers on October 28, the Browns dismissed Jackson and offensive coordinator Todd Haley with eight games left to play, and the team looked to be anything but capable of the greatest year-to-year turnaround in franchise history.
However, a 5-3 record over the second half of the season and a three-game winning streak in December secured the Browns' highest single-season improvement in team history, as they finished plus-7.5 in wins over 2017's winless campaign.
After taking over the first-team offense in the second quarter of a Week 3 win over the New York Jets at FirstEnergy Stadium, quarterback Baker Mayfield completed 310 of his 486 attempts (63.8 percent) for 3,725 yards and 27 touchdowns against 14 interceptions.
Under the direction of new Browns coach Freddie Kitchens, Mayfield completed 180 of his 263 attempts (68.4 percent) for 2,254 yards and 19 touchdowns against eight interceptions. Mayfield averaged 281.75 yards and 2.375 touchdowns per game with Kitchens calling the plays.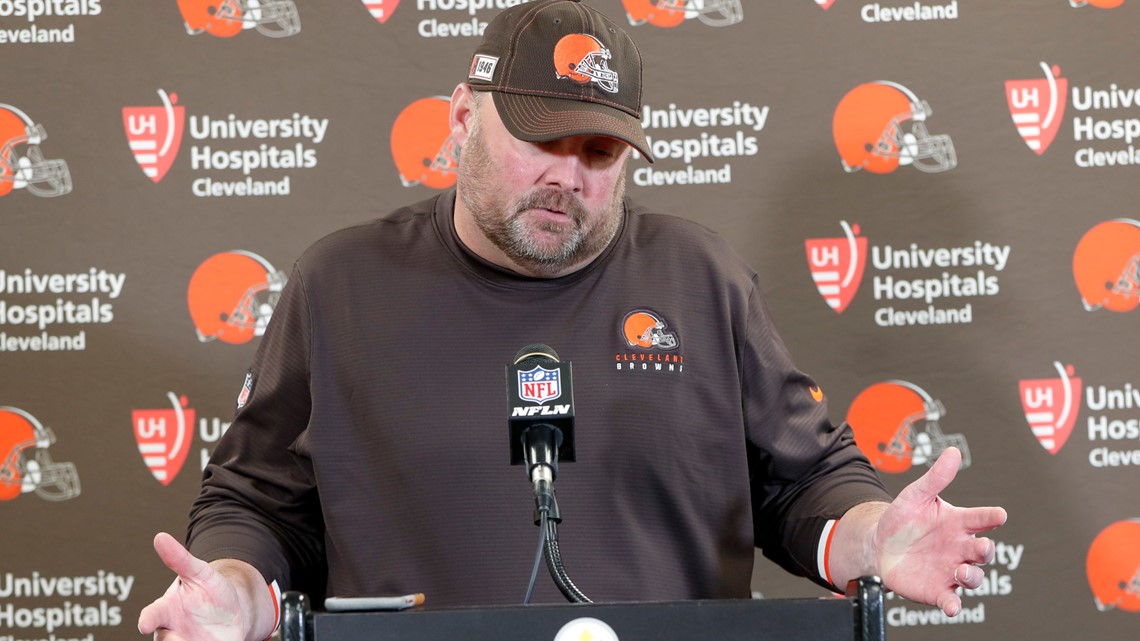 Head coach: Freddie Kitchens
Record to date: 5-7 (third place in AFC North)
Along with the emergences of Mayfield and running back Nick Chubb, the Browns made the splash move of the offseason when they landed wide receiver Odell Beckham Jr. in a trade with the New York Giants in mid-March.
Although it took the Browns a while to integrate Beckham Jr. into the offseason, they rattled off three straight victories to keep their playoff hopes alive heading into Week 13. However, the Browns could not keep the momentum going and had those postseason hopes all but dashed with a loss to the undermanned Steelers at Heinz Field in Pittsburgh on December 1.