CLEVELAND — It was the tweet seen round the world, and it made the way to Freddie Kitchens' desk at the Cleveland Browns' training facility in Berea.
Following The Orange and Brown Scrimmage at FirstEnergy Stadium Saturday, Browns quarterback Baker Mayfield and his wife, Emily, made the quick trip up East 9th Street to Progressive Field to take in the Cleveland Indians baseball game against the Los Angeles Angels.
After a lackluster start to the game by Cleveland's offense, the Indians showed Mayfield on the scoreboard, where he raised a can in a salute to the fans as they cheered, but he was far from finished. Someone tossed him an adult beverage, and he bit into the can and chugged the brew before discarding the recyclable and pointing to the name on the back of his Indians jersey, "Lindor."
Then, Mayfield threw his arms into the air several times while screaming, "Let's go."
"How am I supposed to answer this one?" Kitchens said of Mayfield's exploits. "It was impressive. It was very impressive."
The beer chug worked, as it revved up the crowd, and apparently, the team as well. After being no-hit over the first four innings, the Indians' offense exploded for five runs on the way to a 7-2 win over the Angels, which helped them keep pace with the Minnesota Twins in the American League Central Division standings.
Asked if he would be joining his starting quarterback in biting into a beer can and chugging a cold one, Kitchens politely declined.
"I would be worried about my teeth," Kitchens said with a laugh.
"Can I? No, I do not drink beer anymore. That is a lie. I told you all I would not lie. That is a lie."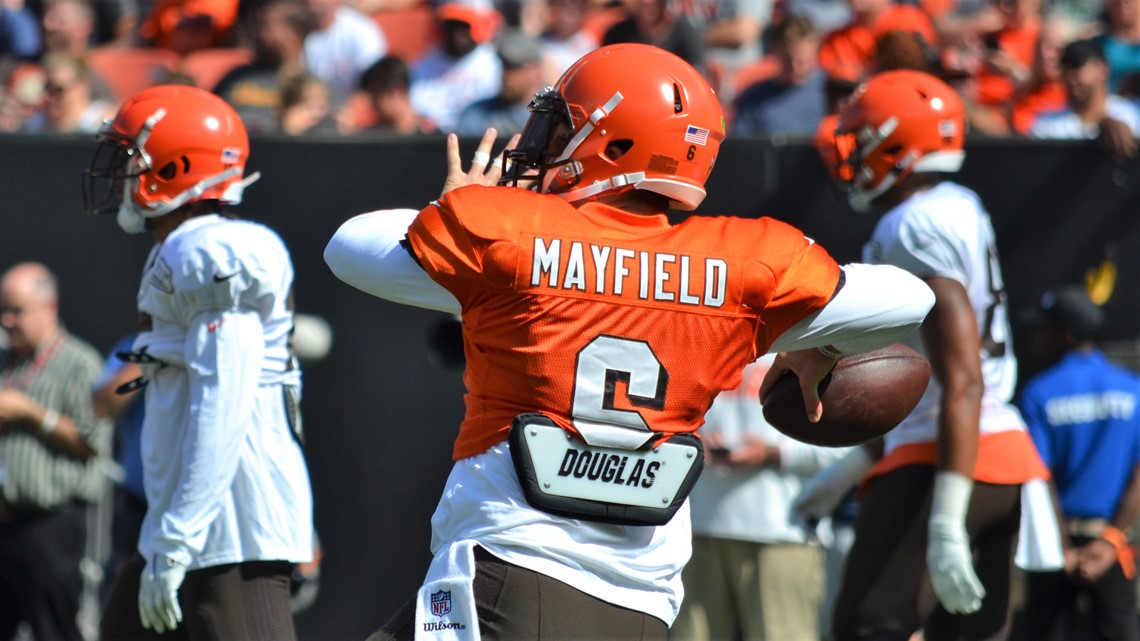 While Kitchens laughed off the beer chug moment that went viral when the Indians tweeted the video, national sports talk host Colin Cowherd took the opportunity to rip Mayfield and the city about the moment.
"Baker Mayfield is perfect for Cleveland," Cowherd said. "This is an organization where Peyton Hillis -- a fullback -- was a really big deal.
"They don't celebrate championships. They don't celebrate division titles. Right now, they just want to celebrate, 'We got a new quarterback and he wants to be one of us. And we would shotgun beers' because it's Cleveland, and he's perfect for Cleveland."