CLEVELAND — "Just when I thought I was out, they pull me back in!" - Michael Corelone (Al Pacino) in "The Godfather: Part III."
Following their 24-19 loss to the Denver Broncos last week, the Cleveland Browns laid claim to a 2-6 record and appeared destined to be a team more concerned about its draft positioning than its playoff hopes in the second half of the season.
What a difference a week can make.
After Baker Mayfield capped a game-winning touchdown drive with a 7-yard touchdown throw to Rashard Higgins to give the Browns a 19-16 victory over the Buffalo Bills on Sunday, Cleveland's record now sits at 3-6. And while in most years, that might not be enough to start talking playoffs, the muddled nature of the AFC coupled with a favorable Browns schedule could make for an interesting second half of the season -- and perhaps beyond -- in Cleveland.
What would it take for the Browns to end their 16-season playoff drought and which teams should Cleveland fans be keeping an eye on? There are a number of factors to consider. But for now, here's a look where the Browns stand in the 2019 AFC Playoff race:

AFC North
Despite their win over the Bills on Sunday -- which snapped a four-game losing streak -- the Browns failed to gain any ground of the Baltimore Ravens, who beat the Cincinnati Bengals 49-13 to move to 7-2 on the season. In addition to being four full games behind the Ravens, Cleveland remains two games behind the Pittsburgh Steelers, who are now 5-4 after beating the Los Angeles Rams 17-12.
Considering that the Browns still have two games left against the Steelers -- including one on Thursday -- Cleveland essentially controls its own destiny when it comes to catching Pittsburgh. As far as gaining ground on Baltimore, that's going to be tougher, as the Browns will need one of the following outcomes to play out over the next seven weeks in order to catch the Ravens:
Browns go 7-0, Ravens go 3-4 (or worse)
Browns go 6-1, Ravens go 2-5 (or worse)
Browns go 5-2, Ravens go 1-6 (or worse)
Browns go 4-3, Ravens go 0-7
For what it's worth, the Browns lay claim to the easiest schedule remaining this season, while the Steelers' schedule is considered the third easiest and the Ravens' schedule is the eighth hardest, according to Tankathon.com. So if Cleveland is going to have any chance at winning its first division title in 30 seasons, it's likely going to require two wins over Pittsburgh and another win over Baltimore -- and then some.

AFC Wild Card
Given their 3-6 record, perhaps it shouldn't come as a surprise that the Browns have become an afterthought to many in the AFC Wild Card. After all, from a record standpoint, Cleveland still finds itself behind or tied with the following non-division leaders in its conference:
Buffalo Bills (6-3)
Oakland Raiders (5-4)
Indianapolis Colts (5-4)
Pittsburgh Steelers (5-4)
Tennessee Titans (5-5)
Jacksonville Jaguars (4-5)
Los Angeles Chargers (4-6)
Denver Broncos (3-6)
In retrospect, it may have been easier to list the three AFC teams Cleveland is currently ranked ahead record-wise (the Bengals, Dolphins and Jets). Nevertheless, given its remaining schedule -- again, considered the easiest in the NFL -- it may not be long until the Browns are considered "back in the mix."
Of the eight teams Cleveland is currently competing with for one of two Wild Card spots, it's worth noting that five of them possess a remaining schedule difficulty that ranks in the top half of the league. Plus, seven of the teams lead the Browns by just two games or fewer, which is hardly an insurmountable deficit.
As is the case inside its own division, Cleveland is not only going to need to go on a run to secure a Wild Card spot, but also get some help. But a 6-1 stretch over the Browns' final seven games could put a lot of pressure on teams that currently feel better about their Wild Card hopes.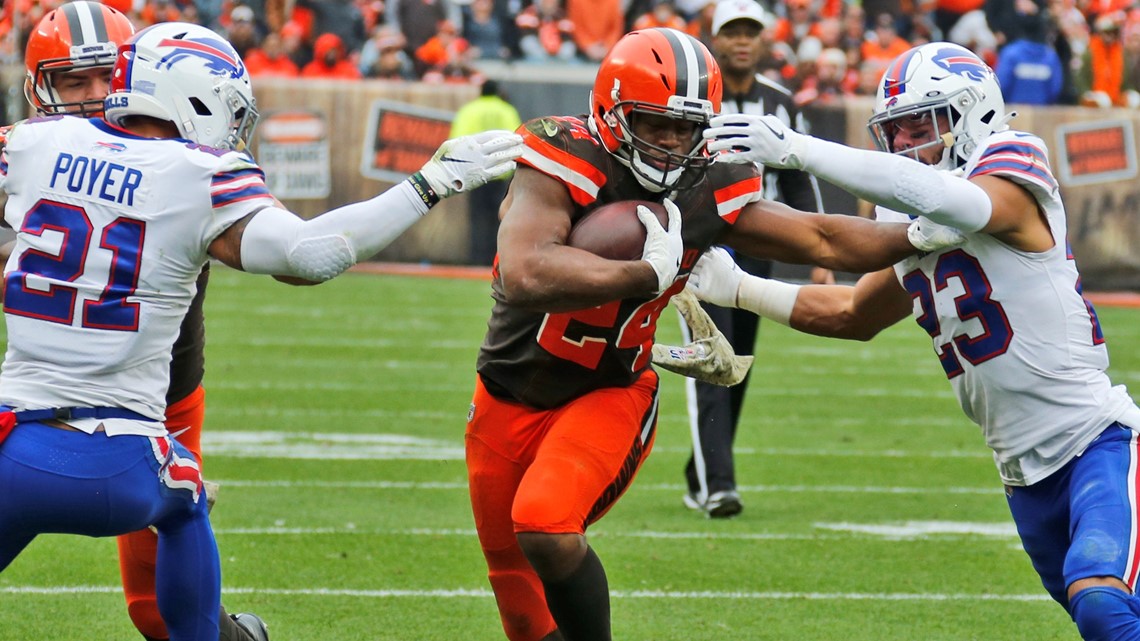 What's ahead?
Here are the seven games remaining on the Browns' 2019 schedule:
11/14 vs. Pittsburgh (5-4)
11/24 vs. Miami (2-7)
12/1 at Pittsburgh (5-4)
12/8 vs. Bengals (0-9)
12/15 at Cardinals (3-6-1)
12/22 vs. Ravens (7-2)
12/29 at Bengals (0-9)
Realistically, the Browns have likely only left themselves enough margin for error to lose one more game and keep their playoff hopes alive. Assuming its incapable of catching Baltimore, anything less than a 9-7 record likely won't be enough to secure one of the AFC's two Wild Card spots.
Fortunately for Cleveland, its schedule sets up in a way that such a run seems possible. Now it's just a matter of making it happen.