CLEVELAND — The Cleveland Browns are looking into their past potentially for the on-field leader of the future for the franchise.
The Browns' search committee continued interviewing candidates for their head coaching vacancy Monday when they spoke with Buffalo Bills offensive coordinator Brian Daboll in upstate New York just two days after his team was eliminated from postseason play by the Houston Texans.
With the Bills' 2019 season coming to an end by being eliminated from postseason play by the Texans in Houston Saturday, if the Browns choose Daboll as their next on-field leader, they could do so immediately, and then, begin searching for the club's next general manager.
Here are three things to know about Daboll.
Browns owner Jimmy Haslam cited in a press conference with the Cleveland media last Thursday that the organization wanted their next head coach to have NFL experience, and Daboll certainly checks boxes in that regard, as he has nearly two decades of service to the game at the collegiate and professional levels.
Daboll started his coaching career as a volunteer assistant at William and Mary before serving two years as a graduate assistant at Michigan State University, and then, taking his skills to the professional ranks.
Daboll was a defensive assistant with the New England Patriots for two years (2000-2001), and later, served as their wide receivers coach (2002-2006) before becoming the quarterbacks coach of the New York Jets for two years (2007-2008).
Daboll began his career as a play caller as the Browns' offensive coordinator (2009-2010), which he continued with the Miami Dolphins (2011), Kansas City Chiefs (2012) and Bills (2018-present).
From 2013-2016, Daboll was the Patriots' tight ends coach and spent the 2017 season as the offensive coordinator for the University of Alabama Crimson Tide.

Daboll is no stranger to long playoff runs, and several of his, at both the college and professional levels, have resulted in championship celebrations.
During his 11-year run in various positions with the Patriots, Daboll was a part of five Super Bowl Championship victories (XXXVI, XXXVIII, XXXIX, XLIX and LI). Then, as Alabama's offensive coordinator during the 2017 season, Daboll helped the Crimson Tide win a national title by beating the University of Georgia in the College Football Playoff Championship Game.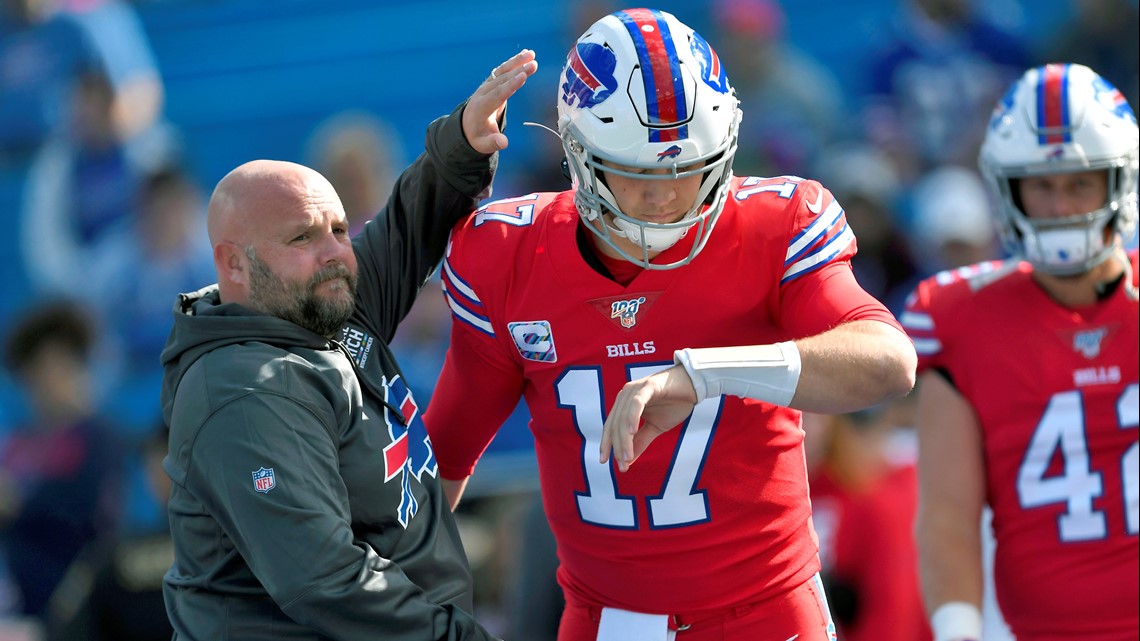 If Daboll were chosen to be the Browns' next on-field leader, he will be tasked with getting the most out of quarterback Baker Mayfield, who saw dips in his production from year one to year two, and he is no stranger to working with young signal-callers, especially over the last two seasons.
Daboll mentored Josh Allen for the past two seasons and after completing just 52.8 percent of his passes (169 of 320) for 2,074 yards and 10 touchdowns against 12 interceptions as a rookie, the Bills' quarterback saw significant increases in passing production and a sharp decrease in turnovers.
In 16 games under Daboll's leadership in 2019, Allen completed 271 of his 461 attempts (58.8 percent) for 3,089 yards and 20 touchdowns against nine interceptions with 47 20-yard plays and seven 40-yard throws despite taking 10 more sacks (38) than he did as a rookie.
Additionally, Allen rushed for nine touchdowns, 510 yards and 41 first downs on 109 carries in 2019, a season that ended with a trip to the postseason for the second time in three years.