CLEVELAND — Kansas City Chiefs offensive coordinator Eric Bieniemy became the third man interviewed for the Cleveland Browns' head coaching vacancy when he spoke with members of the search committee Friday, joining the likes of Super Bowl winner Mike McCarthy and Baltimore Ravens offensive coordinator Greg Roman, who spoke with the team Thursday.
The Browns were able to interview Bieniemy this week because the Chiefs earned the No. 2 seed in the AFC Playoffs and are on a bye waiting for their Divisional Round opponent based on the results of Wild Card Weekend games.
Bieniemy has been a long-time assistant of Chiefs coach Andy Reid and had a nine-year NFL playing career before that.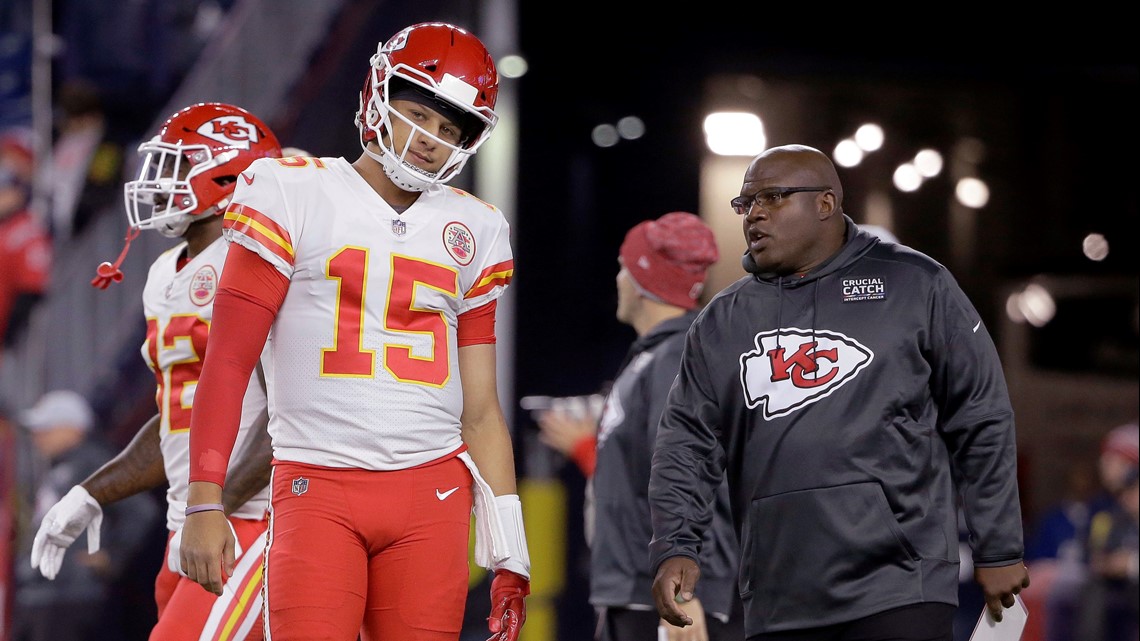 Here are three things to know about Bieniemy.
Success in moving the ball
Under Bieniemy's direction in 2019, the Chiefs finished top six in the league in points scored, total yards and passing yards. The Chiefs averaged 28.2 points, 379.2 yards and 281.1 passing yards per game despite their quarterback, Patrick Mahomes, missing multiple weeks with a knee injury, and a rotation of running backs that was hampered by injuries of their own.
The Chiefs were 23rd in rush offense this season.
Despite missing time with injury, Mahomes completed 319 of his 484 attempts (65.9 percent) for 4,031 yards and 26 touchdowns against just five interceptions. Additionally, Mahomes rushed for 218 yards and two scores on 43 carries.
Works well with young quarterback
Considered a "system quarterback" after a standout career at Texas Tech University, Mahomes was a little known quantity entering the 2018 season, but it sure did not stay that way for long under Bieniemy's guidance.
During what turned out to be a year that resulted in an Associated Press Most Valuable Player Award and run to the AFC Championship Game, Mahomes completed 383 of his 580 attempts (66.0 percent) for 5,097 yards and 50 touchdowns against just 12 interceptions.
Also, Mahomes rushed for 272 yards and two touchdowns on 60 rushes.
In 31 career regular-season starts for the Chiefs, who traded up in the 2017 NFL Draft to select him, Mahomes has completed 724 of his 1,099 attempts (65.9 percent) for 9,412 yards and 76 touchdowns, 127 20-yard plays and 31 40-yard throws against 18 interceptions.

Before Bieniemy became a coach, he spent nearly a decade as an NFL player.
Bieniemy began his NFL career with the San Diego Chargers (1991-1994) and continued with the Cincinnati Bengals (1995-1998) and Philadelphia Eagles (1999) before hanging up the cleats and turning his focus to coaching.
Following his career, Bieniemy started coaching in 2000 as an assistant at Thomas Jefferson High School in Denver before moving on to UCLA (2003-2005), and later, joining the professional ranks as running backs coach for the Minnesota Vikings (2006-2010).
After a two-year run as the offensive coordinator at his alma mater, the University of Colorado (2011-2012), Bieniemy joined the Chiefs' staff and mentored the running backs (2013-2017) before transitioning into the offensive coordinator role for the last two seasons.