CLEVELAND — The Cleveland Browns wasted no time in getting their latest coaching search underway, and they hit the ground running by interviewing a Super Bowl winner in former Green Bay Packers coach Mike McCarthy Thursday.
McCarthy is the first in what is reportedly an extensive list as the Browns look for their 12th head coach since returning to the National Football League in 1999 and conduct their fifth coaching search under the Haslam family, who purchased a majority stake in the franchise during the 2012 season.
There are reports that the Browns have requested interviews with several high-profile coordinators across the league in addition to bringing in the 56-year-old McCarthy for a meeting.
Here are three things to know about McCarthy.
McCarthy spent the 2019 season out of the NFL after being dismissed by the Packers late in 2018, but that does not mean he was too far away from the game, not with designs on getting back into football in short order.
NFL Network's Tom Pelissero provided insight into McCarthy's work during his season out of football, as he built a small collection of coaches that would come to his house and study trends in the professional and college games, breaking down film of games and player workouts and putting together weekly schedules, just as he did with the Packers.
Longtime NFL coach Jim Haslett was among those who worked closely with McCarthy in 2019.
"The ability to share information but still make progress toward just being ready for this next opportunity, personally, I think it's helped all of us," McCarthy told NFL Network. "Sustaining success in this league is the biggest challenge. To do it right and be in position to win it every year, that's what I'm looking for.
"That's the opportunity. That's who I want to be paired with. I'm not just trying to go win one. I'm trying to win them all."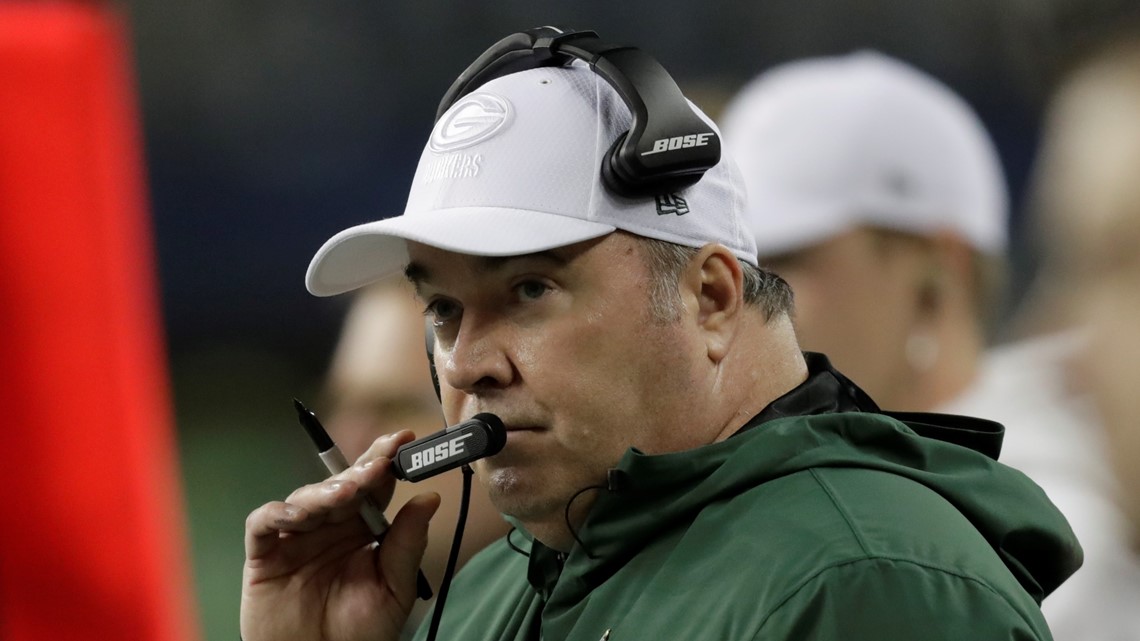 Impressive accomplishments
During his 13 years with the Packers, McCarthy compiled a 125-77-2 record (.618 winning percentage) in regular-season contests, as well as a 10-8 mark (.556 winning percentage) in postseason play.
Known as an offensive-minded coach based on his history as quarterbacks coach of the Kansas City Chiefs (1995-1998) and Packers (1999), as well as coordinator for the New Orleans Saints (2000-2004) and San Francisco 49ers (2005), McCarthy successfully navigated a difficult transition from Hall of Fame signal-caller Brett Favre to Aaron Rodgers, who has become a multi-time Pro Bowl selection and two-time Associated Press NFL Most Valuable Player Award winner.
After the transition to Rodgers, McCarthy led the Packers to the Super Bowl XLV Championship with a win over the Pittsburgh Steelers at then-Cowboys Stadium in Arlington, Texas following the 2010 regular season.

McCarthy is no stranger to working alongside high-profile talent, not after coaching an MVP quarterback like Rodgers, and if he is the Browns' next leader, there will be no shortage of well-known players on the roster.
Quarterback Baker Mayfield, wide receivers Jarvis Landry and Odell Beckham Jr. and defensive end Myles Garrett are among the Browns' best and most high-profile players, and working alongside such talent is something that drives McCarthy.
"You take a step back and you realize how long of a relationship that is and what you were able to accomplish, the long conversations, particularly in the early years, you miss those things," McCarthy said.
"The Thursday meetings, you knew it was going to be an hour, but it turned into a life experience meeting. Those are great moments. That's the stuff you really miss."