CLEVELAND -- It has been an interesting week for Cleveland Browns rookie wide receiver Antonio Callaway.
What started with being issued citations for misdemeanor marijuana possession and driving with a suspended license in the early-morning hours Sunday and failing to report the incident to team officials came to end with a memorable second-half performance in the Browns' 20-10 victory over the New York Giants at MetLife Stadium in East Rutherford, New Jersey Thursday night.
"He hadn't played football in quite a while, and to be out there with the ones and playing, getting after it, I think that was different," Browns coach Hue Jackson said. "I think he settled down in the second half and started to play football."
PHOTOS: Cleveland Browns WR Antonio Callaway showcases talents in second half of win over Giants
OVERCOMING FROM EARLY STRUGGLES
Despite early struggles against the Giants, Callaway settled in during the second half and became an instant contributor.
Midway through the third quarter, the Browns were backed up at their own 22-yard line, and on third and seven, the Giants sent heavy pressure, which forced rookie quarterback Baker Mayfield to scramble out to his right and throw down the field off of his back foot.
Hustling toward the sideline, Callaway hauled in the catch, but was ruled out of bounds. However, the Browns challenged the call on the field and were awarded a first down at their own 46-yard line after video evidence proved Callaway secured the catch and got both feet down in bounds for a 24-yard gain.
"I kept telling him, 'Just fight through it. Just keep going, keep pushing through it' because I needed him," Mayfield said.
"When you're tired, you've got to be able to focus. Late in games, he's a guy that we're going to be counting on to play, and so, third and fourth quarter, he's got to able to run those routes and execute it, make the adjustments on the fly, so that was a good thing to have. I think it showed well in the second half. I think it could've been a little bit better in the first half."
Early in the fourth quarter, the Browns faced a third and four from their own 46-yard line, and Mayfield again went to Callaway, this time on a slant route from the right side of the formation to the middle of the field.
After catching the pass and shaking loose from the first defender just beyond midfield, Callaway stutter-stepped his way around another tackle attempt and sprinted the final 47 yards for the lead-extending touchdown.
"We know what type of talent he has," Browns quarterback Tyrod Taylor said. "Watching him in today's game is more so him just finding his groove and building confidence as the game goes on. He'll be able to build confidence from this game moving forward and go out there and compete at a high level each and every week."
Although Callaway displayed his game-breaking skills between the lines, which earned him playing time with the No. 1 offense in recent training-camp practices, he brought plenty of off-the-field concerns with him to the NFL, which is why the Monday morning incident was even more troubling.
Callaway was suspended for Florida's 2016 spring practices during a sexual assault investigation, although he was later cleared of three charges by a Title IX hearing officer.
In July of 2017, Callaway pleaded no contest to possession of drug paraphernalia, and then, was suspended for the entire 2017 season when it was discovered he used stolen credit card information to make purchases at the school's bookstore.
Additionally, Callaway had a diluted drug test sample at the 2018 NFL Scouting Combine, which, under league rules, counts as a failed test.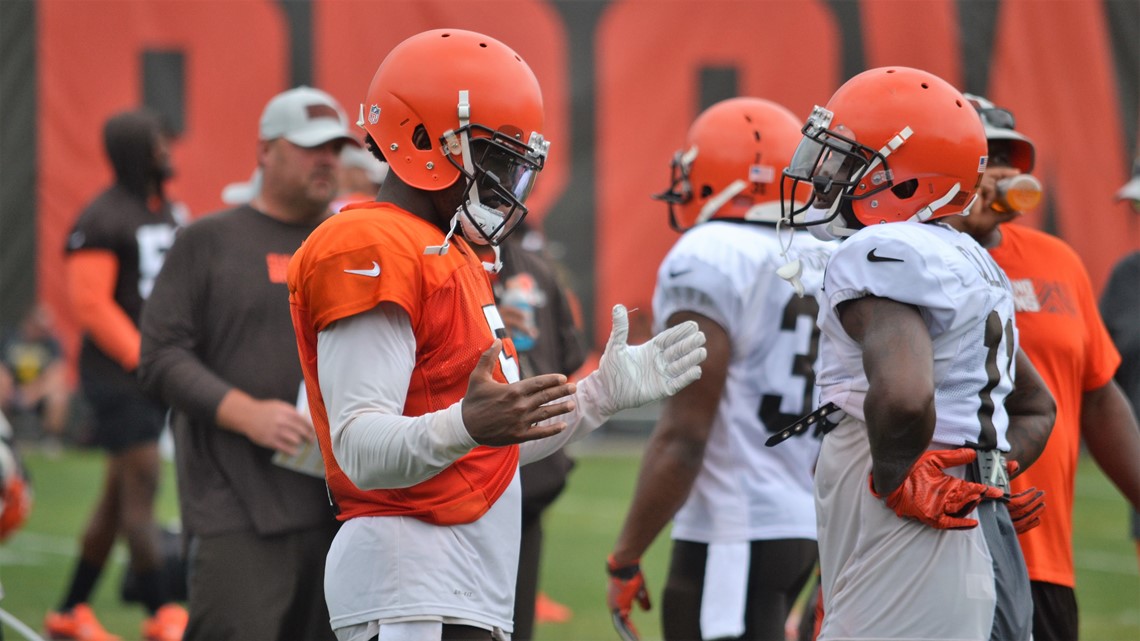 "I've had numerous conversations with Antonio," Jackson said. "I trust him. I believe in what he said. When I say, 'I trust,' I trust the information given to me, and what I know. He's going to have to earn my trust the rest of the way.
"We're not going to deal with anymore of this. This is the end of that. I think we need to move forward from this, but hopefully, this is a huge lesson learned for him because I think he understands where I stand and where (GM) John Dorsey stands in this situation."