CANTON, Ohio — Enshrinement weekend for the NFL's newest hall of famers is upon us. Also Thursday night, the first NFL game of the season takes place at Tom Benson Hall of Fame Stadium.
It's a big deal for the city of Canton and surrounding communities, which welcome fans and media from around the world.
"We have no way of knowing, but we absolutely believe over the course of the coming days, we're going to see hundreds thousands of folks our way," said Anne Graffice, Executive Vice President of Public Affairs for Hall of Fame Village.
The first thing fans will notice is the progress made at Hall of Fame Village, which has been years in the making.
In 2021, much of the area was still a construction site. This year, it's mostly complete with more venues opening through the end of the year. That includes the 3.5 acre Play Action Plaza where there's an amphitheater, food trucks and the newly installed zipline called Forward Pass.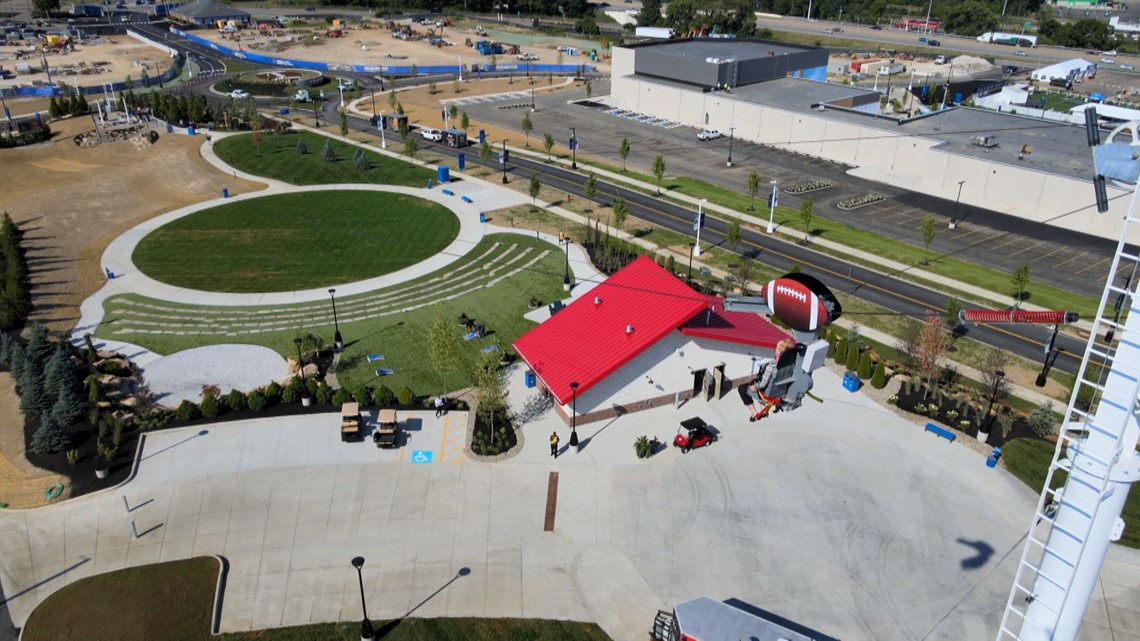 The Center for Performance, the largest inflatable dome in the country, will also host several events.
"We'll be hosting all of the parties for the Pro Football Hall of Fame in that spectacular new dome," said Graffice.
And while the Fan Engagement Zone isn't occupied yet, the venues that are coming to the spaces later this year are serving up samples of what's to come during weekend events. Hall of Fame Village is looking to capitalize on and add to the $1.9 billion tourism industry in Stark County -- with Hall of Fame weekend being the main event each year.
"Not only is it job creation, it really is economic development in its greatest form – built on tourism," said Graffice. "We know how big the tourism industry is in the state of Ohio and the county of Stark."
And the development plans don't end here. There's also a hotel and waterpark in the works for the end of 2023 and early 2024, respectively. Hall of Fame Village planners want Canton to be a year-round tourist destination.
Graffice added, "We really do welcome folks to come join us at the new complex. Come see what we've got going on. It really is excitement for the whole family."
This weekend is filled with fun events for the public that supplement the NFL's special events. Coming up on Saturday, the legendary band Journey will perform at Tom Benson Hall of Fame Stadium. We'll also see Dave Chappelle take the stage on Sunday. Tickets for those events are available at www.hofvillage.com.
But first, the fun kicks off tonight with the Hall of Fame Game featuring the Jacksonville Jaguars and Las Vegas Raiders airing on NBC and WKYC here in Cleveland.