CLEVELAND, Ohio — It was on an afternoon in 2012 when Joe "Kastaway" Kulis caught a decent-sized yellow perch, but decided to throw it back.
"Throw away fish like that, and you know you got some good fishing going," he declared.
Those were the days when Cleveland was a yellow perch destination. Thirty-fish limits per person were common.
"If they spent all day out there, four guys in a boat couldn't catch four fish," Mike Fedorka, owner of Shine's Bait and Tackle, lamented.
The iconic bait shop on East 55th has been serving anglers since the early 1950s when the Lake Erie blue pike disappeared. Now, a perch crash has taken a toll on business over the last six years, and Mike says he's lost a lot of customers.
"Why spend money on minnows when they never get a bite, because there's no perch down there?"
Fedorka had discussions with the state several times and heard answers like "The fish have moved out deeper," "The fishes' diets changed," and "They're just harder to catch." Turns out, all of the reasons given turned out to not be a factor in the crash. Now, reality has set in.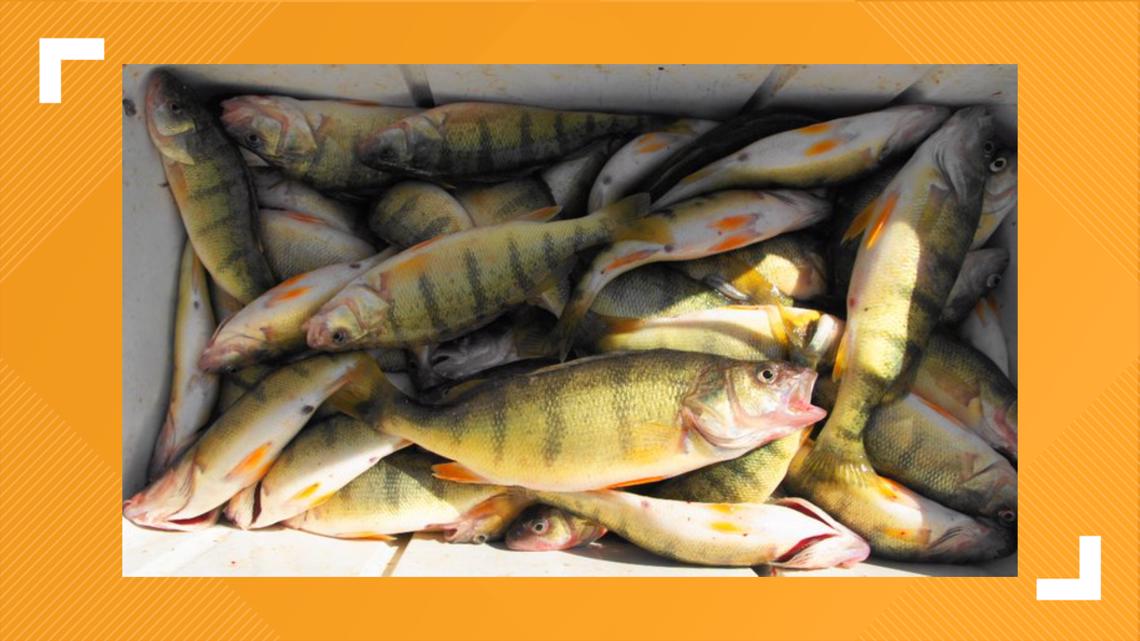 This year, the Great Lakes Fisheries Commission addressed the issue, slashing commercial harvest in the Central basin by 70% and by 20% in the Eastern basin, The state cut sport angler limits by two-thirds from 30 fish to 10 between the Huron River and Fairport Harbor, leaving a lot of people angry, including Fedorka.
"We're in deep trouble and I don't particularly care for the way they're handling this," he told 3News.
In response, Lake Erie Fisheries Administrator for the State of Ohio Travis Hartman says he "understand[s] the frustration" but claims the cuts fit the state and Great Lakes Fisheries Commission's yellow perch management plan. According to him, there are several factors for the population crash, with the biggest by far being poor spawns.
"Six of the last eight hatches in the Central Basin have been poor," he said. "When you have a string of poor hatches, you end up without many year classes and without many fish."
The fish that were caught by commercial fishermen and sport anglers were never replaced by new fish in the Central Basin, so the state and GLFC made the cuts this year. The sport angler limit of 30 perch per angler west of Huron remains the same, but the commercial take was increased by 20%.
Good hatches mean good perch numbers in the Western Basin. Hartman says this all has to do with yellow perch biology.
"They spawn by time, not by conditions," he said. "If conditions aren't right at the time, the eggs won't fertilize."
Conditions in the Central and Eastern Basins have not been stable during the last eight years in the spawning period. The same thing happened in the early 1990s.
"These things go in cycles, and you need environmental conditions to line up to get good hatches, and we're just in a down time right now," Hartman explained.
The issue for bait and tackles, fishing charters, and the other businesses that depend on the yellow perch bite to make ends meet is that even if the 2021 hatch is a good one, the fish wouldn't be ready to catch for two to three years. Fedorka understands what he's facing, but has a plea for his customers: "Don't forget about us."
Last year, it was COVID-19; now, this. Here's hoping for a great perch spawn. So much depends on it.