NEW FRANKLIN, Ohio — When the gourds go up around Long Lake, North Reservoir, and the rest of the Portage Lakes, it means the birds are back.
The purple martins are returning from their wintering grounds in Brazil, and they sure are hungry.
These birds, the largest members of the swallow family, have had a difficult migration. The journey from Brazil to Ohio is filled with danger in a good year, but they ran into cold weather all along their 5,000-7,000-mile migration.
Many starved, and now those that are trickling in to Ohio are looking for insects, their main forage. But Wednesday, temperatures dropped and the snow flew, sending any flying insects for cover. The birds were left without food in a critical time.
So, in swept the Portage Lakes Purple Martin Association.
"I put out the emails, 'Come running. We need all hands on deck,' Lukac said. "Many of our birds are fed two, three and four times a day when we've had the weather we've been having."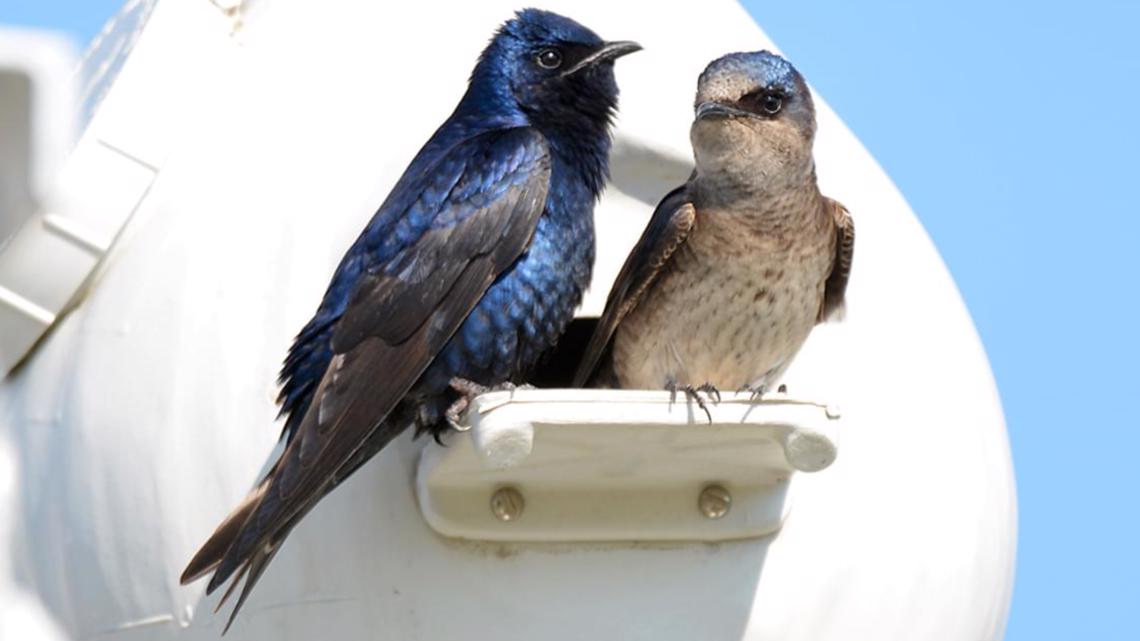 The PLPMA has been caring for the purple beauties for over 20 years. They fill the void left by the missing insects with something very common that we all eat: scrambled eggs, prepared with no oils, no fat and no salt.
"We turn them into small bits, a little smaller than a chocolate chips, and place them on spoons and flick them up into the air," Lukac explained.
The birds then swoop in, catching the eggs in mid air as if it were a flying insect. They do this because purple martins are one of few birds that only eat while flying.
It's fun and exciting, even for kids, but it takes practice. The PLPMA checks the nesting gourds weekly, counting eggs and chicks, and keeps an eye on the birds until they group up and prepare to fly back to Brazil in the fall.
The work the association does with the birds is helpful and important.
"[In one day,] we have fed over two dozen eggs just to the birds at this location," Lukac said.
The PLPMA checks 45 nesting poles around the Portage Lakes, keeping an eye on the natural mosquito control for Ohio's second busiest inland waterway. Giving the birds a leg up when Old Man Winter won't let go, these heroes wear purple.