CLEVELAND -- UFC heavyweight champion Stipe Miocic talked plenty about respect following his dominant unanimous-decision victory over Francis Ngannou in the main event of UFC 220 at TD Garden in Boston last Saturday night, and that discussion has continued throughout the week.
Following the bout, the UFC posted a photo of Miocic to its Instagram page and asked if fans thought he was the greatest heavyweight of all-time. This came after Miocic set the record for the most consecutive heavyweight title defenses with the win over Ngannou.
And that post drew the ire of Miocic's wife, Ryan, who fired off a strongly-worded response in the comment section.
"SO disappointing and honestly in shock that you would even write this post!!!!!" Ryan Miocic said. "Get behind your Champion! It's time! Continued disrespect for the blue collar, stand up individual serving his community, and dominating his division.
"This is a man that goes above and beyond for everyone he meets and does nothing but gracefully display his talent. He is a shining example of a hero, a family man, a role model for kids and everyone else he encounters. You really need to re-evaluate who it is that you choose to stand behind. Very disappointing. But sadly, not surprising."
A post shared by ufc (@ufc) on
Following the record-setting defense, Miocic, a firefighter/paramedic in the Cleveland suburbs of Oakwood Village and Valley View, took the unorthodox step of grabbing the belt out of the hands of company president Dana White and handing it to his head coach, Marcus Marinelli, to wrap around his waist.
"My dude, that dude respects me. I respect him. End of story," the normally jovial Miocic said flatly at the post-fight press conference.
"Where's my coach at? Those dudes right there? My family. They all respect me. I respect them. They come with me, we go to war. No matter what happens, win, lose or draw, that's my family. We all respect each other, no matter what the situation is."
PHOTOS: Stipe Miocic successfully defends heavyweight title for UFC record third straight time
The disrespect Miocic felt started long before the Ngannou fight.
In his first title defense against Alistair Overeem at Quicken Loans Arena in September of 2016, Miocic was paid $200,000 less than the challenger, and voiced his displeasure in national interviews. Despite that perceived lack of respect, Miocic has remained on top of the mountain in the heavyweight division.
"I'm going to keep doing what I'm doing," Miocic said. "If it ain't broke, don't fix it, right? Honestly, I don't care. I've got so much on my plate right now. I'm so happy. I have a beautiful wife that has our child. I'm very lucky. I've got my coaches here. They're amazing."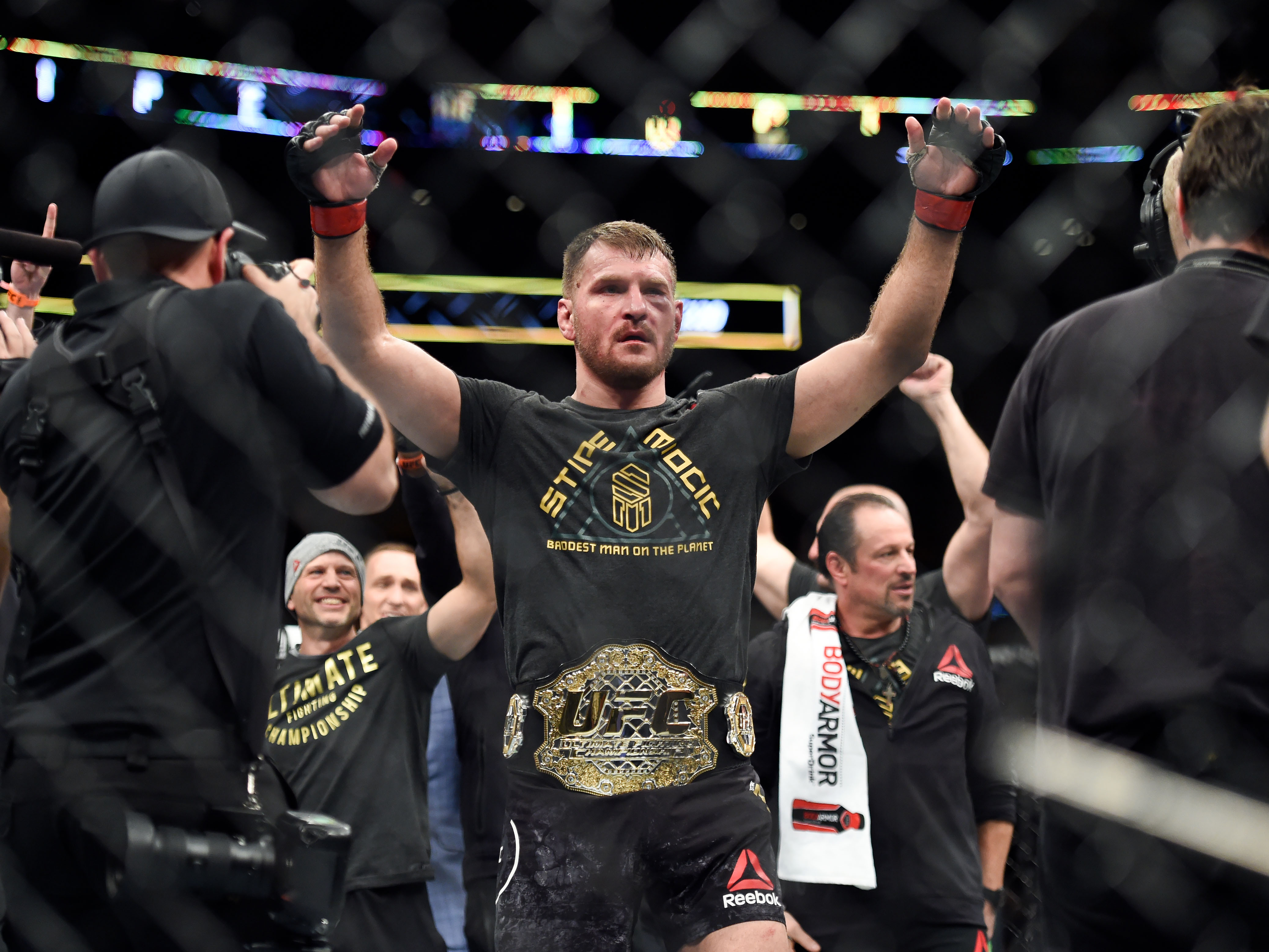 According to FightMetric, Miocic held control of Ngannou for 15 of the 25 minutes in The Octagon, and while in the clinch and guard, he landed many of his 200 strikes. Known as a judicious fighter, Miocic connected on 200 of his 244 strikes (82 percent).
Conversely, Ngannou, who's punching power was compared by White prior to the fight to that of a Ford Escort running full speed, landed just 33 strikes in the entire bout and failed to lock in his only submission attempt.
"Listen, man, I've got the fighting spirit, bro," Miocic said. "It's going to take a lot more to take me out. A Ford Escort, a Ford F-150, I don't really care. I'm going to keep coming. He's a tough dude, no question. He's got a great career ahead, tough dude, but listen, man, I've got that fighting spirit. I ain't going to stop."