The long wait is over for Cleveland native Stipe Miocic.
After a 13-month hiatus, Miocic, the UFC's top-ranked heavyweight contender, is just days away from his rematch with the very man who took the belt from him last July, Daniel Cormier, as the two are set to step into the octagon at the Honda Center in Anaheim, California for the main event of UFC 241 Saturday night.
"Honestly, it's been great. Having this year off, I just let my mind rest and my body rest and just enjoyed life with my daughter," Miocic told WKYC.com Tuesday. "It's been amazing. Now, it's time for business."

After months of pining and negotiating through social media, Miocic was granted his rematch for the UFC heavyweight championship against Cormier when former champion Brock Lesnar decided to stay retired from MMA competition and remain with World Wrestling Entertainment, Inc.
Because of the long break, Miocic enters the bout feeling better than he has in recent years.
"It's amazing, finally," Miocic said. "There were times when I didn't think it was going to happen, but I had faith that it was going to happen, and here we are. It's fight week and you're going to see me walk out with the belt."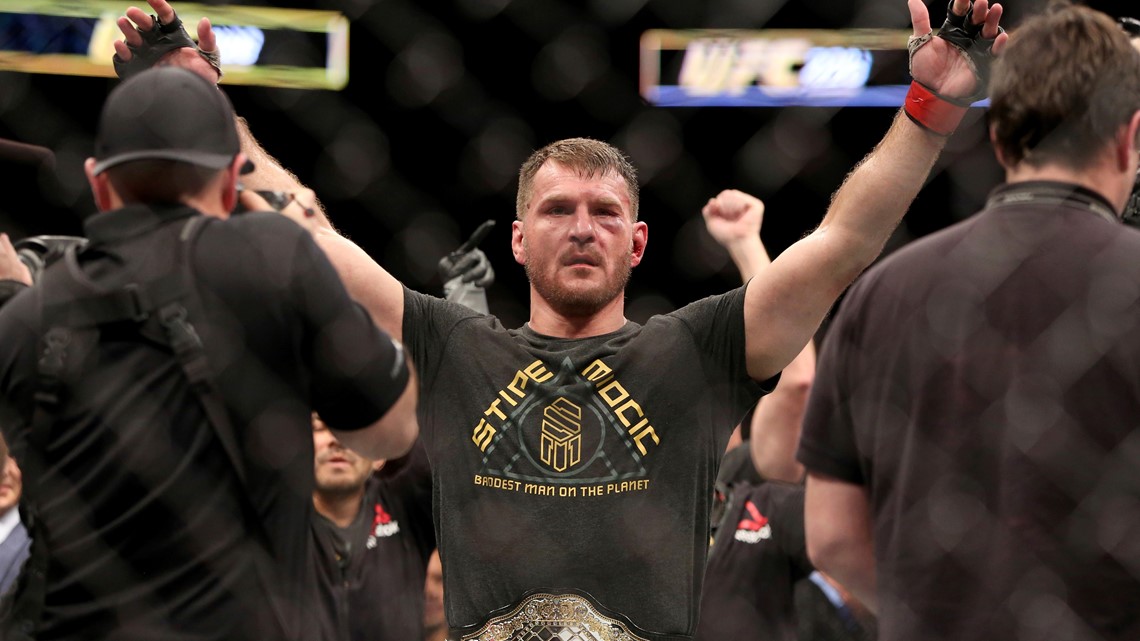 Miocic put that hiatus to good use, honing his craft to make sure he avenges a loss for the second time in his UFC career.
Back in 2014, Miocic was an up-and-coming fighter in the UFC heavyweight division and was given a step up in competition against former champion Junior dos Santos, but after a five-round slugfest, he lost via unanimous decision.
Fast-forward more than two years later, and Miocic earned a measure of payback against dos Santos when he avenged one of only two losses on his professional record at the time with a knockout at the 2:24 mark of the very first round in the main event of UFC 211 at the American Airlines Center in Dallas, Texas on May 13, 2017.
"It was getting better in every aspect of the game," Miocic said. "When you take time off, if you're not training, you get passed by. People keep getting better and evolve so much faster. I'm just working to get better every day and make myself a better fighter."

Despite taking a thumb to the left eye on an attempted shove from the challenger early in the bout, Miocic felt he was winning for much of the first round against Cormier in his fourth defense of the UFC heavyweight championship.
However, out of a clinch, Cormier faked an uppercut, came over the top with a right-handed strike and floored the defending champion. With Miocic on his back, Cormier pounced and landed multiple strikes before the referee called a stop to the contest.
"I don't know that it went wrong," Miocic said. "He hit me hard, but I've been hit harder. He just caught me on the button. It's the game. It's the game we play. I've worked on all my weaknesses, worked on things that I have a tendency of doing, improve on my strengths. You'll definitely see a better me come Saturday.
"I'm a better fighter. I know I can win this fight. I know I'm going to win this fight."