CUPERTINO, Calif. — On Tuesday, Apple announced a slew of updates to many of its products during the company's "Spring Loaded" virtual event. iPads, iMacs and the Apple TV line all got updates, and the new iPhone 12 is now available in purple – for those who are into color phones.
But there was one product that's complete new for apple. It's a tracking device they're calling AirTag. The new devices can be attached to just about anything – keys, purses, wallet, backpack, you name it – giving you an easy way to find the item using the Find My iPhone app.
If this sounds familiar, you're probably thinking of Tile. Tile has made similar products for years helping users find their lost items. Apple is looking to improve the technology and capitalize on its vast network of devices to make finding lost items a bit easier.
"'Find My' includes a vast end to end encrypted and anonymous network approaching a billion apple devices that can help you find a missing iPhone, Apple Watch, iPad and Mac," Carolyn Wolfman-Estrada, an apple engineer, said during Apple's special event.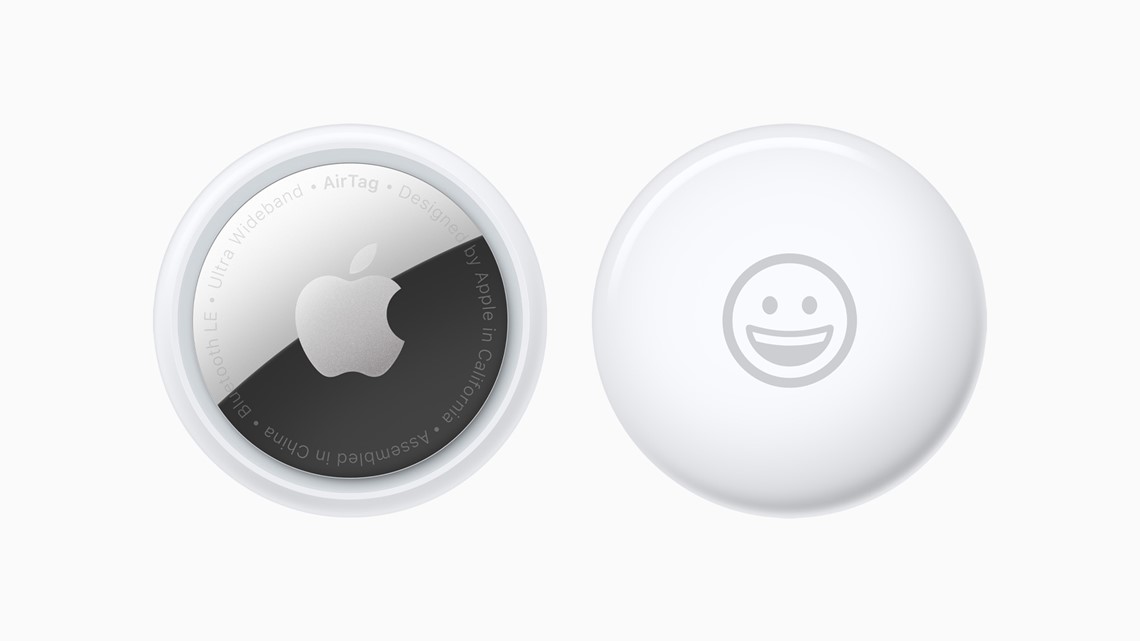 AirTags work using Bluetooth Low Energy and ultra-wideband technology powered by a small battery similar to what you'd find in a garage door opener. If you lose your AirTag, the tech allows you to open the Find My app and see it's location on a map, if it's nearby. It can even guide you to it using a feature called "Precision finding."
However, where Apple's tech stands out it when your AirTag isn't near your phone.
"AirTag uses the Find My network so iPhone can help you keep track of and find your things," Wolfman-Estrada said.
If your AirTag goes missing and it's not nearby, the AirTag owner can enable "Lost Mode." When this happens, the AirTag uses any nearby iPhone – even a stranger's – to send its location back to the owner via the Cloud. This all happens anonymously, without the stranger even knowing it's happening.
Due to privacy concerns, Apple has also implemented protections to prevent the devices from being used nefariously.

"AirTag is designed to track items, not people," Wolfman-Estrada explained. "So we included safety features to discourage unwanted tracking."
Your phone will alert you if an AirTag you don't own is following you, and AirTags will play a sound if away from its owner for more than a couple days. Also, if you do find an item with an AirTag that has been placed in Lost Mode, you can place your iOS or Android device near it to get contact information that has been provided by the owner. It increases the odds of finding your lost valuables for those prone to losing things.
An AirTag will cost $29 for a single one or $99 for a four-pack, and they are available to preorder starting now. The first AirTags are expected to ship on April 30, and there are also plenty of accessories to go with them.
If you're not in the Apple ecosystem, Tile is a great option to consider.
Watch Apple's full "Spring Loaded" event in the player below: