AVON, Ohio — Across the United States, wind farms are pumping out a precious commodity, vital to our planet's future. Our wind economy is growing at a rapid rate, with plenty of open areas where turbines can go.
But for all the good that comes with this mode of renewable energy, there exists a problem: wind turbines don't last forever.
Turbines are only built to last between 20 to 30 years. And sometimes they come down sooner. A 1 MW turbine can be replaced by a 4.5 MW turbine on the same piece of land, that would generate that much more power in a higher tower, with longer blades.
When they come down, most of the parts can be reused or easily recycled. But those decommissioned blades - some as long as the wings of a Boeing 747 - present a herculean challenge.
"Fiberglass has long been a problem in the wind industry. What to do with it once it reaches its end of life? So we were tasked with finding solutions for the blades," said Parker Kowalski who is Managing Director of Brand for a company called Canvus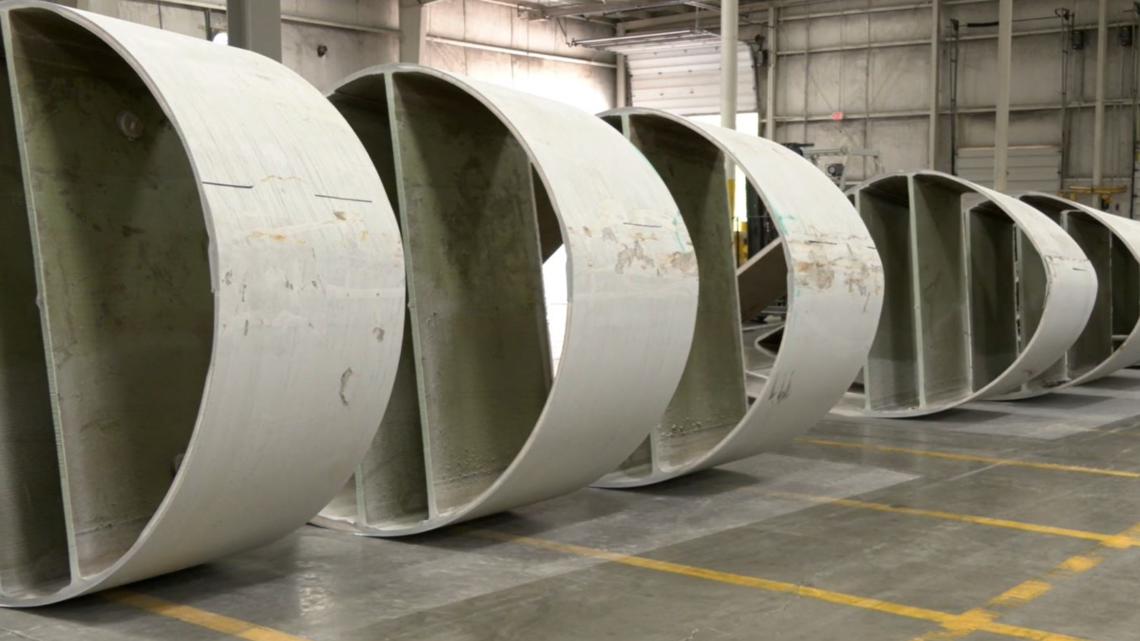 At its Avon manufacturing facility, the company takes in those retired wind turbine blades. They are made largely of fiberglass - a composite material - to be lightweight for efficiency, but still durable enough to handle storms. The mixed material makes it very difficult to separate plastics from glass fibers. Not impossible, but the impact can generate a daunting amount of equipment and power; not something aligned with the renewable energy industry.
Canvus has assembled of team of dreamers, innovators, craftsmen and creators who engineered a way to deconstruct these massive blades into smaller "filets" before moving them on to fabrication, scanning, CNC cutting, painting and finishing.
The result is a product line of benches, tables, swings, planters, and blank spaces transformed by artists. Each piece is crafted in a way to incorporate the shape of the retired blade, while creating one-of-a-kind product.
It's a collaborative effort that reaches well beyond the walls of its manufacturing base.
Outside corporations offer up their own retired materials to support the initiative.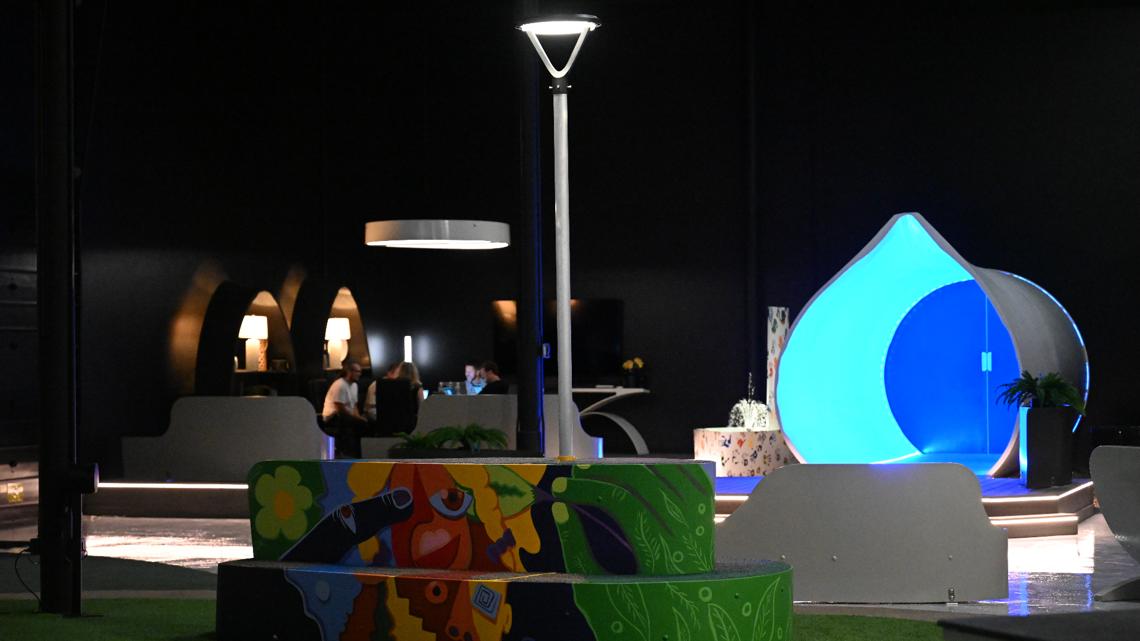 "We use rubber that comes from tires and shoes. We use composite lumber, which is made of shrink wrap and grocery bags that you see at any retailer or distribution center. We use a composite plastic board, a mixed plastic board that they can actually take municipal waste that can't be mechanically separated into separate polymers anymore. They're also taking the floating islands of plastic in the ocean and putting it into that board. It's virtually indestructible," explained Brian Donahue, Senior Vice President of Corporate Affairs for Canvus.
Manufacturing partnerships have also been built at Canvus, to unite in the same cause. Companies like PPG, Grainger, Cintas and Sika have come on board to support the effort.
"It's spelled C-a-n-v-u-s because it's a canvas for all of us. It's a canvas in an artistic sense for communities to be able to paint on our products. It's a canvas for other industries to introduce their recycled materials into our products," said Kowalski.
It's taken three years of trial and error to get here. Canvus is not the first company to tackle the problem of old blades. But it is the first to take this route, and remains faithful to a shrinking carbon footprint.
Success is not tethered to this company in a traditional sense. But it is measured by the blueprint created for others to join them.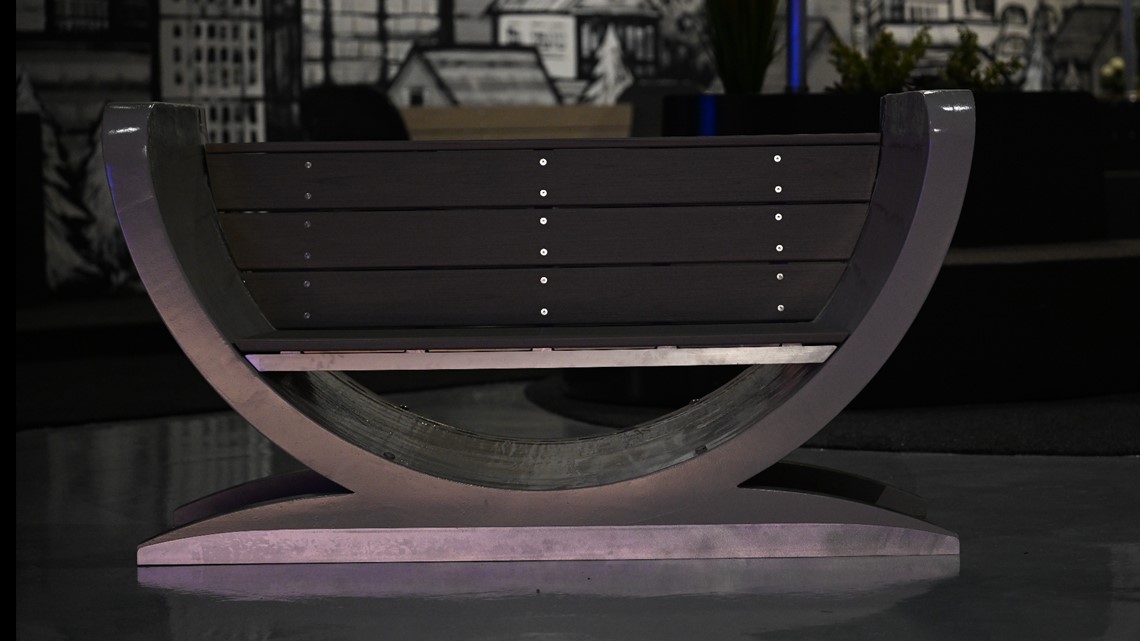 "We hope that Canvus can create a movement of inspiration, of sustainability to inspire others to reimagine their spaces, reimagine the materials we use, reimagine the ways we dispose of the materials. It's really what we hope Canvus to, to be able to inspire to the world," said Kowalski.
Canvus has implemented a donor recipient program. Benefactors, such as large corporations, get these into communities, which might not otherwise have the funds. It's all about creating reimagined spaces to bring people together.
This week, pieces were delivered to the Firelands Local school district - and you can also check out one soon to be installed at Huntington Beach.
Learn more about Canvus HERE.
More Planet CLE: