PUT-IN-BAY, Ohio — The pace is slow and the days are easy on South Bass Island.
Visitors may leave their worries behind, but not everyone is as relaxed.

"Lake Erie is our greatest treasure that we have along the coast," Jill Bartolotta, program extension educator for Ohio Sea Grant, said. "It's drinking water that we have for over 13 million people."
Ohio Sea Grant is a statewide program supporting "greater knowledge and stewardship of Lake Erie and the Great Lakes through research, education and outreach," according to its website. On South Bass Island, you will find the organization's Aquatic Visitors Center, and Stone Lab just a short water taxi ride away.

"Stone Lab is the Ohio State University's island research, education, and outreach facility," Bartolotta explained. "It's a place where people can come to do research about all of Lake Erie's issues, from fish population to harmful algal blooms."

During tourist season, Put-in-Bay attracts about 750,000 people annually. From boating, fishing, and dining, it's all about entertainment here. But that doesn't mean this captive audience can't get some education, too, about ways they can help sustain and improve Lake Erie's water quality.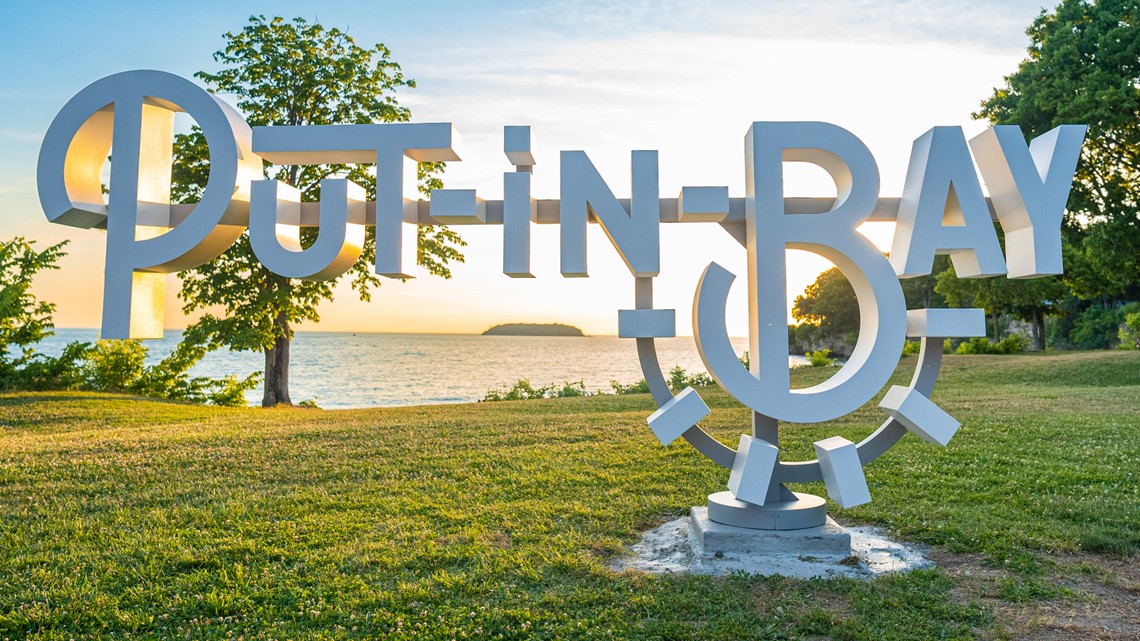 On Aug. 11, teams spread out across the island for Lake Erie Awareness Day.
The focus is on the future — getting the young, and old to take better care of our natural resources going forward. At one station, nonprofit Eriesponsible has set up blue buckets for a beach clean up.
Eriesponsible is made of up people who share a love for Lake Erie and a shared concern for its future health. "Taking steps now to maintain the health of Lake Erie for future generations" is its mantra.
Josh Dykstra goes through buckets to show what was removed from the beach that day. Plastic rings that go around tops of plastic bottles are among the most common finds. Lure containers are, too.
"So unfortunately when you go fishing, you need to make sure that you dispose of those properly," Dykstra said. "Fishing line which is about the worst; it takes 600 years for fishing line to break down in the lake."
Plastic pollution is one focus of the work going on here, along with researching harmful algal blooms, misuse and overuse of fertilizer that makes its way into the lake, and invasive species that threaten the water's natural ecosystem.
One of the biggest threats to Lake Erie right now is the "sea lamprey" — also called "vampire fish". These primitive, jawless invasive fish are older than dinosaurs, and cause big problems to larger Great Lakes fish.
Add to the list? the weather.
"We are seeing an increase in coastal storms here for us along the Great Lakes, and that's caused by our atmosphere changing," Bartolotta told 3News. "We've been having high water level issues and that can increase erosion which can cause other problems for us here on the lakes."

While Ohio Sea Grant and Stone Lab staff are at work, they hope tourists continue to come and play while also taking in the shared responsibility for this natural resource.