CLEVELAND, Ohio — "What did you do last summer?"
The answer next school year for 25 talented CMSD students will be: ''I interned at NASA!" That was just one of many opportunities presented during Career Exploration Day at NASA Glenn Research Center, where students got to see the work they are doing in chemistry, physics and math come to life at one of the coolest places to work on earth.
How is this for a classroom? It's the world's largest Zero-G facility where researchers recreate the weightless conditions of orbit. And it's right here in Cleveland at the research center. The center piece is the drop tower, a 467-foot-deep vacuum chamber, which allows experiments to free-fall for over five seconds. As those experiments fall they are virtually weightless. Microgravity!
It's pretty cool stuff, especially for Marcus Wheeler, a junior at Cleveland's Morgan School of Engineering and Innovation. He came into Career Exploration Day thinking about an internship with NASA. After this day, he's leaving knowing this is what he wants.
"They're currently doing experiment after experiment. So that really piqued my interest. It's more like trial and error, saying 'Whatever happens, what can I do to fix it? What can I do to make it better? What can I do to make is a successful thing'" said Wheeler.
That's the goal of everyone involved in this field trip to NASA Glenn -- helping high school students see what some of the real world jobs in STEM look like.
After that - it's getting them to say "Yes! I want to do this!"
"NASA engages in educational programs to help inspire the next generation of researchers and explorers. We want to build that diverse future workforce for NASA," said Catherine Graves, who is in NASA Glenn's Office of STEM Engagement.
"It's important to me because when I was a kid, there was a time that I didn't know what I'm doing. I didn't know an aerospace engineer was a thing," said Lancert Foster who is Propulsion Technical Lead for Hypersonic Technology Project.

The silica sand and silt mixture here mimics surfaces on the moon and mars, which helps NASA develop tools, as well as rovers that can cover long distances, without getting stuck.
Just one more fascinating thing that NASA explores.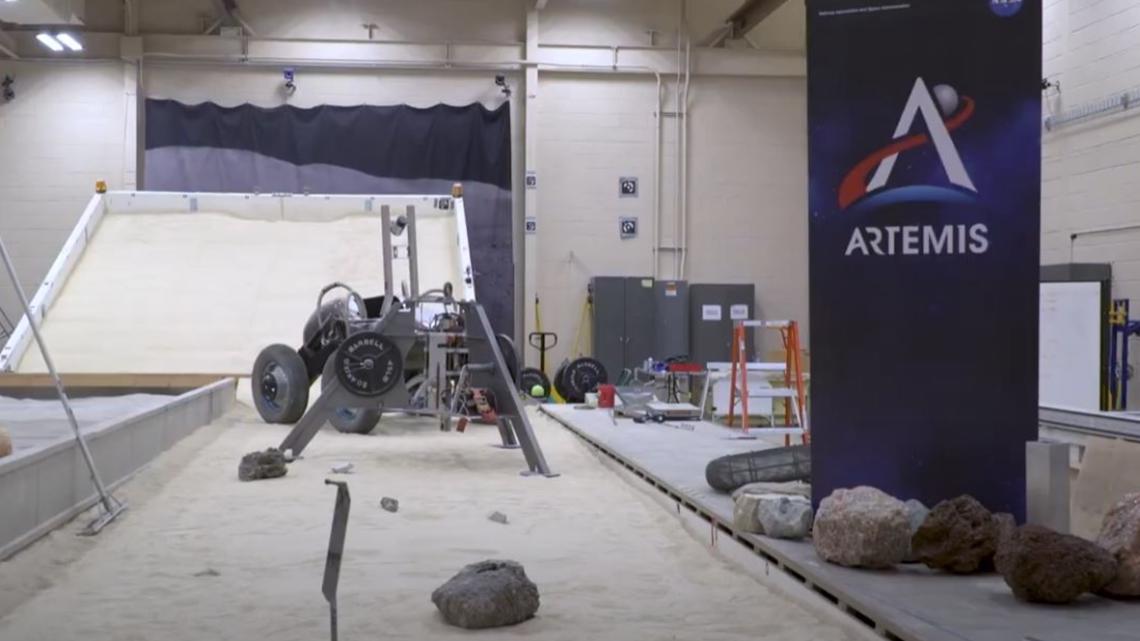 "There are 52,000 jobs that are open in Cuyahoga County. Fifty-two thousand jobs! A third of those jobs, about 18,000 of them are in STEM. If you look at the average pay of a STEM job, it's about $52,000 a year. The average salary for a resident in Cuyahoga County is $36,000. Now, if you stitch it all together, right. If we could get more of our kids into STEM fields and get them exposed to seeing what this world looks like, immediately we could create an opportunity for our students," said Hrishue Mahalaha, Executive Director of the Aerozone Alliance. The mission of this organization is to create an innovation hub, attracting more STEM jobs and greater investment in the region.
Students like Marcus Wheeler are among the next generation of scientists and researchers who can see themselves in a role that perhaps they didn't envision before.
"This has opened a lot of doors and a lot of good opportunities for me. And I just wanted to see what it would be like to come to NASA Glenn, knowing that I really do want an internship here," said Wheeler.
Learn more about NASA Glenn's internships for high school and college students HERE.