Below you'll find time-stamped updates as the snowflakes WERE flying throughout Northeast Ohio. The most-recent updates are located at the top of the post below...
11:05 a.m. We're tracking more snow on the radar.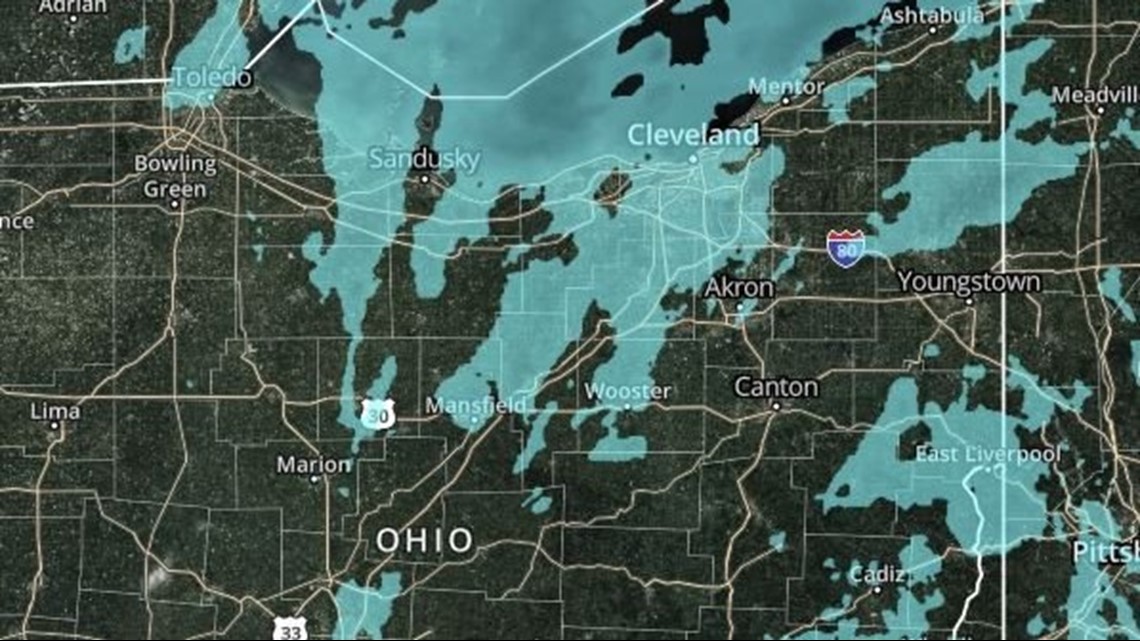 8:39 a.m. A snow parking ban has been activated in Parma. "There is no parking on city streets until further notice," city officials said in a press release.
8:18 a.m. Heavy traffic is impacting drivers on I-77 South approaching the Akron-Canton Airport due to a crash.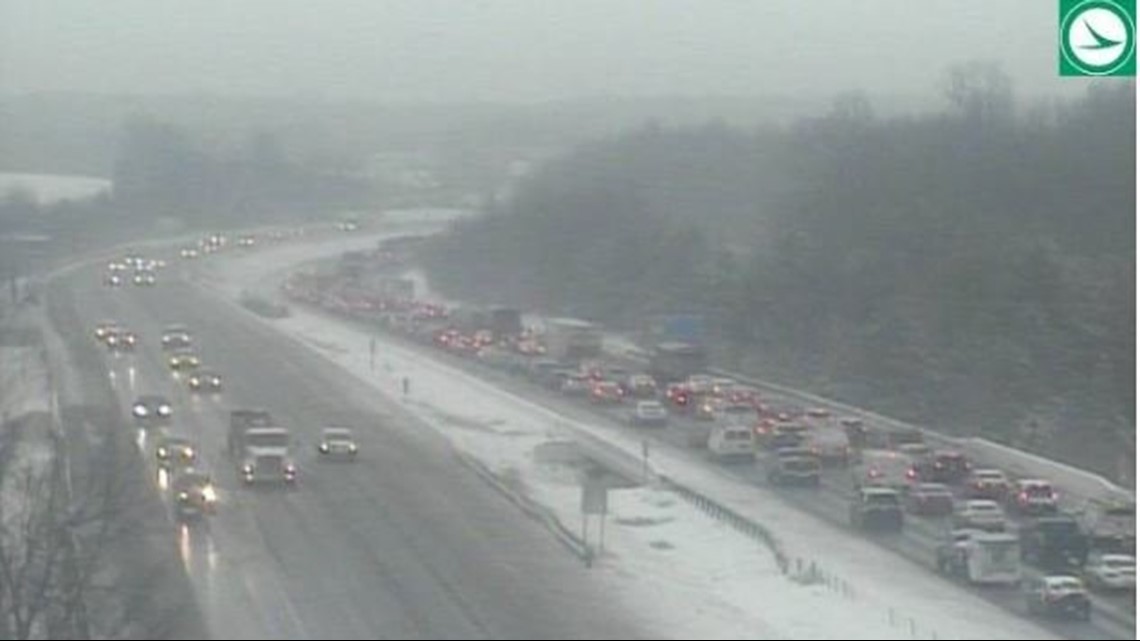 7:41 a.m. Another crash to watch for!
7:05 a.m. How much more snow can you expect today? Our team highlights the updated weather conditions in today's edition of the "On the GO!" 3News morning aftershow:
6:35 a.m. A check on Cleveland's roads...
6:34 a.m. Tracking another crash...
6:30 a.m. Here's a look at the road conditions along I-77 at U.S. 62 in Stark County: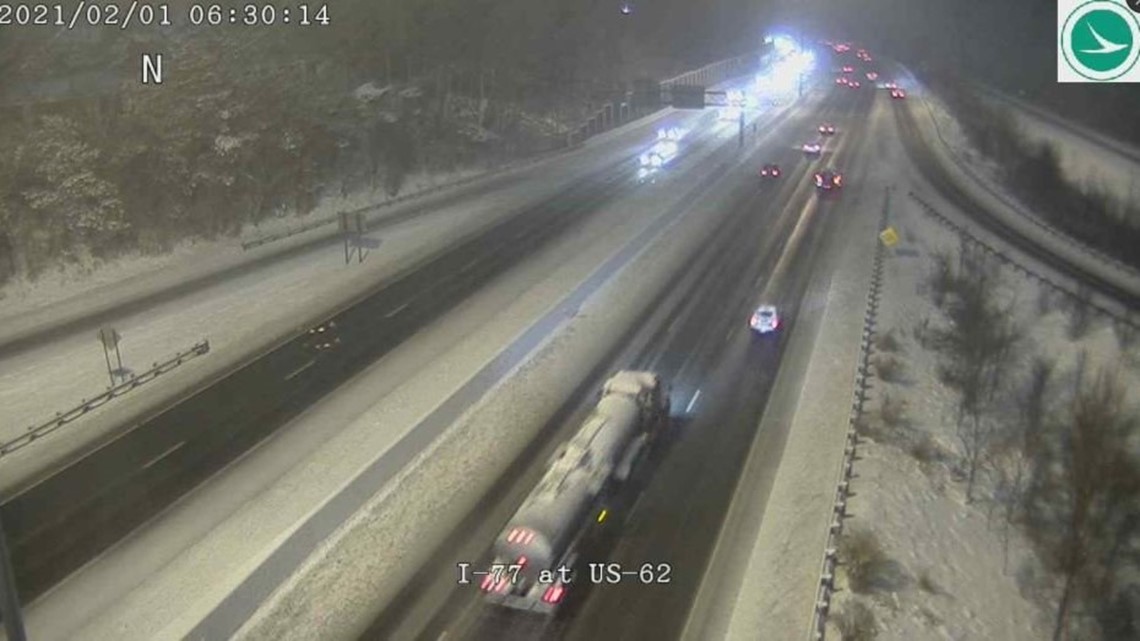 6:07 a.m. The roadways are slow in spots. Here's another crash as reported by 3News' Danielle Wiggins.
6:05 a.m. Heads up! There's a crash on I-90 West at Bishop Road.
5:47 a.m. I-77 North has reopened at Portage Street in Stark County after it was closed earlier this hour due to a crash in which an overhead sign was damaged.
5:15 a.m. Here's an updated look at today's forecast from 3News' Hollie Strano:
5:10 a.m. A portion of I-77 North is closed in Stark County. Here's more from 3News' Danielle Wiggins:
5:06 a.m. An update from ODOT...
5:02 a.m. Here's a peek at the roadways in Cleveland:
4:45 a.m. There are a handful of school closings / delays today due to the snowy conditions. See the updated iAlert school closing list HERE.
4:37 a.m. ODOT says they have more than 1,240 crews working statewide.
4:30 a.m. Only a handful of counties remain under a Winter Weather Advisory. These include Carroll, Columbiana and Tuscarawas, which will continue until 6 a.m. Tuesday.
Updates from Sunday, Jan. 31, 2021...
So, how long will this snow last? How much can you expect in your area? What are the conditions like right now? We've got you covered! Explore the post below to see the latest time-stamped updates on how the wintry weather is evolving throughout the day. Be sure to refresh this page often because the most-recent information will appear at the top of this story.
7:20 p.m. Several schools are either delayed by 2 hours Monday morning or closed. Check the latest iAlert list: wkyc.com/closings
7:15 p.m. Erie, Lorain, Summit and Medina counties have been added to the WINTER WEATHER ADVISORY until 10p tonight.
6 p.m. 3News Meteorologist Matt Wintz says that snowstorms moving into the area could cause "several inches" in the next few hours and overnight.
5 p.m. Snow is beginning to pick back up across Northeast Ohio. The National Weather Service of Cleveland is reporting "numerous crashes" on 1-71 near Mansfield. "Remember to take it slow during Ice and Snow. Even a little bit of snow can cause big problems!"
1 p.m. ODOT reports that there are still more than 900 crews out on the road. The transportation bureau describes conditions as "mostly running wet."
11:45 a.m. The Ohio Department of Transportation (ODOT) says that it currently has more than 969 crews out plowing and salting around the state. "Please continue to give our crews plenty of room to work and be extra alert for quickly changing conditions on the road. #ODOTwinter"
10:30 a.m. 3News meteorologist Jason Frazer offers a live update on what to expect from the wintry weather for the rest of the day.
10:20 a.m. Here's a note from 3News meteorologist Jason Frazer: We are getting a break from some of the snow showers that we saw from earlier this morning. This was expected. We will see the snow threat ramp up within the next two hours, especially for areas south of Medina.
We could see some snowflakes transition into rain or freezing rain in spots like Cleveland and along Lake Erie as temperatures briefly increase above the freezing mark. By this evening, however, everyone will see snow.
While ODOT crews continue to stay ahead of the storm, we are seeing some spots where speeds are being reduced 10-20 mph, especially south of Canton. Stay safe!
10:05 a.m. How is the snow in your area? Share your pictures with us by using #3Weather.
9:28 a.m. Checking out the Boston Mills / Brandywine ski resort...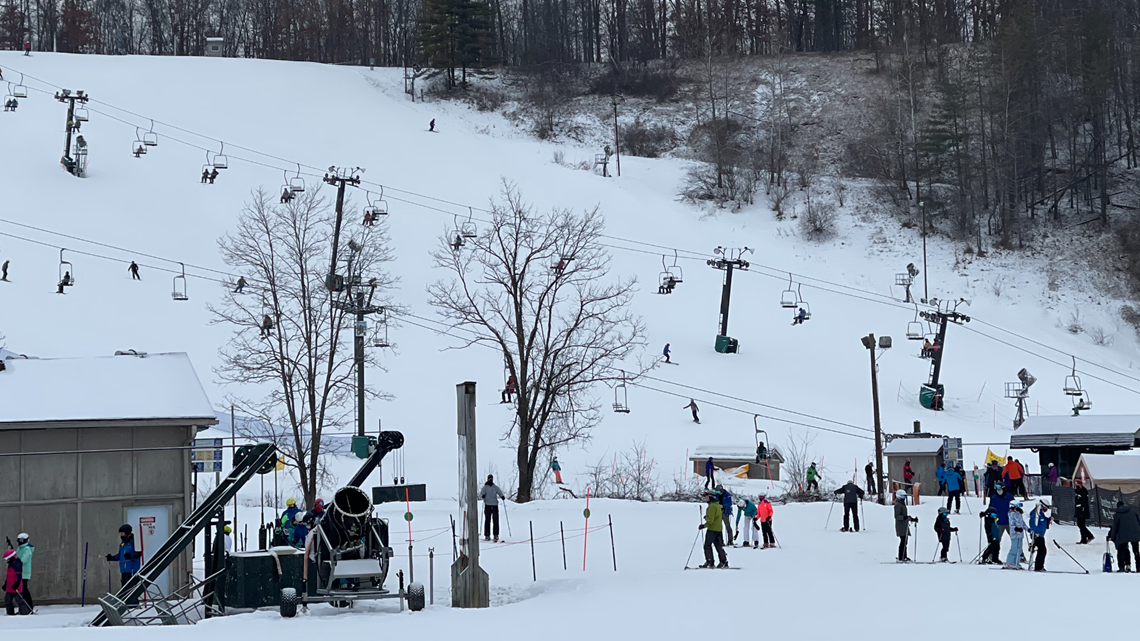 9:15 a.m. ODOT says there are now 1,063 crews working to clear the streets across Ohio.
9:12 a.m. We're having some fun with the snow this morning by hitting the slopes at Boston Mills / Brandywine ski resort this morning!
8:30 a.m. A note from 3News meteorologist Jason Frazer: The farther inland you are, the more likely you will see more snow today. Many of us are waking up to see a coating to 2 inches on our cars and back yards. A few flurries falling across Northeast Ohio continue to fall, including places like Medina, Wooster and Bailey Lakes.
This will not be a continued widespread snowfall like we saw in December. It will be on and off again. Big concern continues to be for the roads. There have been several accidents already reported. We continue to see pockets of I-71 in Mansfield and I-77 between Canton and New Philadelphia where speeds are reduced 10-20 mph. This is due to the snowfall.
While ODOT does have more than 1,200 crews throughout the state working to clear the roads, there are some slick spots being reported. If you don't have to go out today, we would advise to stay inside. If you do need to go out, remember to reduce your speed by 5-15 mph and don't crowd the plow.
Black ice will continue to be a concerns because temperatures will hover below the freezing mark.
8:01 a.m. Here's an updated look at how much snow we're expecting through Monday:
7:59 a.m. Here's a peek at snowy road conditions along I-71 at U.S. 250: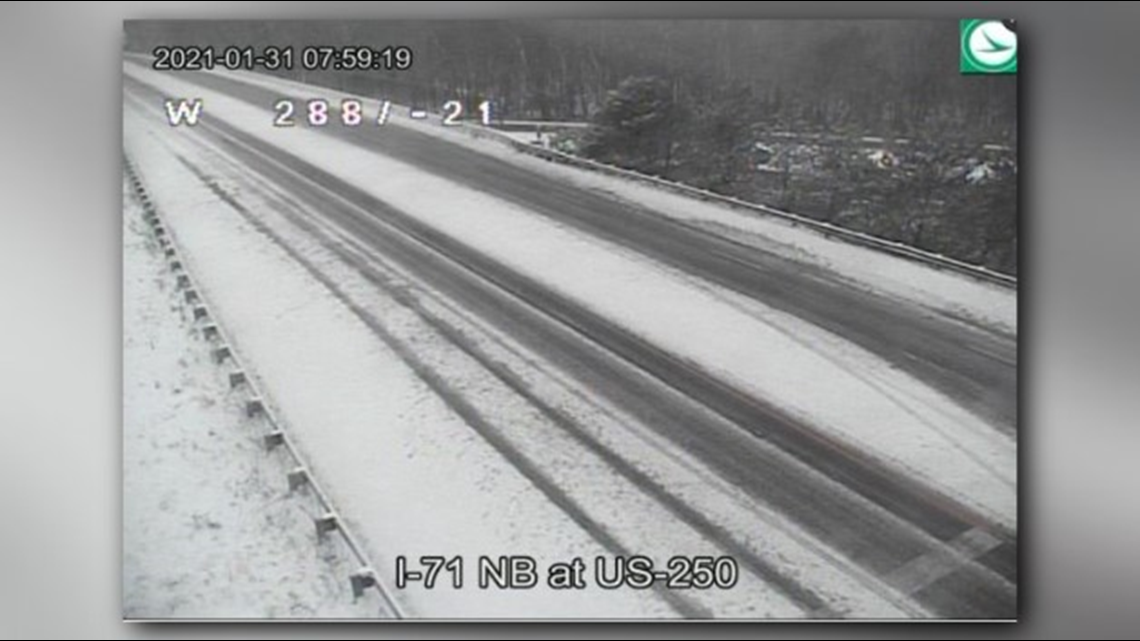 7:52 a.m. A peek at the snow in portions of Ohio -- including a peek at conditions in Toledo and Mansfield:
7:48 a.m. Snowy in Carrollton! Thanks to @mawhales for sending us the photo!
7:40 a.m. ODOT says there are 1,148 crews working to clear the roads across the state.
7:30 a.m. A viewer sent us this snowy photo from Vermilion: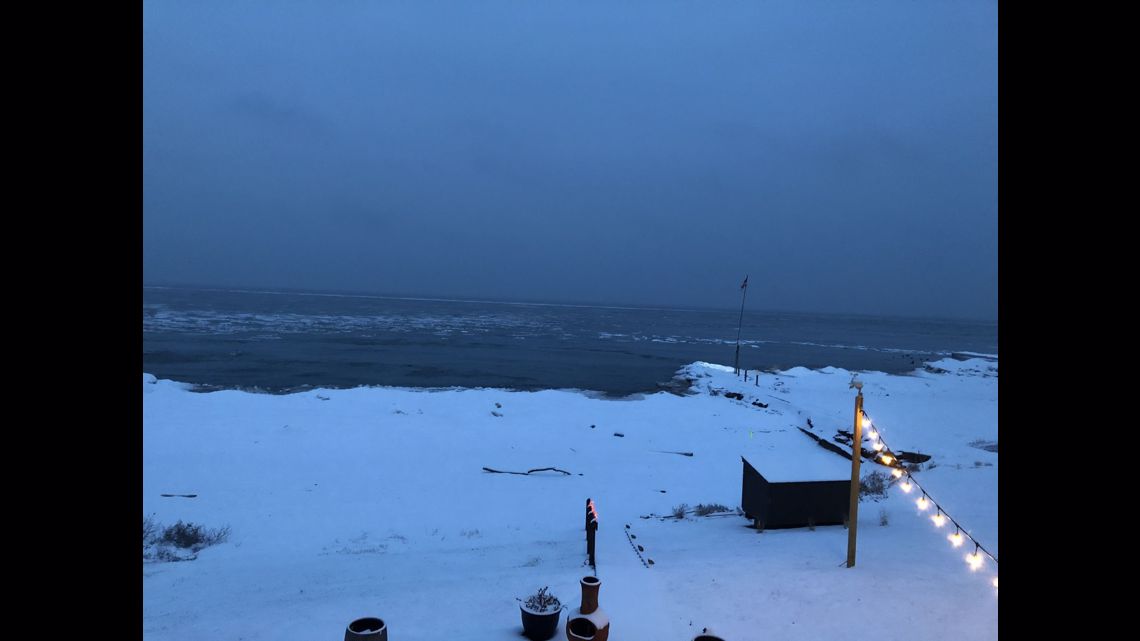 7:07 a.m. Here's a look at the snowy conditions in Stark County.
7:05 a.m. Snowy conditions in Summit County. Sue Wendling sent us this photo from Green: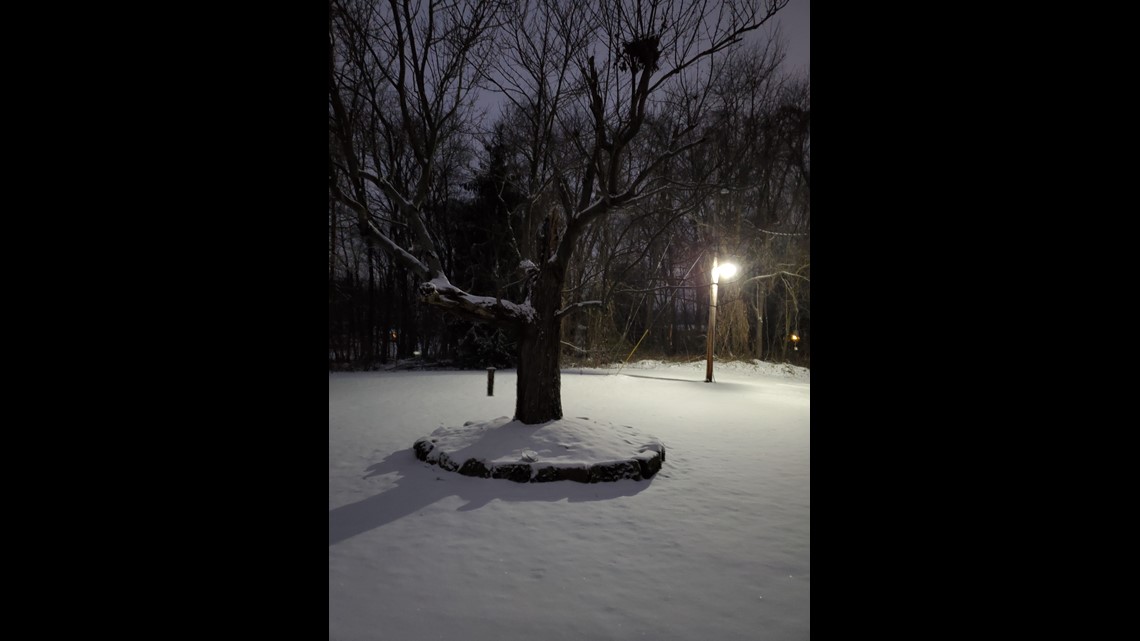 6:50 a.m. ODOT says there are 92 crews working to clear the snowy streets in the eastern portion of Ohio.
6:07 a.m. 3News' Jason Frazer shares a look at the snowfall in Akron.