SHELBY, Ohio — Cleanup efforts are underway after a portion of Richland County was hit by an EF-2 tornado Sunday.
Police say it's a miracle only 5-10 people were hurt with injuries that "appear to be minor at this point."
The tornado was part of a strong storm system that triggered severe weather warnings and alerts all throughout Northeast Ohio.
WKYC Chief Meteorologist Betsy Kling has confirmed the tornado's path stretched a half-mile wide and 17 miles long with winds reaching 120 miles per hour.
RELATED: Shelby Police Chief addresses tornado siren concerns: 'If there are problems, they fall on my shoulders'
PHOTOS | A look at the aftermath of tornado damage in Shelby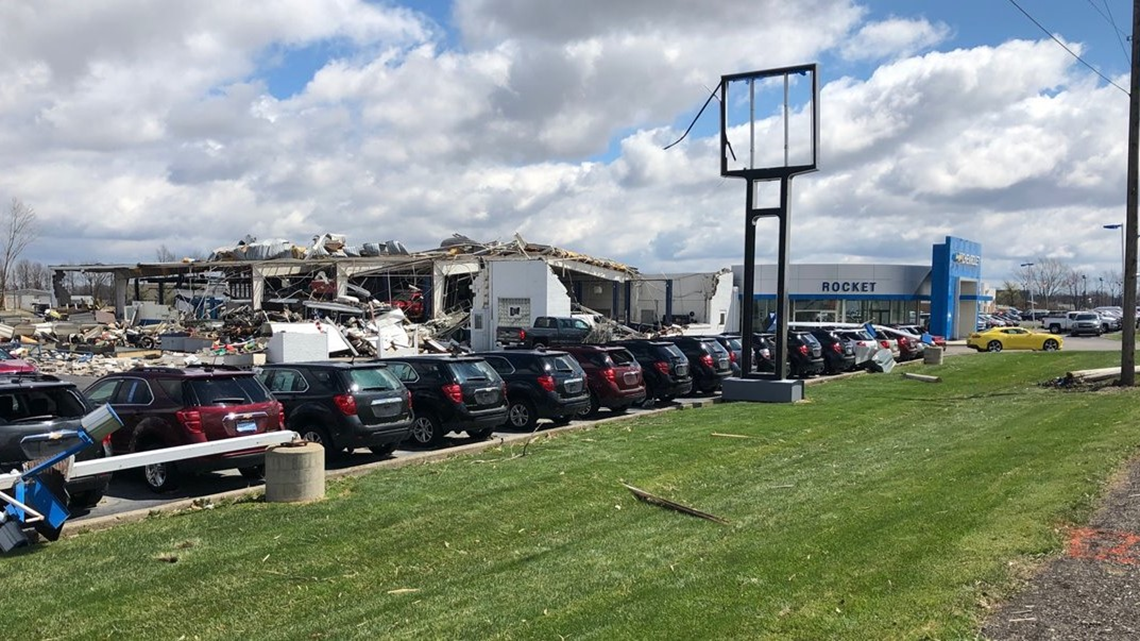 "If there is a silver lining to the cloud that passed us, was the time, day and location – just a half a mile to the north and our residential neighborhoods would have been devastated," Shelby Police Chief Lance Combs posted on Facebook.
He said that damage to the power infrastructure was severe and that area roadways "are littered with both utility poles and trees."
Chief Combs said the heaviest storm damage hit Rocket Chevrolet, Donley Ford, Drug Mart and Carton Service.
►RELATED | Power outage updates: Electricity restored to thousands
The phone lines became inundated with 911 calls related to the tornado and its aftermath:
The chief also addressed questions over the activation of Shelby's tornado warning sirens.
"It is my understanding that there have been some discussions regarding the tornado sirens and their activation," he continued. "If there are problems, they fall on my shoulders. The police department activates those sirens for the city of Shelby. We normally receive specific alerts and warnings for northern Richland County and that is when we typically activate the sirens. The alert we received today was general to Richland County and not specific to the Shelby area. Within a very short time, the department received a report of an active tornado near or on SR39 and the working supervisor activated the alert sirens. That did occur before the tornado caused the damage across 39. If the sirens were not activated soon enough, I take the blame. What we have tried to do is monthly testing with notification and been judicious in their use to avoid people ignoring the sirens when there is an immediate threat."
►LIVE RADAR | Check the weather in your area
►CURRENT WEATHER ALERTS | See the list
►EXTENDED FORECAST | 7-day outlook
He vowed to review the siren procedure and evaluate if any adjustments need to be made.
This storm has also brought the community together as JJs pizza donated food, while Shelby Carry Out provided bottled water. Meanwhile, the First Presbyterian Church at 24 North Gamble served a hot breakfast Monday morning for those impacted by the storm and for anybody helping to clean up the storm's mess. The Shelby YMCA also opened its doors at 5 a.m. to those seeking a hot shower.
PHOTOS | Shelby's First Presbyterian Church serves hot breakfast following weekend storm