CLEVELAND — The 3News weather team was busy tracking strong storms throughout Northeast Ohio on Wednesday, June 10. Below is a list of time-stamped updates that shows how the storm evolved.
Be sure to refresh this page often for the latest information. The most-recent updates will appear at the top of the story. You can also track the storms as the conditions evolve with the free WKYC app (Apple users download HERE, Android users download HERE).
10:45 p.m. All warnings and watches have expired across Northeast Ohio, but more than 90,000 FirstEnergy customers remain without power. There is currently no timetable for when electricity will be restored.
We're getting more images of storm damage, including from Perkins Township in Erie County. One of their fire stations sustained heavy damage, but all crews are safe.
9:30 p.m. About 80,000 people across Ohio are without power including more than 13,000 customers in Cuyahoga county and 11,000 customers in Summit county according to FirstEnergy.
The storm continues to move eastward. All of Stark and Summit counties no longer have to worry about severe weather. Much of the moisture is centered in eastern counties including Trumbull and Ashtabula. The warnings for Portage, Geauga and Stark counties have expired.
Photos: Storm aftermath shows beautiful rainbows across Northeast Ohio

8:35 p.m. The sun is returning over Downtown Cleveland. The Severe Thunderstorm Warning has expired for Cuyahoga county.

The line of Thunderstorms continue to move westward. It is losing a little bit of steam. However, it continues to dump rain across portions of Portage and Stark counties. The NWS has issued Severe Thunderstorm Warnings for both counties until 9:30 p.m.

Meanwhile, we are getting reports across parts of NE Ohio of downed power lines and trees on many streets. We are working to find out how many Ohioans are without power.

8:15 p.m. A Severe Thunderstorm Warning continues to be in effect for Cuyahoga county until 8:30pm. Many viewers have told us about the frequent lightning and heavy rain. We have gotten several reports of winds in Cuyahoga county gusting up to around 50 mph. In Strongsville, there were reports of some pea sized hail.

Meanwhile in Akron, storms are firing up there. Viewers are telling us that they are seeing the wind pick up along with some lightning.

Down in Mansfield, we are already seeing the rain come to an end.

The NWS has cancelled a severe thunderstorm warning for Lorain, OH

7:25 p.m. Severe Thunderstorm Warnings have been issued for Cuyahoga and Lorain counties until 8:30 p.m. tonight. Wind gusts up to 70 mph are expected.
Those of you in Medina and Strongsville should begin to see some heavy downpours within the next 20 minutes.

The NWS has canceled a thunderstorm warning for Huron, OH.

7:05 p.m. Strong winds are being blamed for a partial building collapse at the State Theatre in Sandusky, OH. No word on any injuries. However, pictures sent in to us from a viewer show bricks littering the streets and what appears to be damage to some nearby parked cars.
6:50 p.m. A Severe Thunderstorm Warning has been extended into Ashland, Huron, Lorain and Medina counties until 7:45 p.m. Storm spotters have reported that this same line of storms was responsible for a wind gust at the Mansfield Lahm Airport of 59 mph. Storm continues to move Northeast.
A Severe Thunderstorm Watch has been issued for Ashtabula, Geauga, Lake, Porage, Stark, Summit and Trumbull counties until 1:00 a.m. Up to 50 mph gusts are possible.
6:30 p.m. A Severe Thunderstorm Warning was issued for Richland county until 7:30pm. Up to 70 mph wind gusts along with hail possible as the cell moves Northward. Huron and Erie counties both have a Severe Thunderstorm Warning that goes until 7 p.m.
5:45 p.m. The power outages are starting to kick in. FirstEnergy reports that more than 6,900 of its customers are without power. Although most of those outages are in Northwest Ohio, more than 2,000 customers in Cuyahoga, Lorain, Summit, and Richland counties are experiencing power outages.
5:30 p.m. The winds will continue to increase as the evening progresses. Some areas are seeing some sunshine ahead of a strong line of storms. Don't be fooled by them because within the next 2 hours, we will see the strong line of storms push through NE Ohio.
Right now, there are several clusters of storms developing in Hancock, Wyandot and Marion counties that are should slide into our area within the next hour. We expect see these strong thunderstorms moving across central and north Sandusky county within the next 30 minutes.
The highest gusts in NE Ohio so far has been at Burke Lakefront Airport at 37 mph. West of our area in Ottawa, OH, officials there reported a 62 mph wind gust within the last 15 minutes.
3:30 p.m. We're starting to see more cloud cover develop across Northeast Ohio. The winds are also picking up. In Downtown Cleveland, winds are gusting up to 35 mph. Elyria is seeing winds gusting up to 32 mph.
As this line of storms moves closer to NE Ohio, we will likely see winds gusting between 30-50 mph. There could be some isolated areas with 60 mph wind gusts. This will lead to some trees falling on power lines and power outages. Make sure your phones are charged and your generator is good to go!
2:55 p.m. The National Weather Service has issued a Severe Thunderstorm WATCH until 10:00 p.m. tonight for the following counties in our viewing area:
Ashland
Cuyahoga
Erie
Huron
Lorain
Medina
Richland
Wayne
2:32 p.m. Meteorologist Jason Frazer is doing a live weather update on 3News' Facebook Live.
12:04 p.m. We're always curious to see what the weather conditions are like in your area. If you happen to snap a photo or capture a video you want us to see, you can send them to us using our new submission tool in the WKYC app. It's a simple process that can be done in just one minute. Remember, please make sure conditions are safe before you attempt to take any photos or videos. You'll find the submission button near the top of the app (it looks like this):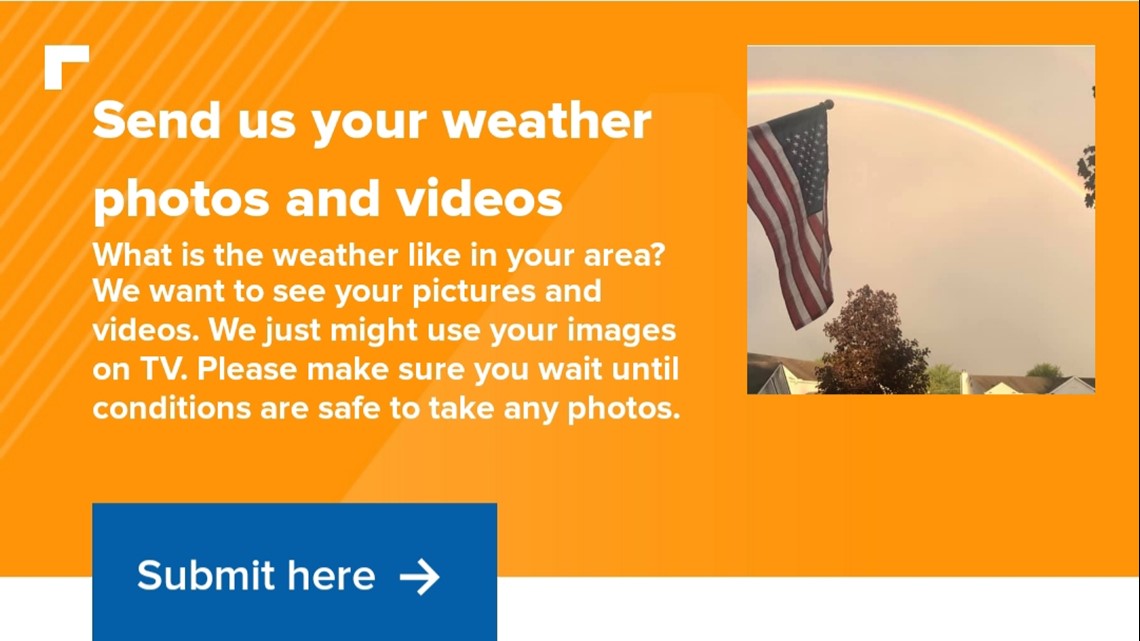 7:58 a.m. Hollie Strano says our area is under an "enhanced/moderate" risk for severe weather.